This article covers the most common reasons for licensing problems. Please review this information with your IT person or Network Administrator. After review, if you are still unable to activate your software, please contact our Support group.
If you are looking for information on troubleshooting licensing for software released prior to 12/2017, see CLS - Licensing Classic Products Released Before 12/31/2017.
Your software includes built-in security to prevent it from being used/distributed without being licensed (paid for). Your License Key or Server Code is your license, for all intents and purposes, so you need to secure and manage it accordingly.
There are four sections to this article:
Basic information on licensing
Licensing using a Standalone License Key (Multiple Seat)
Licensing using a Server Code (floating/borrowing from Hosted License Manager)
As part of On Center Software's ongoing efforts to improve license security, your software requires an Internet connection to validate your license every 30 days. Failure to validate the license will cause the license to be revoked from your computer.
Authorization, Licensing, and Activation all mean the same, basic thing - unlocking your software using a purchased license.
Basic Information on Licensing
How do I know when I am licensed?
To use the full features of your program, such as the ability to make changes, edit Bids, Conditions, Master records, or change quantities, you must have a valid license. This is known as being authorized or authorization.
When you are not authorized you will see a message in the bottom right corner of your program indicating "(no license)".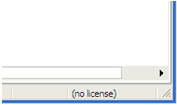 If you are using the free PlanViewer version of On-Screen Takeoff®, your application shows (no license) at all times
Once you are authorized you will see which features are activated in the status bar:
OST = Takeoff mode (On-Screen Takeoff)
DPC_PM = Project Manager role (Digital Production Control)
DPC_FM = Foreman role (Digital Production Control)
QB = Estimating mode (Quick Bid)
Below are a few common issues and resolutions.
Out-Dated Versions
See your product's "Information and Downloads" page, above, for supported/distributed versions of On-Screen Takeoff, Quick Bid, and Digital Production Control and review our Sunsetting/End of Life Policy in Related Articles for additional information.
To determine what version you have installed, click Help > About < product >.
Firewalls
The number one reason for licensing failure is that there is a firewall blocking your Internet or local area network access. The first step in troubleshooting licensing issues is to disable any Internet security utilities such as Norton Internet Security™, McAfee® Personal Firewall, or Panda Security Firewall and try again. You may need to contact your network administrator or IT person to disable local and network firewalls for testing purposes.
See
CLS - Configuring Your Firewall (Classic Products released after 3/1/2018)
for details on configuring your firewall. Share this article with your IT person so he or she knows what to do. For information on configuring your firewall, contact the vendor. On Center Software does not sell or distribute firewall software and we are unable to provide technical assistance with the installation, configuration, maintenance, or troubleshooting of firewalls. Your firewall vendor is best equipped to troubleshoot their software and provide technical support.
After you disable security, if the program successfully activates, re-enable the security software and contact your security product support for assistance with configuring your security product to allow On Center application to access your Internet connection. If the program still cannot activate or if your the PC is connected to a Local Area Network (LAN), contact the IT department or Network Administrator to ensure there is no network level protection or Group Policy interfering with your computer's Internet connection.
Other Internet Security Software
Even if you have an Internet connection, your company may employ security software to limit what sites can be accessed. Some software requires the end user to enter a user name or password to permit the connection (when using a Browser). Unfortunately, because OST/QB connect without using a Browser, this prompt may not show. Check with your IT department to see if you company employees anything that limits Internet access.
Troubleshooting Licensing Using a Standalone Code
What is my License Key?
When your company purchased software with On Center, or your previous licenses were upgraded, your company was issued a License Key for each product (one for OST/DPC and another for QB).
License Keys can be retrieved from MyOnCenter.com - see PTL - 01 What is MyOnCenter? for more information. Only certain people from a company are registered for the portal - if you need access, please contact your Account Manager at On Center Software.
Incorrect/Invalid Key
The 2nd most likely cause of licensing issues is attempting to activate an incorrect or invalid code. Make sure you are trying to activate the most recent code provided by On Center Software, which you will find in MyOnCenter.com. If you are having problems figuring out which code to use, Contact Technical Support for help.
Double check that the code you are trying to activate is typed in correctly - pay particular attention to '0' (zero) versus 'O' (letter) and "1" (one), "I", and "L" (letters). It's best if you copy and paste the code rather than try to type it in.
Out of Seats
Each License Key allows a certain number of users to activate against it (if your company purchases 10 licenses for On-Screen Takeoff, a total of ten users can use a License Key concurrently - you own 10 "seats"). The 11th person would receive an error that no more seats are available - another user just has to return their licensed so that 11th user can license his or her installation.
Licensing using a Server Code (floating/borrowing from Hosted License Manager)
Incorrect Server Code
Your Server Code is available from MyOnCenter.com. If you do not have access to MyOnCenter, contact your manager or Network Administrator.
No More Seats Available
Just like License Keys, a Server Code permits a certain number of users (the number of licenses owned) to float or borrow a license. Companies need to establish license-use policies that require users to return licenses they do not need.
Floated Licenses Stuck on Computer
The way a Floating license works is that the program "borrows" a license and when the program is closed, it automatically "returns" that license. If the computer or program crashes or is disconnected from the Internet, the program cannot put the license back properly and that floating license gets "stuck" on the machine. To fix this, just open the program again and then close it normally - this will put the floating license back in the pool.
Insufficient User Rights/Permissions
The end users need to have "Full Control" to the "HKey_Current_User\Software" hive in the Windows Registry on their workstations. This hive controls only the current user and does not affect machine settings or disturb Windows system settings.