Views: 923 Last Updated: 11/03/2022 02:05 pm
100 Rating/ 1 Voters
Be sure to rate this article 5 Stars if you find it helpful!
The Tools Toolbar houses basic application function buttons for interacting with the plan/takeoff on the Image Tab.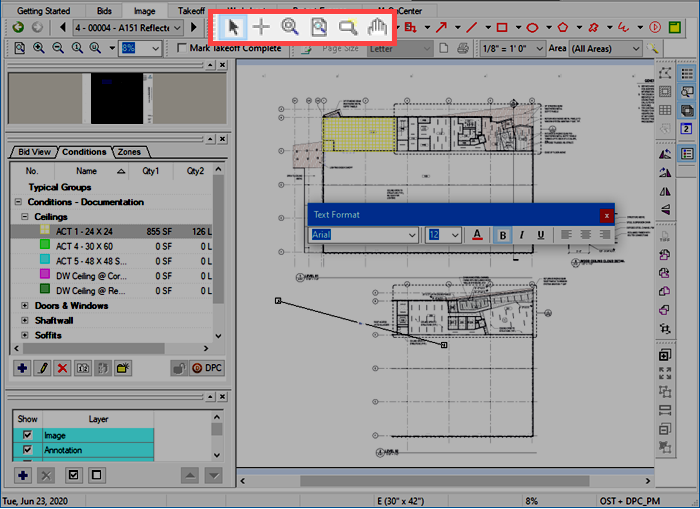 By default, this toolbar is docked to the right of the Navigation toolbar.
Button Icon
Function
What it does/What it means...
Keyboard Shortcuts
Select Mode
Allows you to selects something (such as takeoff or annotation) within the Image Window.
<Spacebar> (toggles between Select and Takeoff modes)
Takeoff Mode
Performs takeoff with the selected Condition.
<Spacebar> (toggles between Select and Takeoff modes)
Zoom Tool
Used to Zoom In or out on the current page:
Left-click to Zoom In and right-click to Zoom Out
Click and drag to create a region that will fill the entire Image window
<Ctrl> + Left (IN) or Right (OUT) mouse button.
You can zoom using the <+> (plus) (IN) and <->(minus) (OUT) buttons.
You can also use <Ctrl> with the scroll wheel on your mouse to zoom in/out
Zoom Full Page
Zooms to a full page view of the current page (fits to page)
<*>
Magnify Tool
Magnify is a tool used to magnify a region of a plan without zooming in. Select the tool and click on the area to magnify.
***when using Overlays, the Magnify Tool only magnifies the Base image.
Pan Tool
Click and drag to pan
<Alt> Scroll Wheel - up/down
< Shift> + Scroll Wheel - side to side
Right-click and move mouse.
---