Using Auto Naming, On-Screen Takeoff can help you get your project setup in no time. Instead of having to name each of your Pages to match the drawing, rotate them correctly, and organize them into Folders before doing takeoff, Auto Naming can do it for you.
You must be under a current Maintenance Subscription to use Auto-Naming (Plus). If you have allowed your Subscription to lapse, please contact our Client Services at 866-426-2447 to renew today!
You must have an active, high-speed Internet connection to use this feature. Please see Related articles for information on ensuring your Firewall is set up to allow this communication with the "Cloud".
Only TIF, PDFs, and JPG file times can be processed. If you are using another file type, just follow the instructions in Related Articles to convert to TIF and then run Auto Naming. Do not convert PDFs to TIF format before running Auto Naming on them. The Auto Naming technology converts your files to JPG for fast uploading and converting a converted file can cause a marked drop in image quality to the point that Auto Naming returns unexpected results.
How Auto Naming Works
After you load your drawings (see the previous articles for the different ways to do add Plans), On-Screen Takeoff can analyze those drawings and then make suggestions for Page Name, Sheet No. Rotation (orientation), and even organize your plans by Discipline. Auto PageNaming scans the page to try extract the most appropriate name, orientation, and discipline for each drawing. You have the ability to accept these suggestions before they are applied.
AutoNaming connects to our Cloud server and uploads a copy of your plans for analysis. It is your responsibility to ensure this does not violate any legal or contractual obligations you have regarding sharing or electronically transmitting the plans you are using.
To run AutoNaming, open the Cover Sheet for the Bid.
Click the Auto Name (BETA) button, on the control toolbar.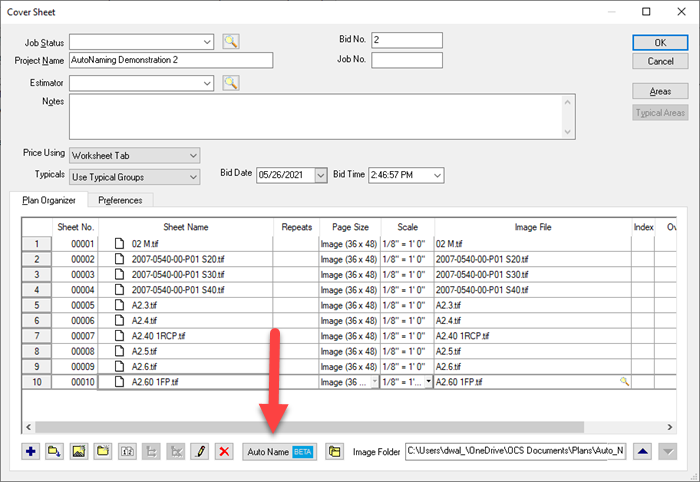 A dialog box explains that your plans are being uploaded and that you will be able to access the project again once processing is complete.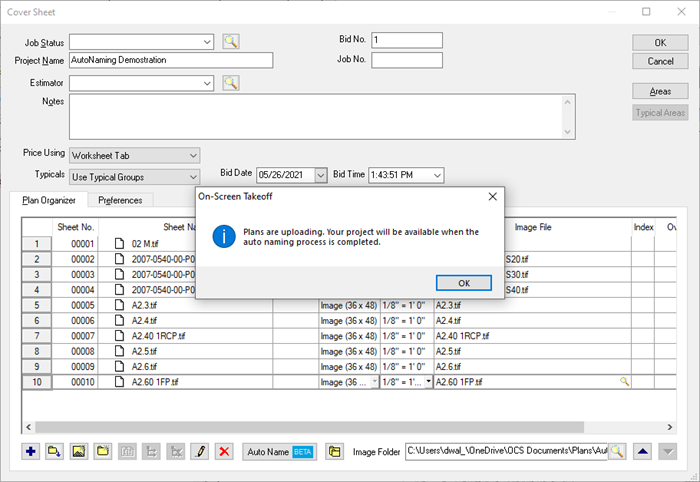 If you need to review a project's plans immediately, don't run AutoNaming on the plans until you are able to be "locked out" of the project for a little while.
What does "Processing" mean?
On-Screen Takeoff prepares all Pages that have not previously been processed through Auto Naming (so, if you run Auto Naming and then add more Pages to your Project, you can run Auto Naming again, and it will pick up just those new Pages). During the Preparing phase, all Pages are converted to .jpgs so they can be uploaded and analyzed quickly.
Once converted to .jpg files, they are uploaded to On Center's cloud-based service. In the Cloud, the files are processed (analyzed).
A status indicator and progress bar let you know how things are going.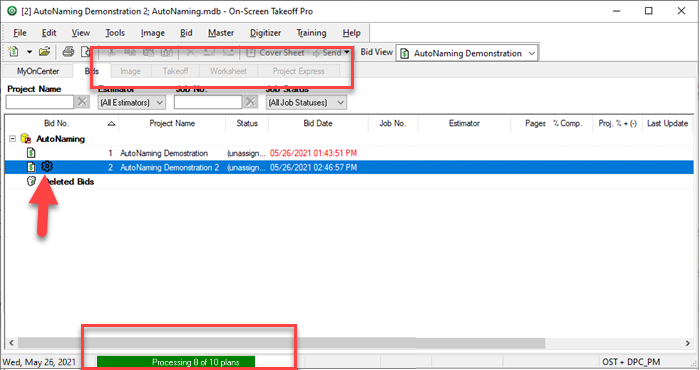 You are free to use any other bids in this database, as you can see, though, bids on which AutoNaming is running are not accessible.
Once the analysis is complete, open the Cover Sheet to see/adjust the results.
Auto Naming may not make 100% accurate suggestions, that's OK, the system is always improving based on your corrections/adjustments.
See the next article for details on reviewing and updating AutoNaming Results.