Did you ever wish there was a way to make sending, receiving, and managing Supplier pricing requests easier?
How about a way to seamlessly take a price quote you've received from a vendor and update your Bid?
How about a way to compare multiple vendor price quotes side-by-side and select the best for your Bid?
On Center Software did, so we developed eQuotes which allows you to send, manage, and award Supplier quotes from the Materials Tab in Quick Bid. Quick Bid eQuotes allows users who maintain a Maintenance Subscription with On Center to electronically send and receive Material Pricing requests/quotes to and from Suppliers using the Internet. eQuotes can be sent to multiple Suppliers and then compared side-by-side.
Suppliers can streamline their quoting process, submit more quotes to more customers faster and more efficiently (as long as those customers use Quick Bid, of course), and receive a copy of the quote for their records (along with an XML file they can import into their own quote management software).
Detailed information about eQuotes and instructions for creating, sending, and receiving are provided in the next few articles.
Before using eQuotes...
Your company must be under a current Maintenance Subscription - contact Client Services if you would like to renew
You must be listed as the Lead Estimator on the Cover Sheet and include an e-mail address in your Estimator profile
Suppliers must be setup with an e-mail address
There must be a Job Site zip code on the Cover Sheet
You must have an active Internet connection available - firewalls (local and network) and virus scanners can cause the sending/receiving process to fail
You must use an e-mail program that supports and allows XML based attachments - contact your IT Department or e-mail provider with questions
The eQuotes feature is accessed from the Materials Tab - this is where you create, send, view, and award eQuotes for the current Bid (the pricing file is returned via e-mail). To access eQuotes, open the Materials Tab and check View eQuotes - a "Welcome to Material eQuotes" wizard opens providing a high-level overview of eQuote functionality. To disable this Welcome wizard, click "Do not show this again" - you can turn the wizard back on by clicking Tools > Options and checking the eQuotes Welcome Dialog checkbox.
When "View eQuotes" is checked, the Material eQuotes panel opens at the bottom of the Materials Tab: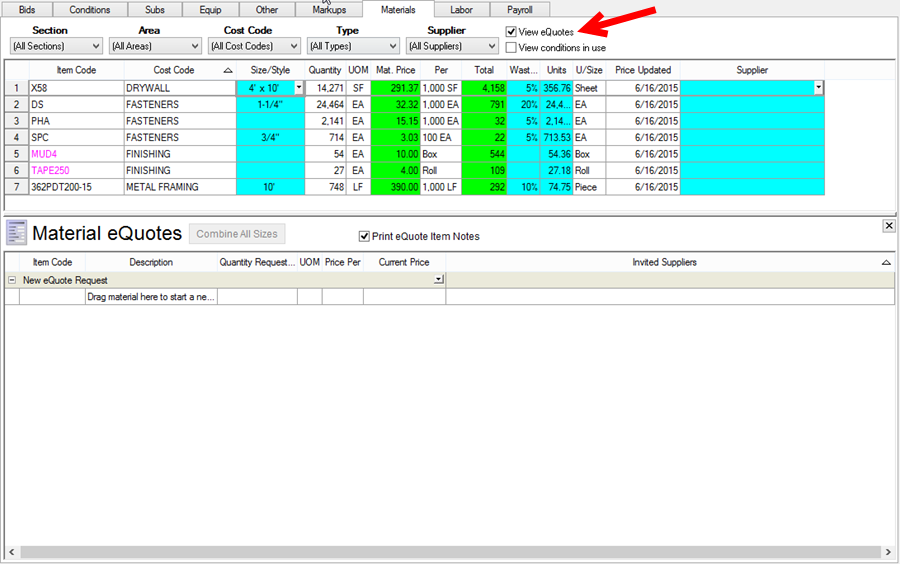 An eQuote is a group of items for which you are requesting pricing. You can send one eQuote to multiple suppliers to see who has the best pricing. Because you submitted a group of items as an eQuote, the supplier is providing pricing based on this whole group and are expecting you to accept this eQuote as a group. Quick Bid allows you to select which priced Items to accept from an eQuote and to adjust the pricing returned by a vendor. However, if you modify an eQuote (pick and choose which Items to "accept"), the vendor may not honor those prices - please contact your vendor with any questions.
Are You Off Maintenance?
If you have allowed your Maintenance Subscription to lapse, you will not be able to use eQuotes and will see the following error.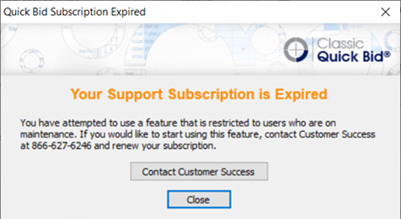 Contact your On Center's Client Services team at 800.880-8254 to discuss renewing your maintenance today so you can take advantage of eQuotes!