If you haven't already installed the product, you will have to start here. Before installing Quick Bid, be sure your computer meets our System Requirements. Keep in mind, the minimums necessary to run Quick Bid may not provide acceptable performance.
Please review these System Requirements and the Installation Instructions for your product before downloading or attempting to install.
Review the Release Notes.
See Quick Bid® for Product Information and Downloads.
The most-current System Requirements and Recommendations can be found here: CLS - Classic System Requirements.
System Requirements for previous versions of Quick Bid can be found at the bottom of this article, under Related Articles.
System Requirements
The most-current System Requirements and Recommendations can be found here: CLS - Classic System Requirements
Operating System for Quick Bid 4.99.04.01
Windows® 10 Pro or Enterprise, Windows Server 2016 (not as a desktop OS)
32 Bit and 64 Bit operating systems are Supported.
You must keep your Windows system updated with all Microsoft' updates to install and continue to use our software.
At this time, ConstructConnect certifies our desktop products in the above environments only. Technically, they should work in the following environments, but we do not or have not done certification testing. There is no reason they shouldn't work - however there may be unidentified issues that our Support Team may not be able to resolve:
We have not completed certification of Windows 11 for Quick Bid at this time (4/27/2022)
Windows 365 (Cloud Windows)
Windows virtualized on a MAC
Citrix or other virtual desktops/application publishing environments
Windows® 7, Windows 8 and 8.1, and Windows Server 2012 (unsupported operating systems)
Before upgrading your computer to Windows 11 (from previous version of Windows), uninstall all On Center Software products. Then, once you have upgraded your operating system and applied all Windows Updates and drivers, reinstall the products.
CPU (Processor)
Recommended
Intel Core i5 or faster
Required
Intel compatible 1GHz processor or faster
Memory and Storage
Recommended
8 GB RAM or more
Required
4 GB RAM
1 GB Hard drive space (plus more for plans, projects)
Other Requirements
Minimum display resolution: 1200 x 1024
Internet connection required for licensing
Must be installed by Windows administrator
.net 3.5 required for Classic products
Usually, if your PC is capable of running a supported version of Windows, it should be able to run On Center's products.
Optional
Information on running OCS Products in an Apple environment can be found in: ALL - Using Apple hardware (a MAC) with On Center's Products.
To generate Proposals, a fully-licensed and locally-installed version of Microsoft Office® Professional 2010, 2013, and 2016 must be installed.
If you are looking to share a database between multiple users, you must use Microsoft SQL Server, see CLS - Using SQL with Classic Products for more information.
Notes
On Center Software tests our software in conjunction with products currently under "Mainstream Support" with Microsoft. Once a version is 'retired' by Microsoft, On Center no longer tests or supports our software with that version. See CLS - Product End of Life (Sunset Plan) for more information.
The minimum system requirements support basic functionality of On Center Software programs. Actual requirements will vary, depending on your system configuration, other applications installed and running on your computer, the complexity of the electronic plans you use, and if you use the programs interactively.
Ensure you have your most current Activation Code(s) for the software (activation codes are version specific). Activation codes can be retrieved through myoncenter.com. Then, download the software using the link provided by On Center Software, or visit the Product Information page, under Related articles. Be sure to verify which version of Quick Bid your license supports before installing anything.
If you need your Activation Code(s) or have questions about which version of the software you should download/install, please contact Technical Support at 866-689-5687, or via e-mail at support@oncenter.com - be sure to include your name, Company name, and Client ID
Installation
Save the downloaded installer file to your local hard drive (the desktop is a perfect place, it is easy to find the installer).

Once the installer file is downloaded, double-click it - the "InstallShield Wizard" starts.
Click Next on the Welcome Screen.
Review and Accept the End User License Agreement and click Next.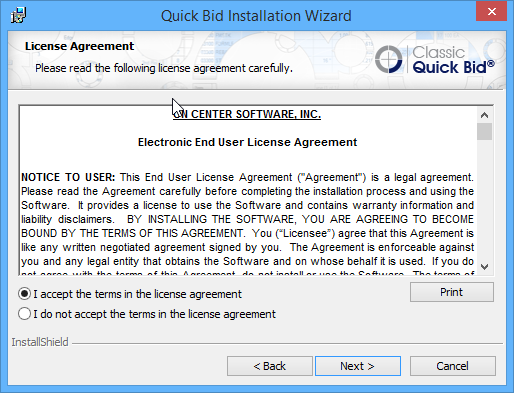 Enter in the user and company name to which you want this installation of Quick Bid registered (this information is displayed on the "Splash Screen") and click Next.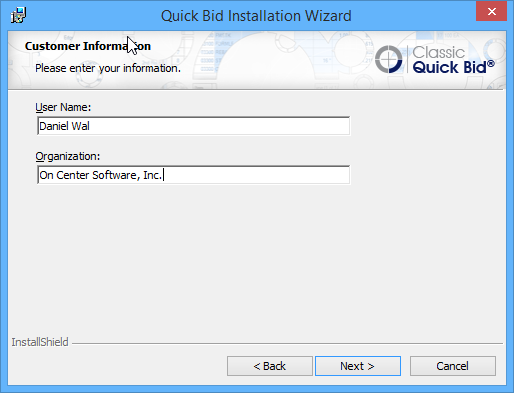 .
If you need to install to a directory other than the Windows default (Program Files or Program Files (x86)) click the Change button, otherwise click Next on the Destination Folder screen.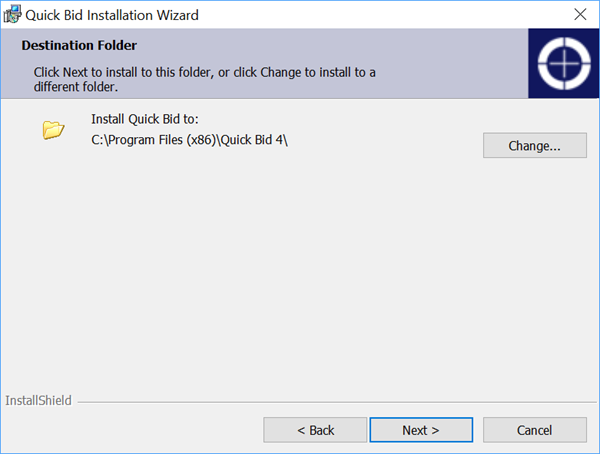 .
(On Center recommends always installing to the Default directory.)
Click Install to continue with the installation - a progress screen displays.
When the installation is complete, an information screen displays - review the information and then click Finish.
After you click "Finish", a web page opens explaining how to license your product (also covered in the next article).
You will find the shortcut to Quick Bid on your desktop, double-click it to launch the program.

To use any features of Quick Bid, you must activate a license, covered in the next article.