Symptom
You receive a multi-page PDF but only need one or two of the Pages to use in On-Screen Takeoff or are trying to use Takeoff Boost (v.1) that does not support multi-page PDFs.
Extracting Single Pages from Web Browser
The easiest way to extract individual pages from a multi-page PDF is to open the file in Chrome or Edge (we only tested these two browsers, others likely work the same).
Saving a single page using this method preserves the architectural dimensions of the individual pages.
Review the pages and note the page number you want to print.
Click the Print button (Edge is similar).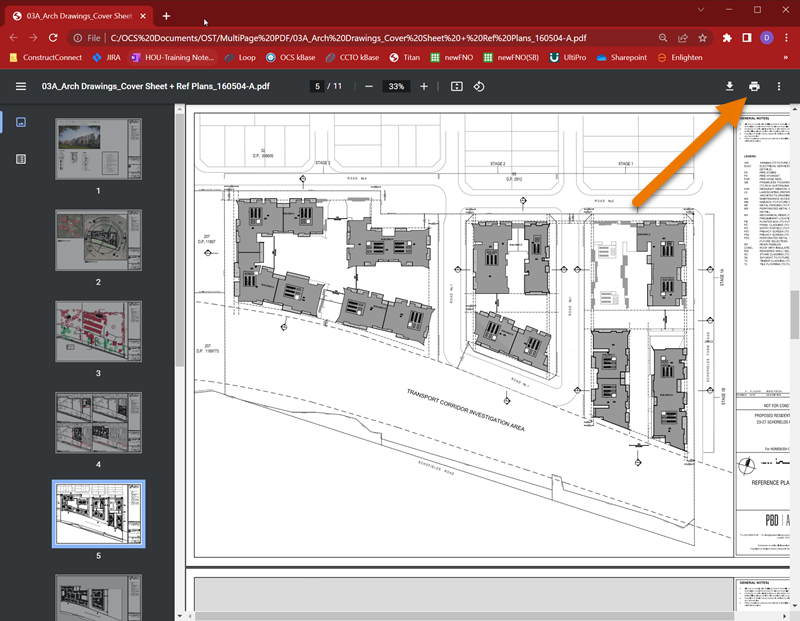 In the Print dialog box, set your destination as "Save as PDF" (do not use "Print to...PDF", that will not retain your page dimensions).
Set the Pages to "Custom" and then enter the appropriate page number (you have to do this one by one or you'll create another multipage PDF).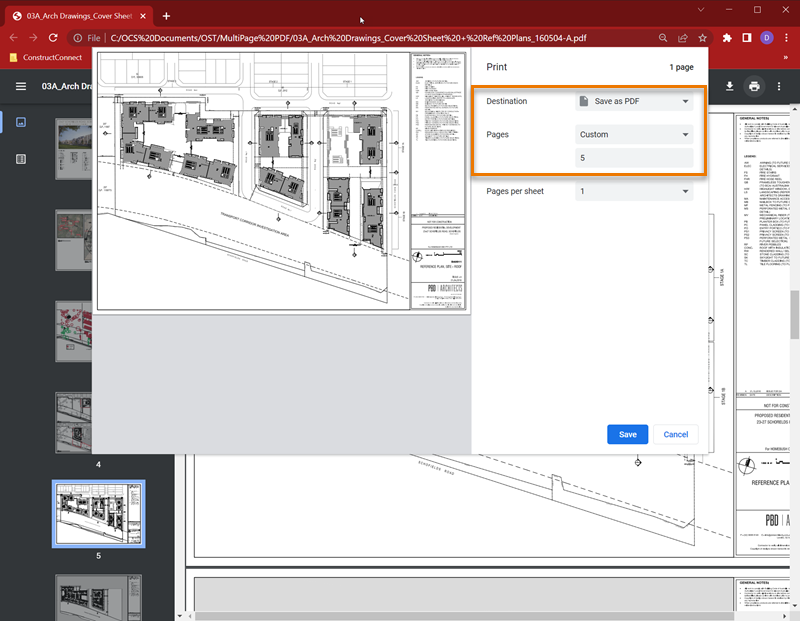 Click Save.
The Save As dialog box opens.
Name the page with the appropriate sheet number and sheet name, as shown on the drawing.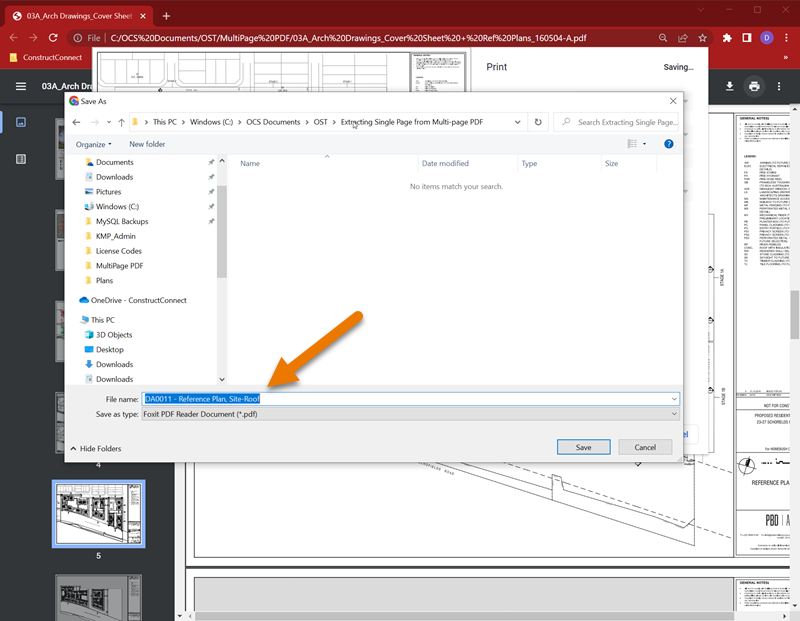 Click Save.
Repeat this process for each page you want to extract from the multi-page PDF.
Extracting Single Pages by Printing
This is how most users accomplish this task.
You will need a 3rd Party PDF Viewer installed on your computer to perform these steps (such as: Adobe Reader, FoxIT PDF Reader, or any other).
You will also need a PDF "printer" that supports printing to Architectural sizes. Although Windows comes with Microsoft PDF printer built-in, it does not support printing to Arch Page sizes (Arch A, B, C, D, and E). See Printing Plans and Takeoff to PDF for some potential PDF Printers that may suit your needs.
Open the multi-page PDF in your chosen PDF viewer, in our example, we are using FoxIT's PDF Reader.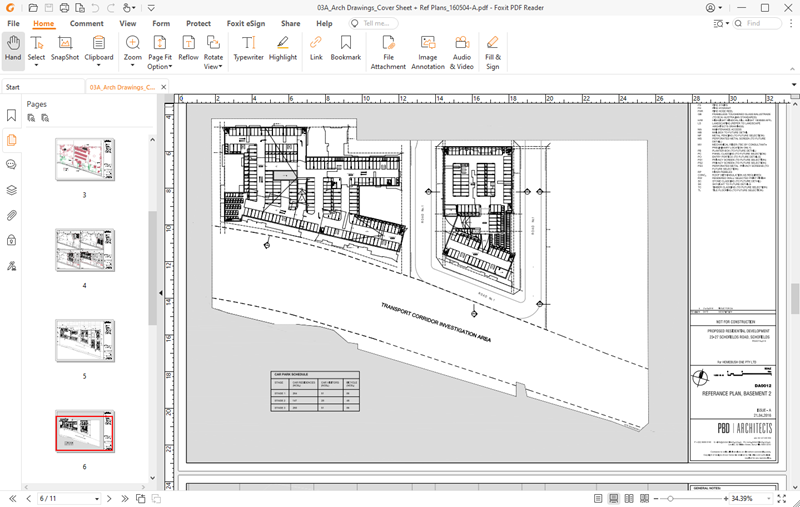 Review and identify which pages you want to "extract". For our example, we just want the page shown in the screenshot above.
Click the Print button in your PDF Viewer, the Print dialog box opens.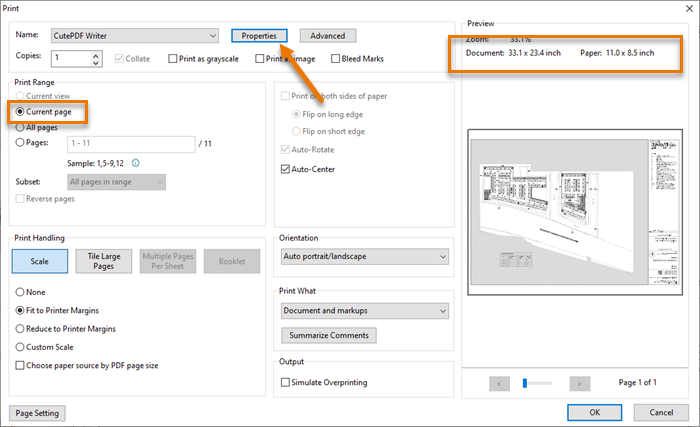 Select your PDF Printer from the Name drop-down (ours is "CutePDF Writer").
Notice a few things.
We had to select "Current Page" for Print Range, else the system defaults to "All pages".
Also, although the "Document" is Arch D (33" x 24" approximately), the "Paper" is letter size (8.5 x 11). We have to change that in Properties.
Click the Properties button, and then click on the Paper/Quality tab (your printer's Properties dialog may differ).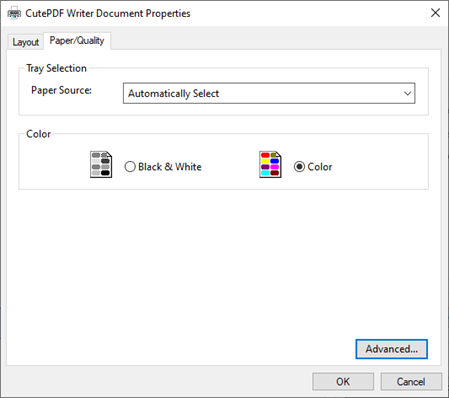 Click on the Advanced button to open Advanced Options.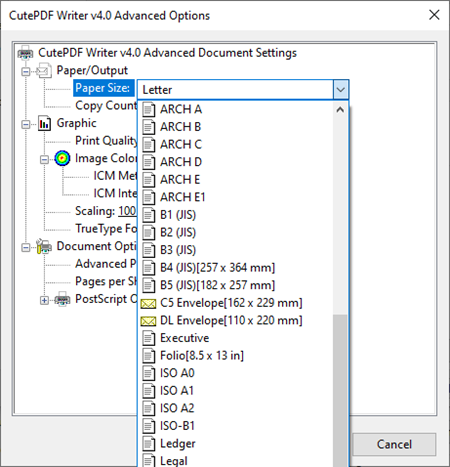 Notice, this allows us to select a "Arch D" as Paper Size, which we do.
Click OK and OK again to return to the Print dialog box.
Now we are ready to print, notice our Paper and Document size match (or are pretty close).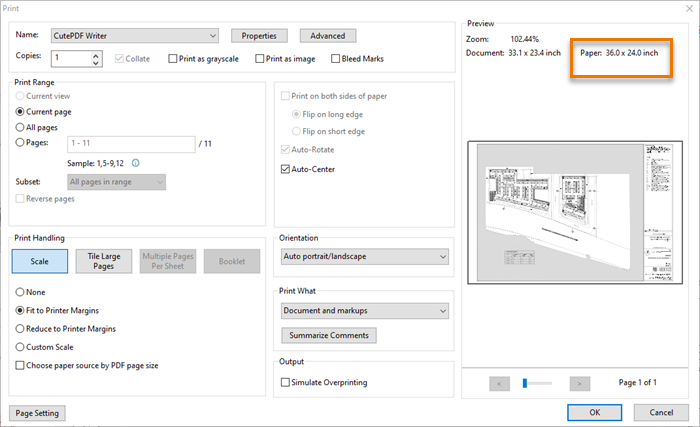 Click OK to print to PDF, the standard Windows save as dialog box opens.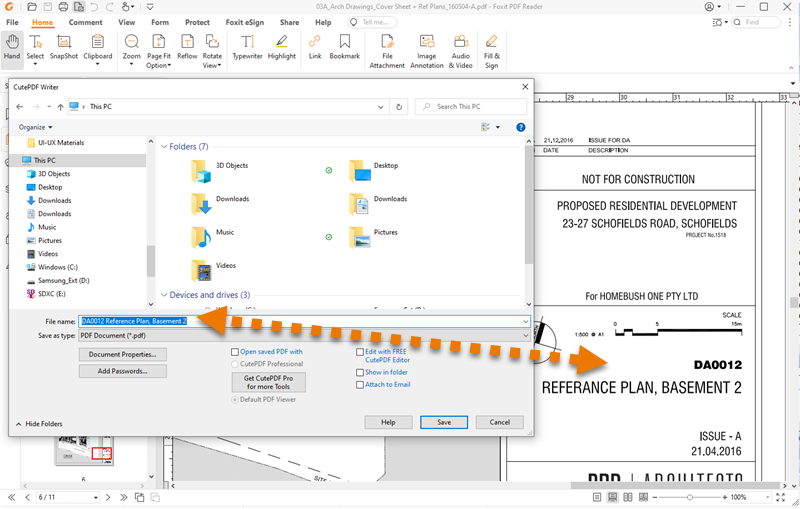 Be sure to set the name of this file to the actual Page being printed. In our example, the Sheet number is "DA0012" and the Sheet Name is "Reference Plan, Basement 2", so we adjust our file name accordingly.
Click Save to generate the PDF.
Repeat this process for any other Page in the multi-page PDF you need to separate out.
Once saved, you can add one or all the "extracted" PDFs to your On-Screen Takeoff Project.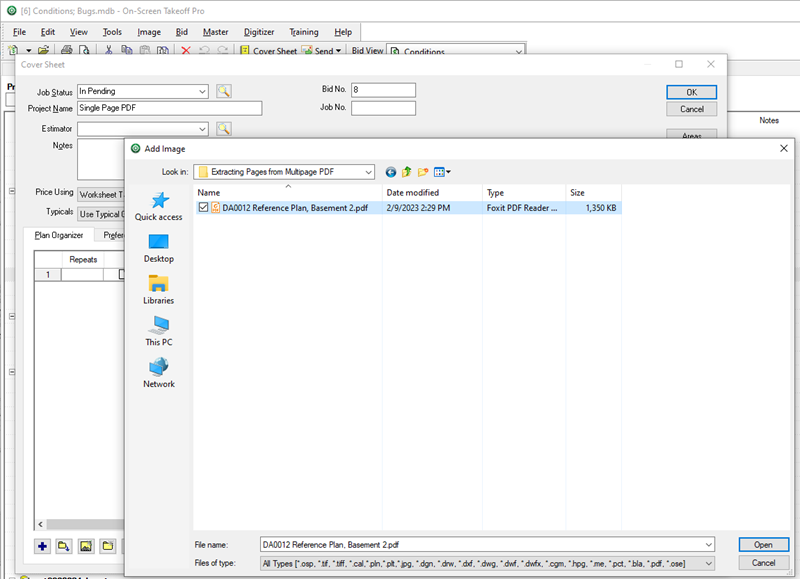 When added, you can see it is no longer an "indexed" or multi-page PDF...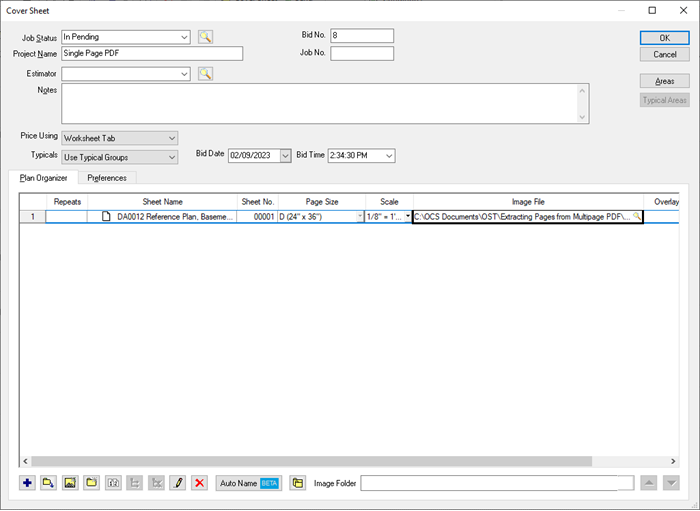 See OST - 03.04 Filling out the Cover Sheet - Step 2: Adding Plans to a Bid Using the Plan Organizer for details on adding one or multiple files to a Project.
Notes
Some PDF Utilities (usually paid solutions) allow you the option to save a single Page directly as another file. If your PDF Viewer allows for that, you don't have to go through the process of Printing out each individual Page. Contact your solution's help desk for assistance.
You can find a PDFs dimensions by opening a page's Properties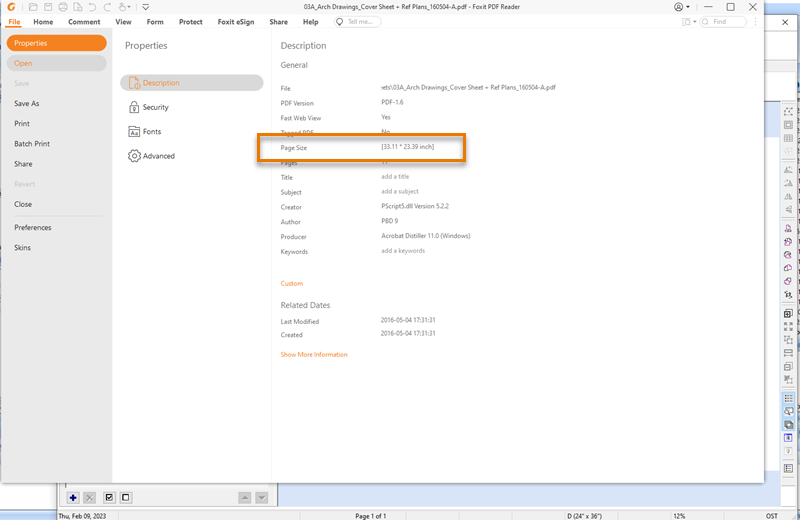 If you are having difficulty printing your PDF to single page files, contact our Technical Support team, they'll be happy to give you some guidance.
Use a PDF "Splitter"
We do not test, endorse, or support 3rd party software or tools!
Adobe and several other companies offers utilities specifically designed to allow you to upload a multipage PDF and split it into single page files.
A simple web search for "PDF Splitter" should provide you several options. For assistance using these utilities, please contact the vendor directly.
Standard U.S. Architectural Drawing/Page Sizes
Below are the standard drawing sizes you can set up as "Custom Page Sizes" in your PDF Printer, if they aren't there by default.
Drawing Size
Dimensions
(millimeters)
Dimensions
(inches)
ARCH A
228.6 x 304.8
9 x 12
ARCH B
304.8 x 457.2
12 x 18
ARCH C
457.2 x 609.6
18 x 24
ARCH D
609.6 x 914.4
24 x 36
ARCH E
914.4 x 1219.2
36 x 48