If you regularly bid similar jobs, or if you want to save your Worksheet Tab pricing associated with the Conditions you create, you may want to create a few template jobs that you can duplicate to get your Bids set up quickly and efficiently.
Benefits of Creating Template Jobs
You set up a template Job/Bid with the Conditions, Layers, Bid Areas, Typical Areas or Typical Groups, Image Legend settings, and Worksheet Tab pricing exactly how you like it. When you duplicate the template job, all that good stuff gets duplicated right along with the Bid. All you have to do is make updates to it and add new Plans for each job you need to do takeoff on.
Saving Conditions as Styles is super-convenient, however you cannot save Pricing with Condition Styles - you'd have to fill in the Worksheet Tab from scratch each time you create a new Bid.
You can set up templates for different types of projects: schools, strip malls, office buildings, hospitals, etc. or for different geographic regions (to reflect different pricing).
If you use Quick Bid to price your estimates, you can create linked (interactive) template jobs. When you duplicate the job in On-Screen Takeoff, you will be prompted to duplicate the connected Quick Bid estimate. What a timesaver! You'll have a new Bid in OST and QB, with Conditions and Pricing all set for you to load your plans and draw takeoff.
Suggestions/Reminders
Synchronizing Databases
When you create a new database (which you should be doing regularly...see Classic Products Best Practices - OST QB DPC), if you synchronize an existing database to your new one, bids - even template bids - are not copied over. You'll need to copy them from your old database to your new database, after synching Masters.
See the previous article for details on copying and pasting Bids from one database to another.
Job Status
Create a locked Job Status named "Template" and set all template jobs to it.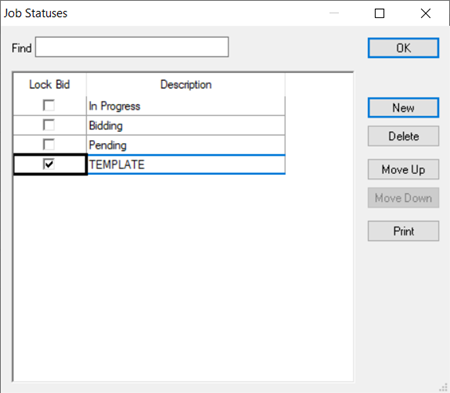 After duplicating, set the Job Status to something appropriate. This won't prevent modifications to your template jobs, but it'll make it harder to do so. See Related Articles for more information on creating and locking Job Statuses (especially important if you are working in a shared SQL database).
Naming Template Jobs
When you name your template jobs, use a logical naming convention. In our example, we use the format "TEMPLATE - <job type>".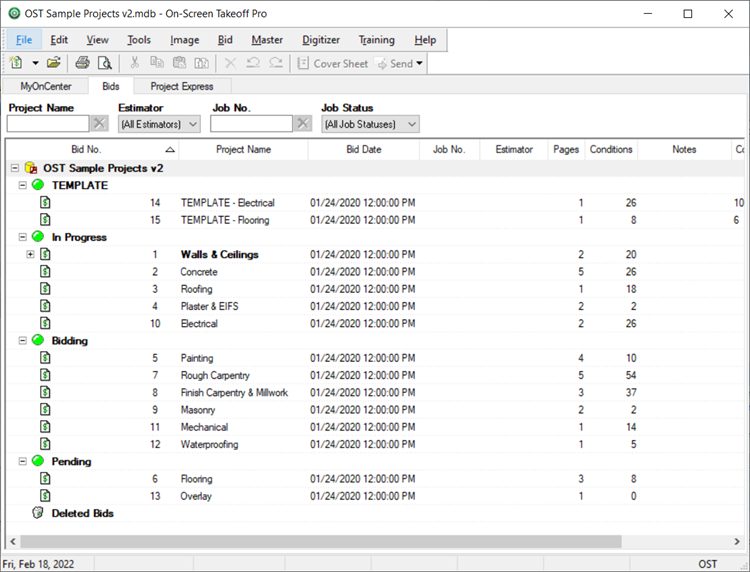 Template jobs shown on the Bids Tab (which is grouped by Job Status).
Reminder: to share a database with other users, you must use Microsoft SQL. Never share an Access type database (the default for OST) and never store an Access database on a remote/network drive. See
Sharing Databases - Multiple Concurrent Users
for more information.