One of the most useful features of DPC is the ability to line out a single day's labor requirements. This allows the Foreman to select a Labor Cost Code, then select some takeoff objects (for example, what is expected to be completed on a given day) and the program will display the estimated hours needed to complete the work. Based on the hours budgeted for the selected takeoff, one assigns the appropriate crew (# of laborers) to complete the work (of vice versa - if you know the number of crew available, you simply select enough work to keep them busy).
In the screen shot below, the foreman selects 101(LF) in the Labor Cost Code list then selects several rooms of takeoff (the objects become highlighted in yellow). The program calculates the Budgeted (B) (the total Est. Hours allocated to this LCC for these takeoff objects) and Remaining (R) (hours required to completely build/finish the selected takeoff objects, based on the object's percent complete) hours for the selected LCC and takeoff objects and displays these values in the Status Bar.
Our example shows the selected objects require just over 9 hours of labor. We will assume we have a crew of 1 doing the work, that's approximately 8 hours of estimated/budgeted labor.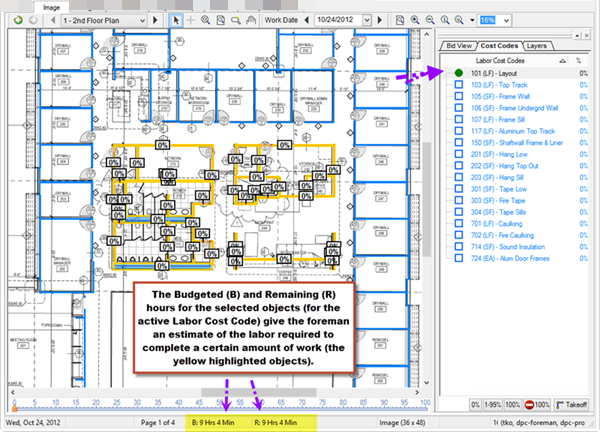 Set the "Percent Complete" to "1%", to mark these objects as 'assigned' for the day. (This would be for the first crew. For subsequent crews, you'd set the % complete of the objects to 2, 3, 4...)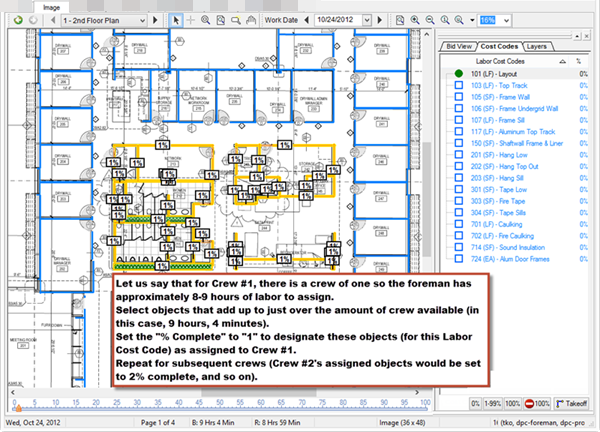 At the end of the day, if all work has been completed, click the '1-99' button (for each Labor Cost Code) to quickly select all of the assigned (lined out) objects and set them to 100%. Because you selected a little more than the "budgeted" crew hours, if your crew gets all this work completed, the Project will be slightly ahead of Budget and making money. This is one of the most important ways that Digital Production Control helps a project remain on (or better than) Budget.
Why I Being Able to Line Out Work Important?
If a project manager knows the number of crew and the hours each crew works each day, he or she can select objects that are budgeted for a specific number of hours. For example, if there are a total of 24 crew hours available for a day (3 crew members each working 8 hours), the project manager would select takeoff objects budgeted for 25 - 28 hours or so of labor (always select a little more budgeted hours than the crew hours available). If the crew completes the work that day, you know you are ahead of the game, and likely making money! Imagine if you had a crew of 200 (about 1600 hours a day), and you could be a few percent ahead every day.
Budgeted, Remaining Hours, and Projected Hours are calculated based on the production values set up in Quick Bid and may not reflect actual site production. Use the production information you gather from working a job in DPC to help you develop better, more accurate estimates in the future