Views: 538 Last Updated: 12/14/2022 10:18 am
0 Rating/ Voters
Be sure to rate this article 5 Stars if you find it helpful!
Notes are any information that needs to be communicated between the Foreman and Project Manager and vice-versa. Notes typically explain variations from expected production (such as worker illness, material delays, weather issues, etc.) or important conversations with owners, builders, employees, etc. These Notes become part of the project for continued reference and are included in the DPC Project File and/or DPC Change File, as they are added.
Notes are time and date stamped, and can be invaluable in the future.
To Add, Edit or Delete Notes,
Click on the Notes Tab
Click the button located in the bottom-left corner of the screen - a text box opens like the one in the image above - type in the notes and click OK - the notes are listed next to the date.
Edit the note by clicking the Note icon in the right-hand corner of the Note field or click the button at the bottom-left corner of the screen.
Delete a note by selecting it and clicking the button located at the bottom-left corner of the screen.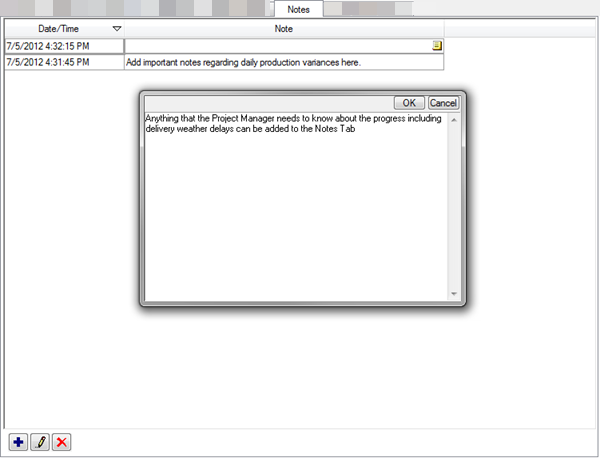 ---