Once the Foreman sets percents and enters Work Crew time, they send those changes back to the Project Manager. See Related articles for more information on tracking progress.
Review the Budget Tab
Before sending changes to the Project Manager, the Foreman needs to review the Budget Tab to determine the "% Complete" and "Earned Hours".
Click on the Budget Tab
Click the View as Hours radio selection - this makes the Budget Tab display more precise information about the project
Note the % Complete and Earned Hours for the entire job - the Foreman adds the Earned Hours to the Subject line of the outgoing message to the Project Manager.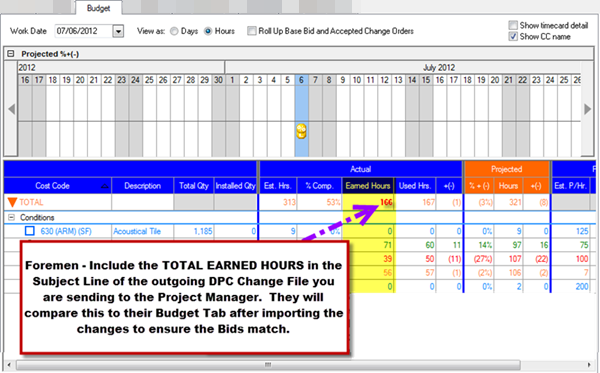 Sending DPC Change file
This is kind of obvious but you must be connected to the Internet to use Project Express.
Click on the Send on the Main Toolbar
Select DPC Changes (by default, all DPC Changes are sent via Project Express and there are no other options listed (this can be changed in Tools > Options > DPC but we recommend using Project Express if you can).
A DPC Change File contains all Percenting, Timecard Information, Annotation, and Notes entered by the Foreman. This file is then sent to the Project Manager.
Verify the project manager's e-mail address in the To: field. Usually, as long as the Project Manager sets up the project correctly, this automatically populates.
Edit the Subject text to include the Project Number, a short but descriptive Name, and the Earned Hours (from the Budget Tab)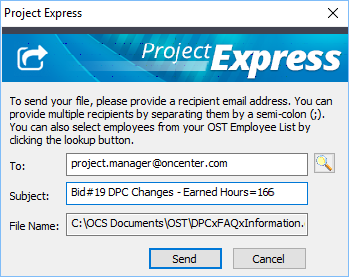 Click Send
Project Express sends the DPC Change File to the Project Manager over the internet and the Project Manager receives an e-mail notification and will see it in their Project Express inbox the next time they refresh.