Employees can be Estimators, Laborers, Project Managers, or Foremen - anyone related to working on a project. Adding the full list of your company's employees into On-Screen Takeoff is advisable, that way they are available in all Bids. On-Screen Takeoff supports importing a list of employees in CSV format making it easy to add all employees to the database at once (see section below).
To access the Employee dialog box,
Click Master > Employees, or click the Lookup button on the Cover Sheet for Estimator.
This opens the Employees (Master) dialog box. To add, change or delete an employee record, click the appropriate button on the right side of the dialog box.
When an employee is listed as Project Manager or Foreman (DPC Bids), some of their Employee information is locked from editing (Emp. No., and Access Level) - this is by design.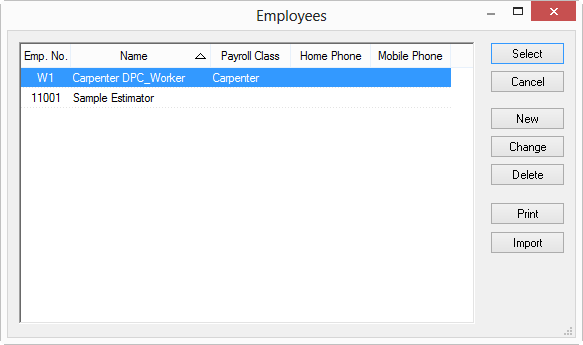 Remember, when you open the Master menu, the Employee dialog replaces the Select/Cancel buttons with an OK button. This is the only difference between the two dialogs.
When editing or adding an employee record, the Employee Detail dialog box displays.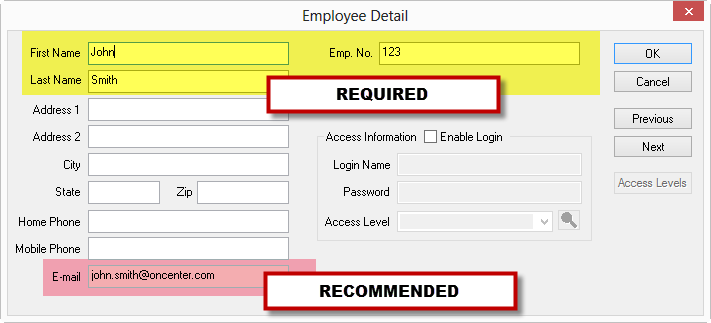 Fill out the Employee Detail
When adding a new employee record, First Name, Last Name, and Emp. No. are required fields. Employee number must be unique for that employee. All other fields in the Employee Detail dialog are optional (but helpful). For example, although e-mail address is not required, it makes using Project Express much easier.
All text fields are limited to 50 characters.
Click OK to save the employee to the database.
See Related articles for information on using On-Screen Takeoff's built-in security.
If you have more than a few employees to add, you may want to import them instead.