You spent a lot of time setting up your Styles and Style Sets and now you want to share them with your coworkers.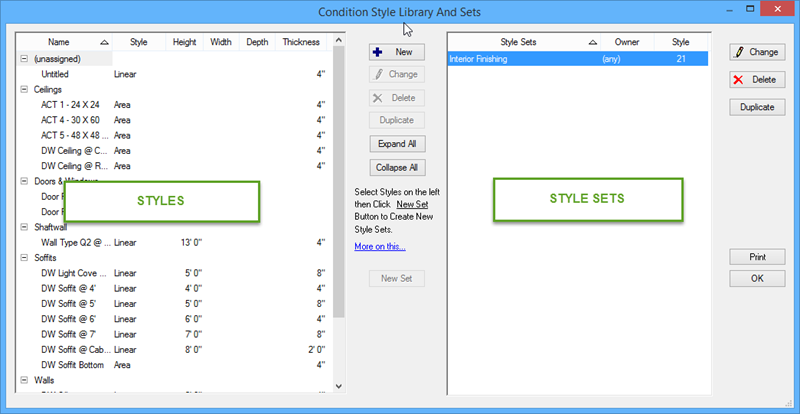 Sharing Styles and Style Sets
Once you have created/saved all your Styles (and optionally, Style Sets), to share those with other users:
Create a new Access-type database (click File > New > Database, selected "Microsoft Access...", and name your new database "Styles and Sets") (see the OST User Guide for detailed instructions on creating new databases).
Now, were' going to Synchronize your existing database with this new database, click Tools > Synchronize databases...
In the Synchronize Database dialog box select your working/current database as the Source Database.
Select "Styles and Style Sets" as the Destination database
Uncheck "All Tables" and select "Styles" and "Style Sets" (other tables may be selected automatically to build the Styles and Sets correctly).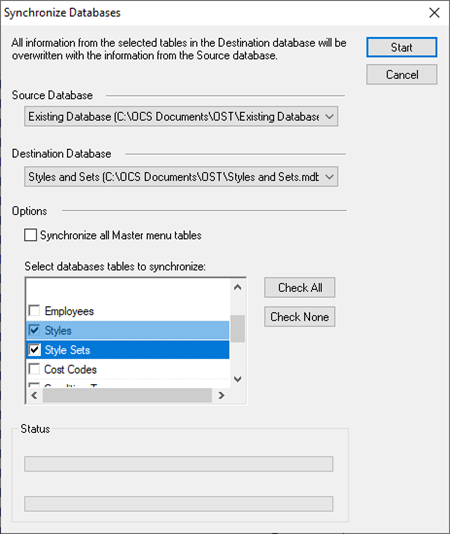 Next, click Start.
Close OST.
Now, you have a nice, shiny new database named "Styles and Style Sets" that contains no bids and no unnecessary data. Next, we're going to zip it up and send it to the receipient(s).
Open Windows Explorer (File Explorer).
Navigate to C:\OCS Documents\OST (or wherever folder in which you created your new database).
Right-click on the new database and select Send to > Compressed (zipped) folder.
Windows creates a Zip file (Styles and Style Sets.zip) in the same directory, that is the file you're going to share with your coworkers.
The reason we zip up the database is to make it smaller and to reduce the chance that it will be flagged/marked as a "dangerous" or blocked file. Sometimes, however, even zipping up the database isn't enough and you will have to change the file extension to "z11" to get your e-mail system to leave it alone, just be sure the recipient change the file extension back to "zip" after downloading it.
Send this Zip file to whoever you want to share your Styles and Style Sets
Adding Shared Styles and Style Sets to Existing Database
When you receive a Zip file from a coworker, you must unzip it and then synchronize the database inside that zip file with your existing database - this will add the Styles and Sets to your database.
Synchronizing the new (origin) database with your existing (destination) database overwrites any Styles or Style Sets with the exact same name but will not affect existing Conditions created by any Styles that already existed in the destination database.
Download the Zip file from your e-mail and save it C:\OCS Documents\OST.
Right-click on the Zip file and select "Extract", make sure the extract folder is the C:\OCS Documents\OST (this just makes it easier to find in On-Screen Takeoff).
Open OST and open the database "Styles and Style Sets" (if C:\OCS Documents\OST is not your default "database" folder, navigate to it).
Click Tools > Synchronize databases...
In the Synchronize Databases dialog box, set Source Database to the Styles and Style Sets database you just unzipped and opened.
Set Destination Database to your working database
Click Start
The new Styles and Style Sets are added to this database. Condition Types, Layers, and Employees may be added to your database also, if they don't exist already.