Exterior Improvements Database
Download
Download the US-Exterior Improvements database below.
All QB databases are in Masterformat 2016 and include Labor and Assemblies.
All OST companion databases include Styles that can be synchronized with QB assemblies.
| | |
| --- | --- |
| Download Link | Description/What's in this database... |
| Download | Landscape, Irrigation, Hardscapes |
Save the downloaded installer file someplace where you can find it easily - your "Downloads" folder or your Desktop are best.
The password for this database installer is included in the fulfillment e-mail we sent you when you purchased this Trade database. If you need this e-mail re-sent or are interested in purchasing one or more Trade databases, just contact your Customer Success Manager at 866-426-2447.
Installing
After you download the installer file, double-click it to start the installation. You'll immediately be prompted to enter the password.
Passwords are case-sensitive.
Just follow the prompts to "install" the database to your OCS Documents folder. There are two databases installed, one for Quick Bid and a companion for On-Screen Takeoff.
Usually, the database is installed to the default OCS Documents folder, located at "C:\OCS Documents". On some computers, if you have additional hard drives mapped (such as external hard drives or USB drives), the installer may create an "OCS Documents" folder and install the database there. You can copy it to the folder where you store your Quick Bid and OST databases.
Opening Your New Database
After installing, open Quick Bid.
Click File > Open or the Open Database button,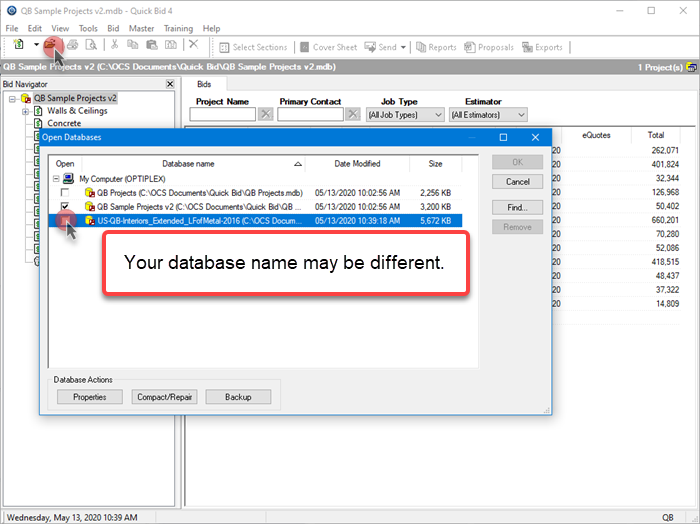 Place a checkmark in the "Open" box next to the name of the database you want to open and then click OK.
You are prompted to update the database to work with your version of Quick Bid, click Yes and follow the additional prompts to update the database.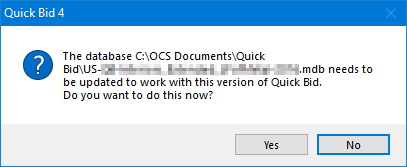 The new database is shown in your Bid Navigator. Follow the same process to open the companion On-Screen Takeoff database, if desired.
Using Your New Database
You can start bidding in this new database, but that's not recommended. The new database will not have your Master information in it - such as Payroll Settings, Payroll Classes, Markups settings, etc. So, we recommend that you create a new database and synchronize the Trade database into that new database, first, then synchronize your existing Quick Bid database into the new database - this updates the database Masters to match whatever you have in your existing, working database.
For information on Synchronizing databases, see the Quick Bid User Guide (in the left-hand Table of Contents) for your particular version of Quick Bid. Here is the link for Quick Bid 4.99: QB 4.99 - 15.05.03 Database Maintenance - Synchronizing Databases. Reminder: Projects/Bids are not copied during synchronization - you'll do that separately after synchronizing - this is also covered in the User Guide.
After synchronizing, you need to check a few other things:
Default Markups and Indirect Expenses - under Tools > Default Markups and Indirect Expenses, you need to configure your new database to match your existing database - these settings copy over when synchronizing database, however, it is best to err on the side of caution before you start bidding.
Payroll Settings - You also must make sure your Payroll Settings (Tools > Payroll Settings) are configured correctly. Again, Payroll Settings are copied from the "Source" database during synchronization.
Do not synchronize the Trade database into your existing database (making your existing database the "Destination") - you may overwrite custom Items or other Master records, or update pricing on Items unintentionally.
The Source database's information is always what you'll see after synchronizing database - the Destination's is updated/replaced.
Material Pricing must be verified by your distributor/supplier and should not be considered to accurately reflect current/prevailing pricing.
Production Rates must be reviewed as they will not represent your unique or prevailing production rates.