Once the Project Manager has finished adding Change Orders or changing labor/production, he or she needs to send the updated project file out to the Foreman (or Foremen).
One final warning - sending out a new DPC Package will overwrite the Foreman's existing bid with the Project Manager's changes. Any pending changes the Foreman (or foremen) did not send to the Project Manager will be lost - there is no way for the Foreman to send those changes to Project Manager once the Project Manager creates a new DPC Package. It is critical that all DPC Changes are sent to the Project Manager and incorporated into the Project Manager's database before the Project Manager sends a new *.dpm file to the field.
Be sure to coordinate between the Project Manager and each Foreman before sending/receiving new Bid Packages for existing projects.
See Related articles for more information on Sending project information.
Click Send > DPC Package > Via Project Express (or whatever method is used to transfer bid information) to send the updated project to the field (be sure to include the Est. Hours from the Budget Tab in the Subject line of the file you send to the field).
After the Project Manager returns an updated DPC Bid Package (dpm file) to the Foreman (or Foremen), the Foremen verifies they have imported the file correctly by comparing "Est. Hrs." on the Budget Tab to the Subject of the DPM File.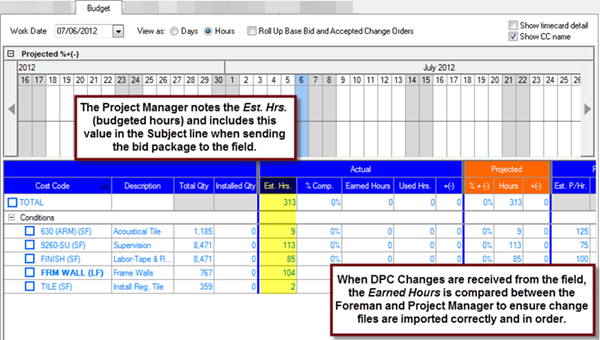 Once the Foreman (Foremen) import the Bid Package, he or she can then resume percenting and entering time on the job as usual.