Failure to follow the instructions below will cause your DPC project to fail to retrieve information from Quick Bid correctly. These steps must be followed as documented, if you have any questions, contact Support.
After making the necessary changes, starting with the most recently added Change Order, the Project Manager clicks the DPC button

to convert the job back to DPC mode, then returns to the Bids Tab, and works his way up to the Base bid.
Change Orders that were previously set to "DPC Mode" but have not been "Unlocked" or changed do not have to go through this process again. Only new or modified Change Orders must be 're-flipped' to DPC Mode, one-at-a-time.
You must open the Image Tab in each newly added Change Order one-at-a-time, click the DPC Button, then return to the Bids Tab and select any other Change Order added after the original Bid Package was sent to the field and repeat this process before setting the Base Bid back to DPC Mode. DPC only requests updates from Quick Bid for a Change Order when the DPC Button is clicked within that Change Order.
The Base Bid is the last bid in the project that should be set to DPC Mode, after all child bids.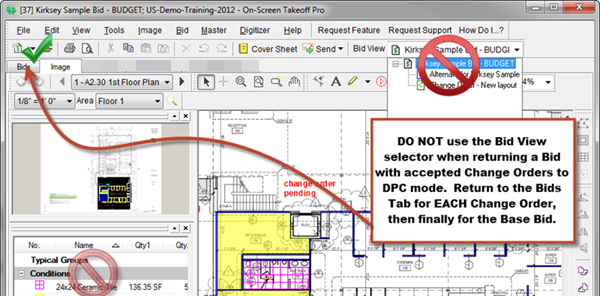 As mentioned in previous articles, the Project Manager must receive all work from the field (foremen) before creating a new DPC Package. The new DPC Package replaces the Bid on the foreman's machine - any un-sent work will be lost.