To add/edit a Change Order or modify the Base Bid, the Project Manager must return the bid to Takeoff Mode first and then unlock it.
The Project Manager must have Quick Bid installed and licensed, with the the appropriate database open, before unlocking a project because unlocking a project unlocks the Quick Bid side as well as the takeoff side. If the QB side of the bid is not accessible, your bid will break.
Unlocking a Bid
From the Image Tab:
Click the Takeoff button

located at the bottom of the Labor Cost Codes list, this returns the project to Takeoff Mode
The Bid is still 'locked' by DPC at this point. Foreman can switch to/from Takeoff Mode anytime they like to view the actual takeoff on the project, including Bid Area assignments.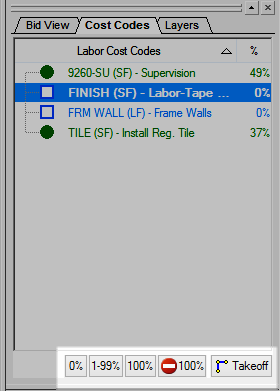 Now that the project is back in Takeoff Mode, there is a Padlock next to the DPC Button in the Conditions Window.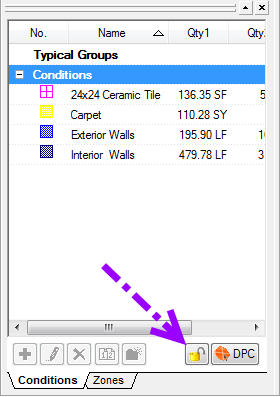 Click the Padlock button to unlock the bid - this allows the Project Manager to make changes to the job in On Screen Takeoff and Quick Bid. (Foremen cannot unlock a Bid, they have no ability to edit takeoff or pricing.)
Make sure you are working in the "BUDGET" copy of the Bid (OST and Quick Bid) - not the original/archive copy or a duplicate.
The Bid must remain in Interactive Mode at all times - make sure Quick Bid is open and licensed before unlocking a Bid.
Special Restrictions
Never change the name of any Labor Cost Codes in Quick Bid after a Bid is flipped into DPC mode.
If you remove a Cost Code that existed when the bid was flipped to DPC Mode previously, that LCC remains in DPC. There should be no changes made to existing LCCs when you "flip" a bid out of DPC Mode (using additional LCCs and even changing the production for LCCs is acceptable, renaming or removing is not).
Do not change the name of any existing Change Orders while the project is unlocked.
Never use special characters in Change Order names or use names longer than 25 characters.
All necessary adjustments (Change Orders) to takeoff, pricing, etc. are done while the Bid is Unlocked. Once you are done adding and pricing Change Orders, you will return the Bid to DPC Mode (you have to do this is in a specific way, covered in the next article). Once the bid is back in DPC Mode, you will send an updated DPC Bid Package out to the field (to all foremen). Before you generate the new DPC Bid Package, double-check with all Foremen that they've sent in all changes and that you (Project Manager) have received those changes and imported them. You cannot import those old DPC Change Files created prior to your sending out the updated DPC Bid Package. See Related articles for more information.