Setting Up Repeating Pages
To create Repeating Pages for a Typical Page:
Click from the Main toolbar - the Cover Sheet dialog opens (by default, the Pages tab displays when you open the Cover Sheet).
Locate the Typical Page (the one you want to make a Typical Page, that is).
In the Repeats column for the selected Typical Page ("Floors 2 - 5"), enter the number of times this page repeats. For example, to account for floors 2, 3, 4, and 5, enter "4" meaning that there a four identical pages represented by the Typical Page.
Remember - takeoff drawn on the original or "Typical Page" is not included in Project Totals - it is only used as a template of sorts to 'build' the quantities for the Virtual Pages.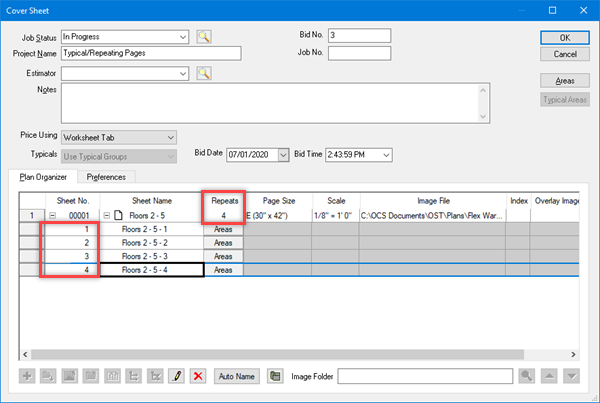 On-Screen Takeoff creates four Repeating Pages of the Typical Page. These Virtual Pages appear below the Typical Page and are numbered in sequence. You cannot change Page settings such as Page Size, Scale, Image, and Overlay, you can only change the Sheet No. and Sheet Name.
You can use the Virtual Page Area Assignment control to assign the Areas to which takeoff on each Repeating Page is assigned, based on its assignment on the Typical Page. See the Related Articles for instructions on setting Virtual Page Area Assignments.
You cannot configure Virtual Area Assignments until you have takeoff drawn on the Typical Page and allocated to Bid Areas. So, go ahead, create all your Typical/Repeating Pages, draw all your takeoff, and then come back to the Cover Sheet Page tab to configure Virtual Areas.
Re-naming Repeating Pages
The Typical Page can be renamed without affecting the names of its Repeating Pages and Repeating Pages can be renamed without affecting the Typical Page.
To rename a Typical or Repeating Page, click in the Sheet Name field for that page and type over the current entry.