You can delete unneeded Conditions from your bid so that you only see those Conditions you need in your Conditions List.
To delete a Condition or Conditions from your Bid, select them and,
Click on the main toolbar or,
Right-click the Condition and select "Delete" from the Context menu or,
Press the DEL (delete) key on your keyboard
Delete Verification
Because deleting a Condition (or Conditions) is not 'undoable' and deleting a Condition deletes every piece of takeoff drawn with that Condition, on every Page in the current Bid, you are prompted to confirm the action.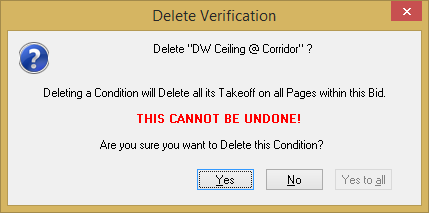 This is the only verification you will receive - please think about this before clicking "Yes" or "Yes to All"! If you have used this Condition (or Conditions) to draw takeoff anywhere in this Bid, all that takeoff will be gone for good - there is no "undoing" this action.
This confirmation cannot be suppressed or disabled - this is by design to prevent you from deleting a Condition accidentally and costing yourself (or a coworker) hours or days of work.
If you need to delete some or all the takeoff you or another user has drawn with a particular Condition, select the takeoff objects themselves and then delete them from the Image Window. See Related Articles for more information.
Deleting a Condition is a permanent action, once that Condition is gone, it's gone for good along with all the takeoff you've drawn with it.