Welcome to the ConstructConnect, On Center Software, and PlanSwift, Co-Branded Customer Portal. The Customer Portal is available to clients who own any of our takeoff or estimating products.
This documentation focuses on customers who own On Center Classic products such as On-Screen Takeoff, Quick Bid, and Digital Production Control. Most of the information is the same for PlanSwift and ConstructConnect products, however, license allocation is a little different for PlanSwift. PlanSwift customers can see their product-specific documentation here: https://constructconnect-help.atlassian.net/wiki/spaces/PSUPPORT/pages/46366754/The+PlanSwift+Customer+Portal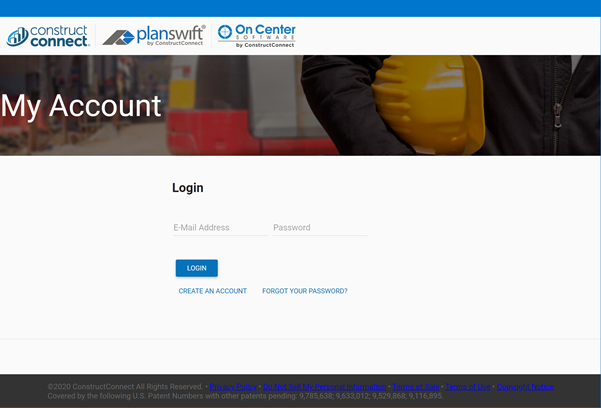 Our Customer Portal provides authorized users access to your company's:
Company Details including company name, main phone, and address (view only, of course)
Review and update your user profile
Review, add, modify, and delete other users (if you are an Admin for your company)
Review and pay outstanding Quotes, including Annual Maintenance and Subscription Renewals
Review past paid Invoices and expired Quotes (Quotes that remained unpaid after 90 days)
View Software License Keys and Server Codes for On Center Classic products
View and Assign "License Users" for PlanSwift products
View Pending (unscheduled), Upcoming (Scheduled), and Completed Product Training and attendees
Create New, Update Existing, and Review Closed Support Tickets
Signing In
When you purchase products (such as On-Screen Takeoff, PlanSwift, Quick Bid, etc), our fulfillment team sets up at least one user for access for every client record, usually three: a Main Contact, a Technical Contact, and a Billing Contact (sometimes, all three are one person).
To log in,
Visit: https://myaccount.constructconnect.com/login
Enter your user name (your e-mail address) and your password.
If you are unsure if you have been registered or if you don't remember your password, click the "Forgot Your Password?" link.
The "Create an account" link is only available to PlanSwift users. If you arrive at the login web page from an On Center or ConstructConnect branded site, that option is hidden because all users must be create by Customer Service.
When you log in, you see the Home Page...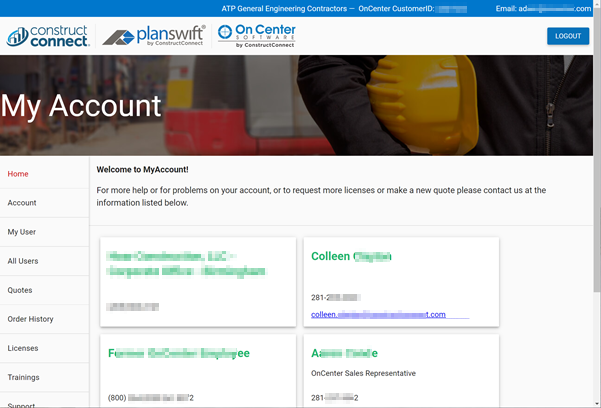 The Home Page shows you an overview of your account with ConstructConnect including your Customer Success Manager and other important contacts.