To 'secure' a database, at least one user must have "Administrator" rights, see Related articles for assistance with setting up estimators.
Open Database Properties (right-click on the database in Bids Navigator and select "Properties" or use the "Open Databases" dialog box to open the database properties)
Click on the check box for Logins Required
Enter in the user name and password for the database Administrator to adjust this setting
The database closes, then re-opens at the login screen
Enter in appropriate user name and password and click OK
On Center Software does not have access to database logins or passwords, only your Database Administrator does.
Logging Into a Secured Database
Application Managed Users
For Application Managed Users, a Quick Bid Login dialog is displayed when a protected database is opened. The user must enter a login name and password to gain access to the database.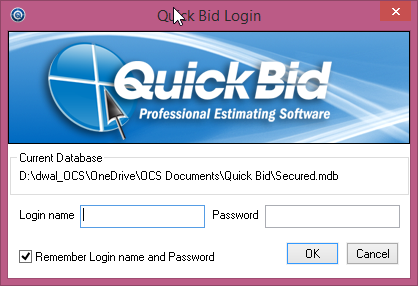 When logging in, the user can check the Remember Login name and password check box. This way, the user will not need to remember his or her User Name and Password each time they launch the application.
Domain Users
For Domain-added users, when a database is set to "Login Required" - the Windows Login info is automatically passed to Quick Bid and the user will not see the login screen.
Quick Bid database logins (Application Managed Users) are separate from any network or SQL logins required to access the database or computer. On Center Software does not have access to these logins or passwords, only the Database Administrator does. Your Administrator can use Windows Authentication when adding estimators to allow for Single-Sign on.