With normal use, a database may start exhibiting unwanted behavior and may perform slower. To keep your database in optimal health, On Center Software recommends that you run a Compact and Repair on all production databases regularly.
If you are using SQL databases, there is a function called "Shrink" that the SQL Administrator uses to reduce the size of a database, as needed. Running the Compact and Repair routine on SQL databases is still required as this reorganizes the database and keeps the database running efficiently. Compacting and Repairing an SQL database should only be performed by the SQL admin. Compact and Repair clears the database's log file (LDF file) - this reduces the overall size of the database file set but does not free-up unused space within the database itself.
All users except for the person running the Compact and Repair, must close the application before starting the Compact and Repair process.
Although there are no hard and fast rules about how often to Compact and Repair a database, every week is a good place to start. If you do a lot of copying and pasting between bids/databases, or a lot of importing/exporting of Bid packages/change files, more frequent maintenance is required.
Running the Compact and Repair routine optimizes your database and there are no 'ill' effects to running it frequently.
Compact and Repairing a Database
Click File > Open - the Open Database dialog box displays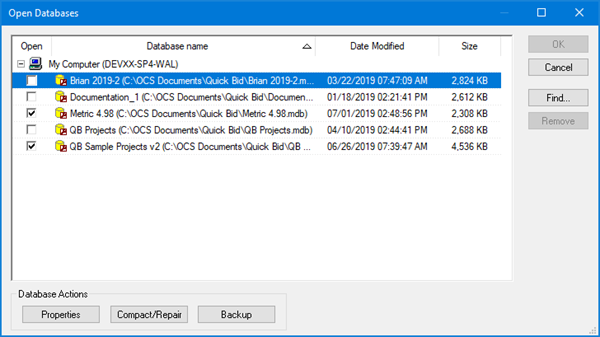 Highlight the database on which to perform maintenance and click the Compact/Repair button - a confirmation displays when the process is complete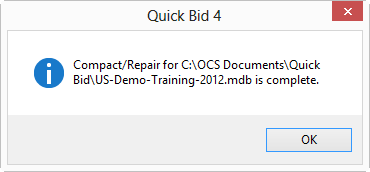 If your database requires Login, you will have to enter your credentials to log back into to the database after performing a Compact and Repair.
To perform a Compact and Repair of a database quickly, right-click the database on the Bids Tab, and select Compact/Repair from the Context Menu.
If you receive an error message indicating that the Compact and Repair cannot be completed, close the program and make sure there are no other users using the database, then re-launch the product and try to compact and repair the database again.
Setting up Automatic Compress
Automatic compress settings attempt to keep Access-type databases at an optimized size. This proces only makes the database size smaller, it do not correct structural issues or optimize the function of the database. It is important to manually run the Compact and Repair routine on all databases regularly.
Click File > Open - the Open Databases dialog box displays
Select the appropriate database and click Properties - the Database Properties (Access) dialog box displays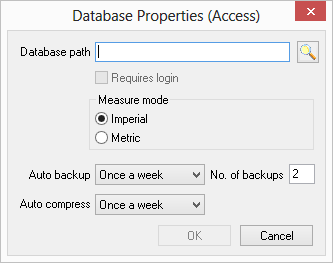 In the Auto compress field, select the frequency at which the program should automatically compress the database (default is monthly)
The auto-compress routine runs when the application is closed, any open databases are compressed based on their Auto compress settings.