In the Open Databases dialog box, use the Find... function to open a Microsoft Access database stored in a location other than the default directory (C:\OCS Documents\OST). By default, all databases stored in the "default location" are always shown in the Open Databases dialog box, this can be changed by clicking Tools > Options > Folders.
Finding a Microsoft Access Database
To "Find" an Access database stored someplace other than the "database" folder:
Right-click anywhere in the Bids Tab and select Open, or
Click the Open icon,

on the Main toolbar, or
Click File > Open
The Open Databases dialog box opens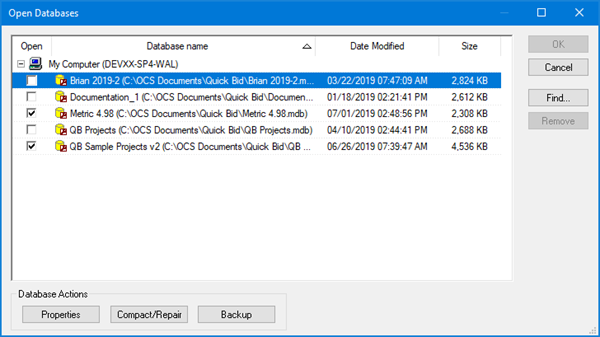 Click the "Find..." button - the Select Database Type dialog box opens: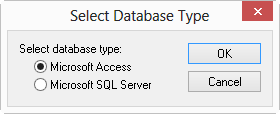 Select 'Microsoft Access' and click OK - the Database Properties (Access) dialog box displays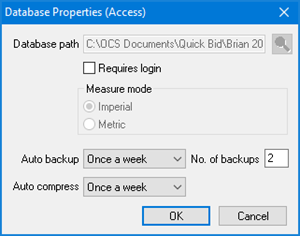 Click the Lookup button

next to the File name field - the Select MS Access database window opens - browse to the location where the database is stored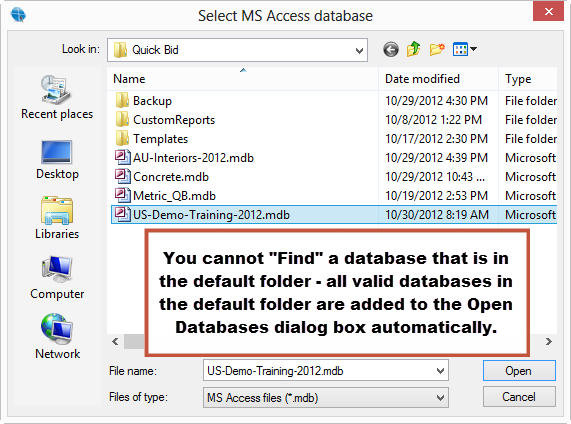 Databases stored in the folder specified for databases under Tools > Options > Folders always show in the Open Databases dialog box and cannot be 'removed' or 'found').
Highlight the database you want to open and click Open
Click OK and the database is shown in the Open Databases dialog box (it will be checked)
Click OK to close the Open Databases dialog
The database is visible on the Bids Tab and can be opened/closed like any other.
To remove this database from the Open Databases dialog box list, highlight the database and click the Remove button. This does not delete the database or affect any saved Bids - it merely closes the database and removes the reference from this dialog box.
Never open (work in) any database stored in the "Backup folder" - you will lose your work when the program backups databases into this folder. Make a copy of the database file and place it in your Database folder before opening it.
Never store MS Access databases on a network or removable drive.
Never share MS Access databases (do not allow more than one person to open an MS Access database at one time.)