Image Files
Recommendations
All image files should be stored in a central location, such as a central server available to all users. User should have full-edit rights to this location so they can convert non-TIF files to TIF format for improved performance.
If users are downloading projects directly from planrooms, ensure their OST "Planroom Folder" points to the appropriate Image File Server location so that downloaded plans are placed there automatically (OST creates a sub-folder named for the project in that folder, "C:\OCS Documents\OST" is not an appropriate place to store planroom files when using any remote access). (See"Folder Settings" below for more information.)
When your project administrator adds image files to the server, the files should be stored in a folder named for the project to which they belong, preferably with a date prefix such as "2018-05-25 - West End Shopping Mall Extension".
Images that are not uploaded as TIFS should be converted to TIF for best performance.
Enable Color PDFs support must be checked (enabled) before converting files to TIF if you want the converted files to be in color. (See "User Settings" below for more information.)
Potential Issues
TBD
Databases
Requirements
You must use an SQL server when your users are using any remote-access environment. See Using SQL Server to Share Databases in Classic Products - OST QB DPC. Databases must not be stored on the users remote "C:\" drive as that can be wiped out if their profile is deleted or reset.
Recommendations
We recommend using a separate server to host your SQL Server installation. Microsoft SQL is the only server supported, see the article linked above for more information on SQL.
Potential Issues
TBD
Display Settings
Recommendations
By default, most remote access applications attempt to display the best graphics they can, for example, Microsoft's Remote Desktop Connection (used for RDS, Terminal Services, and Azure connections) sets the default bit-depth to 32-bit. This is great, for OST installed on a local machine, however, if you are using a remotely-accessed application, this can cause significant performance degradation. Set your "quality" as low as possible while maintaining acceptable resolution to end users. The highest bit depth OST uses for displaying plans is 8-bits, so anything higher than that is wasted, anyway.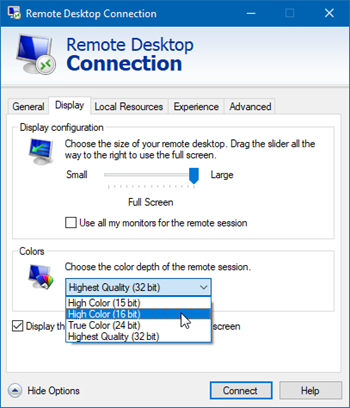 Potential Issues
TBD
User Settings/Preferences
Recommendations
By default, not all settings (Tools > Options > General) are optimized to provide the best remote experience for end users.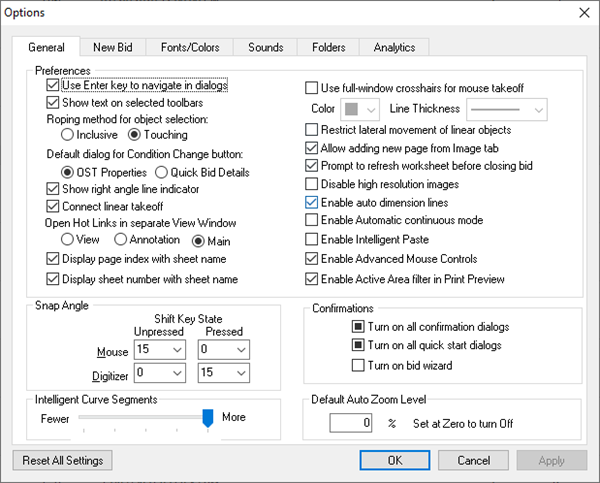 The key options you may want to change:
Make sure "Turn on bid wizard" is not check - this function and remote/shared usage are incompatible.
Make sure "Open hotlinks in separate View Window" is not checked - pop-ups and remote connections do not work reliably.
Make sure "Restrict Lateral Movement of linear objects" is unchecked - this makes it easier for your end users to move linear objects on the page.
Make sure "Disable high resolution images" is unchecked - even if you are not using PDFs or color, this ups the display resolution for images to 8-bit. Converted PDFs will be at a higher quality also. Dialing-down your remote color bit depth (see first section) will have less of an affect on image quality if you start with higher quality plans.
Make sure "Enable Intelligent Paste" is checked - this makes repeated copying and pasting tasks easier.
Potential Issues
TBD
Folder Settings
Recommendations
In Tools > Options > Folders, you configure several folder locations OST uses.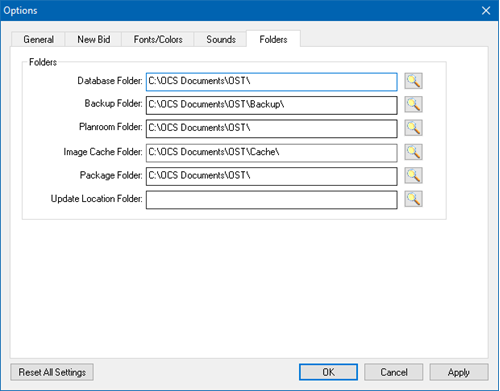 Because end users will be using a SQL databases, the "Database Folder" and "Backup Folder" are not used (it is vital that your users do not use "local" databases - these are stored on their remote "C:\" drive, which will cause problems).
Planroom Folder - must point to your Image File Server (see above) so that the image files downloaded from a planroom are stored in the correct location.
The Image Cache Folder is used during print previewing, so it is fine the way it is.
Package Folder is where the program will store any export files created by the end user. It is entirely at your discretion where you want that to happen.
Update Location Folder - you must update this according to the instructions in: On Center Software Notifications & Enterprise Updates - OST DPC - you do not want your end users attempting to install updates or upgrade databases!
Potential Issues
Ensure that users have access (read-write-create) access to whichever folders you designate.
For Planroom Folder, keep the path as short as possible. OST cannot download planroom image files if the full path to the file, including the entire folder path exceeds 256 characters. Many planrooms create complex folder structures and can quickly hit that maximum character length.