There are two ways to search in the new kBase, inline and full-text search.
Inline Search
Start typing in the Search box and kBase will search Article Titles for a match. This is the recommended method for searching because it is faster and more predictable, and your results list will be shorter.
Let us search for "sql" and see what pops up...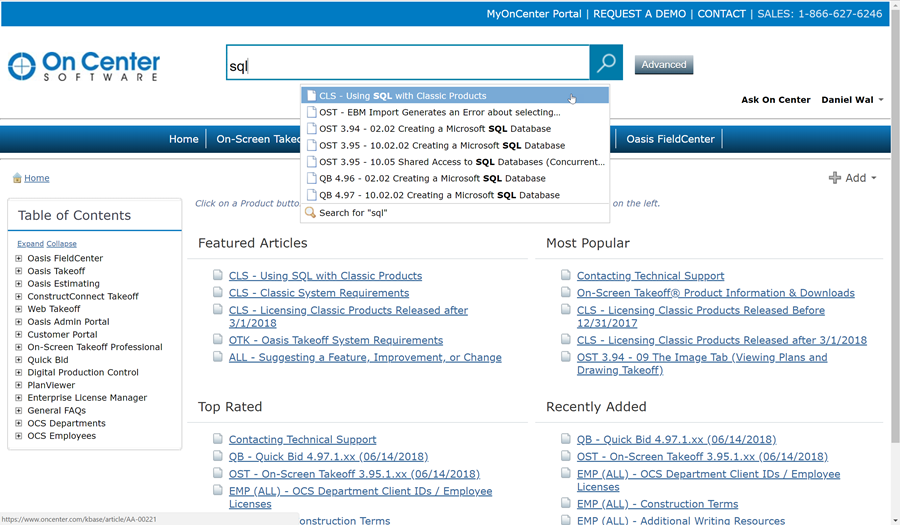 Wasn't that easy? The inline search is super-fast and, as long as the editor has done his or her job titling the article; you should be able to find whatever you are looking for instantly.
Full-Text Search
Now, if you click the Search button

after typing in a search word or phrase, kBase searches Articles, Titles, and Content. Then provides a ranked results page: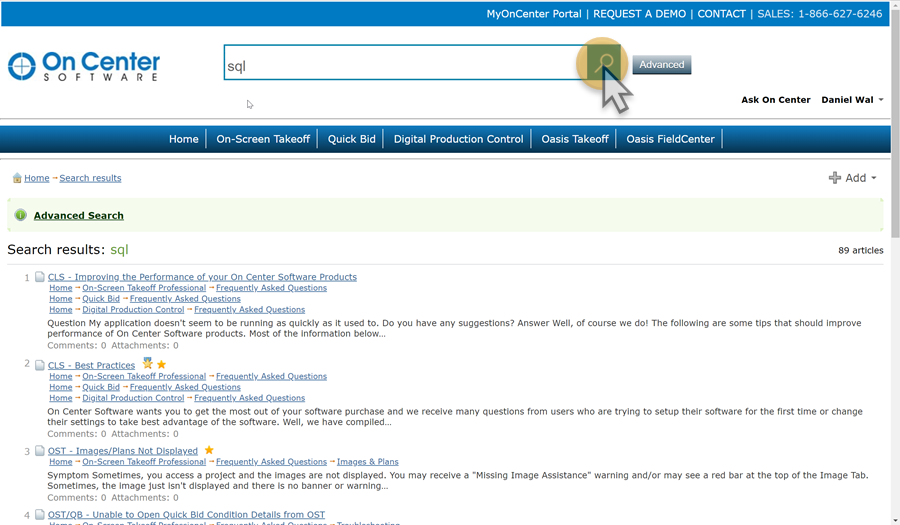 This is a more comprehensive search, so you may have to scroll/navigate through several pages of results to find the correct article.
Search Tips
When typing a search term in the Search box - you will see a list of 'quick find' results, these are articles that contain the search term in their Title. If you click the search button, after entering a search term or phrase, the system searches Titles and Content (you will see more results).
Search through all the content in OCS Knowledge Center for subjects that interest you.
Restrict your search to one or more products or to one version of a product.
Set filters to define your own personal search preferences.
When searching, you can use a Product abbreviation/code to narrow your search:
OAS - Oasis Products (general)
OTK - Oasis Takeoff
OFC - Oasis FieldCenter
CLS - Classic Products (general, common, shared)
OST - On-Screen Takeoff
QB - Quick Bid
DPC - Digital Production Control
CPV - Classic PlanViewer
CLM - Classic License Manager
VLM - Enterprise License Manager (Virtual Server Edition specific)
Prefixes are followed by the version number, if applicable, for the version to which the article applies. Let us say you were looking for an article regarding On-Screen Takeoff v.3.94 - maybe Conditions...
Type in "OST 3.94" (this limits the search to "OST" and version 3.94) and "Condition" which limits the inline search to the keyword "Condition".

Don't hit the Search button, we allow kBase to search titles for what we typed in and the search locates seven articles.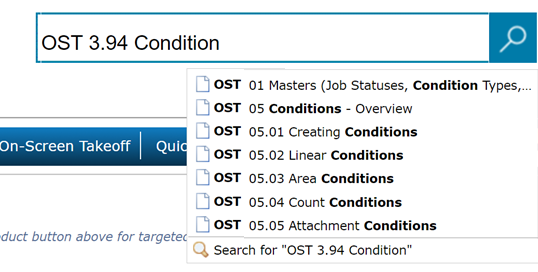 Now, if the inline search is not finding what you need, that means your keywords aren't in the Title of any articles.

Click the Search button and kBase searches Titles and article Content.
Your results list will be much longer. On the Results screen, or even before you get to Results, you can click "Advanced Search" which allows you to limit your search to whichever Categories you want to search.