If you have On-Screen Takeoff installed on your computer, you already have the components of Digital Production Control (DPC). For instructions on installing the product, see OST 3.95 - 02 System Requirements, Installation Instructions, and Registration.
The first time you run Digital Production Control, you will see a registration screen. Registering your software allows your organization to determine who is using which license, along with other software information. Registration is required once per-user/per-machine, even if you uninstall and re-install the product, if you've previously registered, that information is retained (of course, if you get a new PC or you are signing into a new machine for the first time, you will have to register again).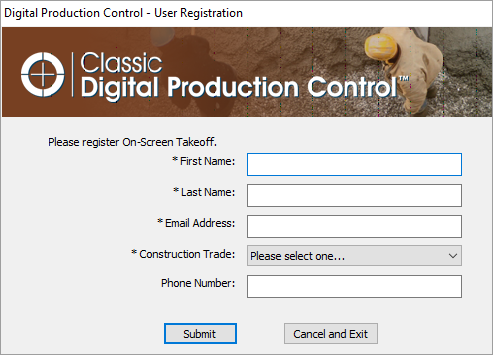 After you Submit the Registration screen, you will be presented with the Welcome Screen. Before you can use many of the functions of DPC, you will need to activate a license.
You must activate OST/Takeoff and DPC-Project Manager licenses or a DPC-Foreman license to use the product.
Licensing Digital Production Control
Applies to software versions released after Janurary 1, 2018.
If you need assistance with licensing your software, please contact Support.
Do you have a License Key or a Server Code?
There are three ways for your company to distribute the product licenses it owns:
A License Key looks like this: "OST+a0fe3-d4848-3840b-6a6c8-fe068" (25 characters, separated by hyphens, with a Product Prefix). License Keys can be single-seat (one Key per person) or multi-count (one Key for multiple people). Each Product you own would have a separate License Key issued (if you own 10 On-Screen Takeoff, 10 Quick Bid, and 10 Digital Production Control PM licenses, you may be issued three keys, or thirty, depending on how you choose to setup your licenses).
A Server Code looks like this: "OST@98A8PGZA493Z" (shorter, no spaces or hyphens, with a Product prefix and an "@" symbol). A Server Code is a cloud-based license manager for a single product. All your licenses for a single product would be setup under one Server Code - so if you own three products, your company would be issued three Server Codes so you can control who is able to license which Products.
7/19/2018 - On Center is putting the finishing touches on the on-premises License Manager and anticipates releasing it within the coming weeks.
What's the difference?
Well, a License Key is good for a single product (On-Screen Takeoff or Quick Bid, but not both) and requires an Internet connection every time you use the product.
A Server Code can be used in either product, and you can "Borrow" a license from a License Server for up to seven days and go "offline" (no Internet connection).
An on-premises License Manager provides the benefits of a Server Code, but puts the server inside your network so you do not have to use the Internet. You also only have to distribute a single Server Name or IP address and port number to all users. License Manager allows you to set up "Reservation Lists" so that only approved user can retrieve licenses for the features they need.
License Keys (local and License Manager) and Server Codes are retrieved from your company's portal, MyOnCenter.com. See PTL - 05 My Software Licenses for details on viewing your company's software licenses. If you do not have access to the portal, please contact the Billing or Technical contact at your company for assistance - On Center personnel cannot provide License Keys or Server Codes.
When On-Screen Takeoff or Quick Bid are not authorized, a message in the bottom right corner of the program shows "no license". After activating a license, this area shows which licenses have been applied (OST, DPC_FM, DPC_PM, and QB).
The screenshots below show On-Screen Takeoff, however activating Digital Production Control and Quick Bid follow the same steps.
Activating Your License
Anytime you open the product when it doesn't have a license, you will be greeted by the Welcome prompt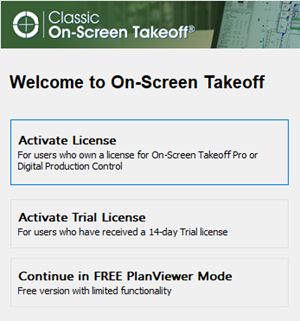 On-Screen Takeoff and Digital Production Control
Select Activate License, or, if the program is already open, click File > Check Authorization to open the licensing screen.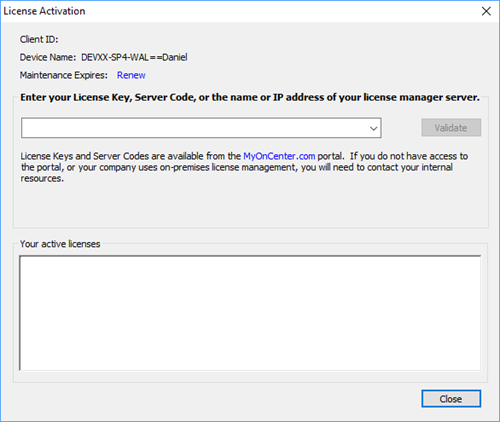 Enter your License Key, Server Code, or the Server Name or IP address and Port # (like this: "<server name/IP address>:7070") in the box.
Click Validate
If this is a License Key, your license will be activated automatically and you can close this dialog box.
If this is a Server Code or on-premises License Manager Server Name/IP address, you will be given the option to "borrow" a license for offline use. You may borrow a license for 7 days, but remember, that license is then unavailable to any other users, even if you close the program.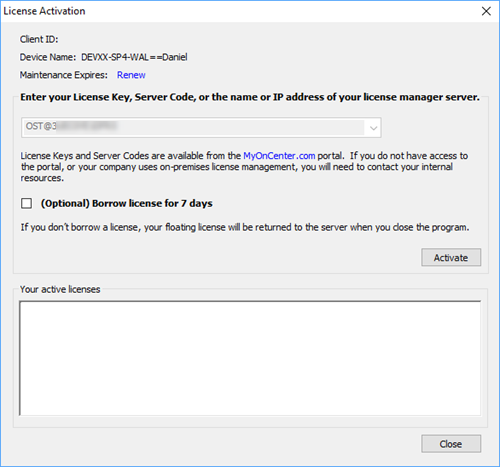 Click Activate.
Once Activated, features such as On-Screen Takeoff and Digital Production Control Project Manager along with product maintenance are displayed.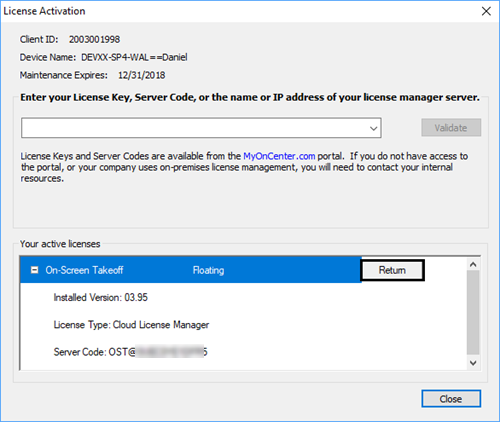 To see details about a license, click the little plus sign next to it (shown in the screenshot).
Click Close to close the Check Authorization dialog and apply the license(s) to the application.
When you close the Check Authorization dialog box, your activated Features display in the bottom right of the application (the Status Bar) - this indicates that the program is properly authorized and ready to use.
Returning Your License
Let us say you activate your license on your work computer, but need to use it at home over the weekend, or a coworker needs to use it for some time. You will need to "return" your license so it can be used on a different device. Just open the Check Authorization dialog again (click File > Check Authorization) and hit the Return button next to the license detail in the lower section.
If you are using a Server Code and have not borrowed the license when you shut down the program, your license is returned to the pool automatically (the program does this in the background). Next time you launch the program, it tries to get a new license for you from the same server, again, automatically. The only time you have to "Return" a Server Code license is if you want to work in "no license" mode and let someone else use the license.
If you are using a Server Code, you must return each license feature separate (just like you have to activate them each separately).
If you are using a License Manager, returning one feature returns them all (you only activate once, so you only return once).
Reactivating Previous Licenses
The programs store the last few License Keys, Server Codes, and License Managers from which you were successfully able to retrieve a license.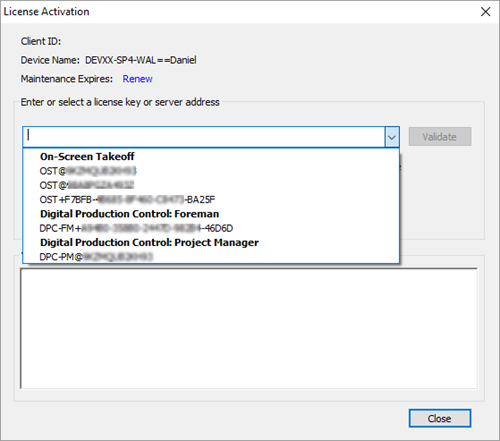 In OST they are grouped by Feature (OST, DPC_FM, DPC_PM). Just select whichever license you want to use and click "Validate", like usual.
Common Reasons for Authorization Failure
Incorrect License Key or Server Code (we recommend you copy/paste - rather than trying to type these in - if possible)
Incorrect or unresolved Server Name - try the Server's IP address
Missing Port information after Server Name/IP address - you must enter it like this: ServerName:7070 (that's <server name> colon <port #>)
No Internet connection (always required to activate License Keys or Server Codes)
Firewall blocking network communication (see Related articles for more information on configuring your firewall)
Attempting to activate a License Key for a different product (you cannot activate a Quick Bid license through On-Screen Takeoff and vice versa)
Attempting to activate an old "Activation Key" for versions released prior to 12/31/2017 - check MyOnCenter.com for your up-to-date keys
If you open an "interactive" Bid while one or both products is unlicensed, you will break the interactive connection. Please see your estimating software's documentation for instructions on reconnecting.
If you have any problems activating your software, review
CLS - Licensing Issues
. If you still are unable to license your software, please contact
Support
. Have your customer information and License Key or Server Code handy.
Feature Sets
There are two feature sets available for Digital Production Control:
DPM - Digital Production Control Project Manager, this license permits full control over a DPC project. A Project Manager is able to send/receive DPM Bid Packages, add/modify takeoff, add/modify Change Orders, and modify production (Digital Production Control labor pricing). This license must be used in conjunction with a full On-Screen Takeoff (tko) and Quick Bid (est) license.
DPC - Foreman, this is a field license that allows the user to set percents, input time, and send DPC Changes. They are also able to receive a DPM Bid Package from the Project Manager but they cannot create complete bid packages. They are not able to modify takeoff or pricing.
Well, let us get started learning about DPC.