Technical Support, How Do I...?, and Feature Requests
If you need Technical Support, ask Training a Question, or want to submit a product Feature Requests. Click a button below:
Open a Support Case Get technical support for your product such as installation or licensing help.
How Do I...? Get in touch with one of our professional trainers for question on how to use a feature or accomplish some estimating or takeoff task in the software.
Submit Feature Request Let us know what you'd like to see in the product.
---
Rating Articles
To rate any article, just click the rating stars and a pop-up opens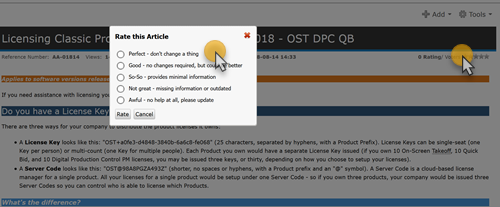 Submit your rating to let us know how effective an article is. If you have suggestions for making an article better, please fill in the form at the bottom, also
kBase Article Comments/Suggestions
If you have any suggestions to make our documentation more helpful, or if (say it isn't so!) you find an error in an article, please e-mail houston-documentation@constructconnect.com.
When submitting Feedback, please be sure to include:
Your name and Organization (company name)
A valid e-mail address
The name or URL for the article if your suggestion is related to a published article
The Product or Products to which the article would apply