Once you have installed and launched the LM Binding Agent, you must add an environmental variable on the virtual server so it will know where to find LMBIND. LMBind is not broadcasting it is existence - it is waiting for an inbound request for binding.
Adding Environmental Variable to the Virtual Server
Open the Windows System screen (follow the instructions for your version of Windows)
Open System Properties by clicking "Advanced system settings"
Once System Properties is open, locate the Advanced Tab
Click on the Environmental Variables button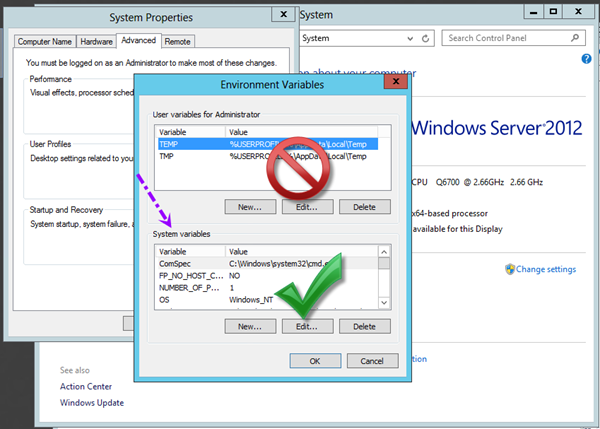 Click System Variables, New... (do not create a "User" variable, it will not work)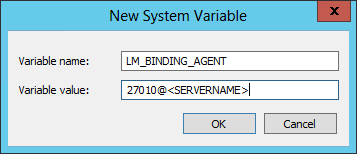 In the New System Variable dialog box, enter the following information:
Variable Name: "LM_BINDING_AGENT" (without quotes, with the underscores)
Variable Value: "<port>@<machine>" (example: "27010@MYSERVER" without the quotation marks) - use the port and server name or IP address from the machine on which LMBind is running. The port is shown in the Command Prompt window where LMBind is started - the machine name depends on where you have installed LMBind.
Click OK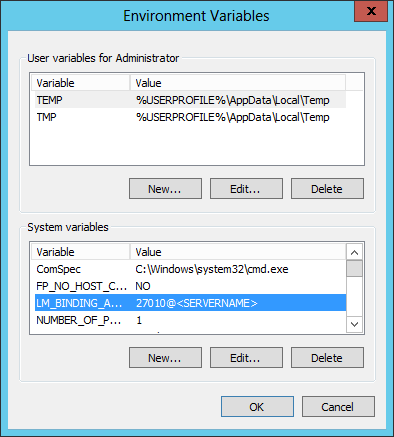 Click OK to close the Environment Variables dialog box
Now that the software components are installed and LMBind is running, verify firewall and security settings will not conflict with the license manager's operation. Then, you are ready to activate a license and start the license manager.