Before installing any Classic product (On-Screen Takeoff, Quick Bid, and Digital Production Control), be sure your computer meets our System Requirements. System Requirements are minimums necessary to run the product and may not provide acceptable performance. For the latest System Requirements see Related articles - these System Requirements apply to the current shipping versions of our classic products. For product and version-specific System Requirements, see the appropriate article in the User Guide for the Product/Version you are installing.
If you are using an MSI Package for a "distributed" installation, see Related Articles for instructions.
Ensure you have your most current Activation Code(s) for the software (activation codes are product/version specific). To retrieve your Activation Code(s), you will need to sign into the Customer Portal. If you do not have access to the Portal, you will need to contact the person at your Company who manages your license inventory. On Center Software is unable to issue Activation Codes directly to users - all codes must be retrieved from the Portal.
Download the software using the link for the version of the software you own, available on the Product Information and Download Pages linked above. Save the installer file to your local hard drive (the desktop is a perfect place, it is easy to find the installer).

On-Screen Takeoff installer file example

Quick Bid installer file example
Once the installer file is downloaded, double-click it - the "InstallShield Wizard" will start. You may receive a User Account Control warning, if you do, click Yes.
(The screenshots below are branded for "On-Screen Takeoff" but the Quick Bid install is similar.)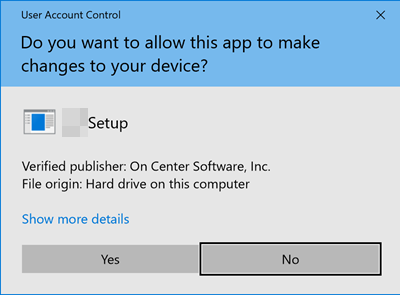 Click Next on the Welcome Screen - please read the Release Notes for important information!
Review and Accept the End User License Agreement and click Next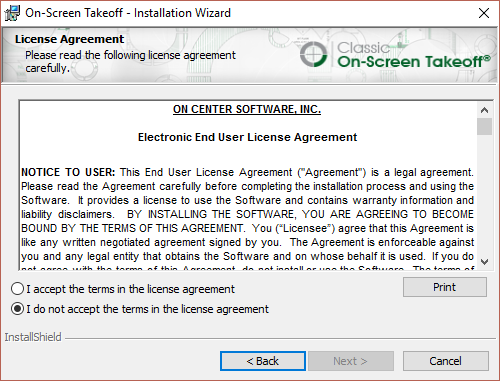 Enter in the user and company name to which you want this installation of On-Screen Takeoff registered (this shows up on the "Splash Screen" and is associated with your product license) and click Next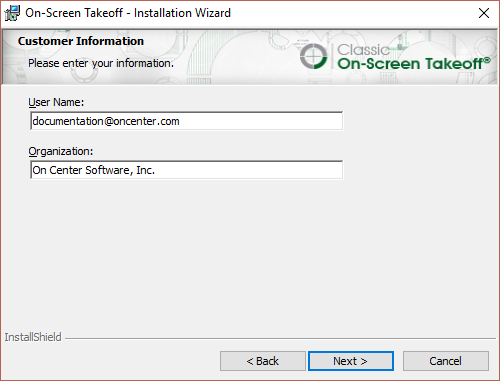 .
Choose Complete or Custom installation (the only time you need to select "Custom" is if you want to install to a directory other than the Windows default (C:\Program Files or C:\Program Files (x86)) and click Next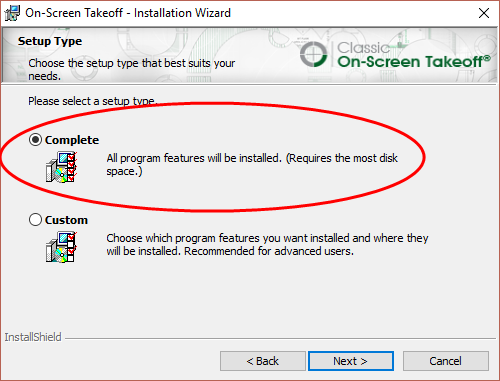 Click Install to continue with the installation - a progress screen displays
When the installation is complete, an information screen displays - review the information and then click Finish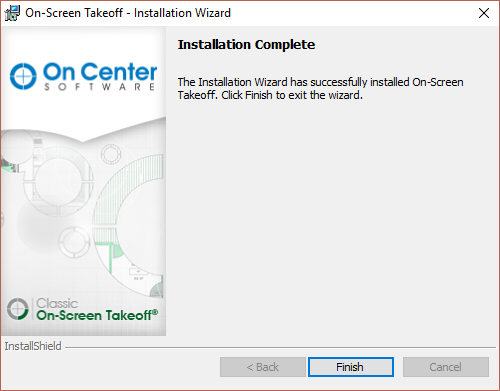 A Web page opens explaining how to activate/license your software.
You will find the shortcut to the application on your desktop, double-click it to launch the program.