Once Enterprise License Manager is installed, you will need to activate one or more license codes. This downloads your licenses from our Web servers to your virtual server so your end users can license the applications. This is known as Activating Licenses or Authorizing the License Manager.
For information on licensing workstations using a networked (license manager) license, see Related articles.
To activate Enterprise License Manager licenses, you will need:
Authorization Key - a unique twenty-five digit code provided by On Center Software that identifies the licenses for each product/feature you own (each product/feature uses a unique code that will change when a product upgrade is released or you change your inventory count).
Internet access - to communication with On Center's licensing servers (activation of license manager codes is performed over Port 80, workstation validation of the license is performed over Port 9999). You can disable Internet connection after your license codes are activated. You only need Internet access for your Virtual Server when you need to activate or return a license code.
Each workstation must be connected to the Internet so the product (OST, QB, DPC) can validate the license. Information on authorizing individual workstations is in the next chapter and each product's Help documentation.
The LMAdmin service is automatically configured by the Activation Utility the FIRST TIME the utility is used to activate license codes. The LMAdmin service must NOT be running the FIRST TIME the activation utility is used. After the initial installation, once the activation utility has activated any code, you will manually start the LMAdmin service. LMAdmin should start automatically in the future upon rebooting the server, if you've followed our installation instructions.
Activating Enterprise License Manager License
Double-click on the Enterprise License Manager shortcut on the Server's desktop (if the activation utility is not already running), the Enterprise License Manager license activation utility opens.
Enter in the first Activation Code provided by On Center Software in the box (when entering an activation code, it is easier and more accurate to copy and paste the code versus typing it in) DON'T CLICK THE ACTIVATE BUTTON YET!
Your specific HOST ID may not start with "HP_DISK_SERIAL_NUM" as shown in the screen shot below (our Host is an HPV machine...).
"HPV_DISK_SERIAL_NUM=" when LMBind is running on your Hyper-V server
"LMB_ETHER=" when LMBind is running on a network PC
"VMW_ETHER=" when LMBind is running on a VMWare ESX (not ESXi) server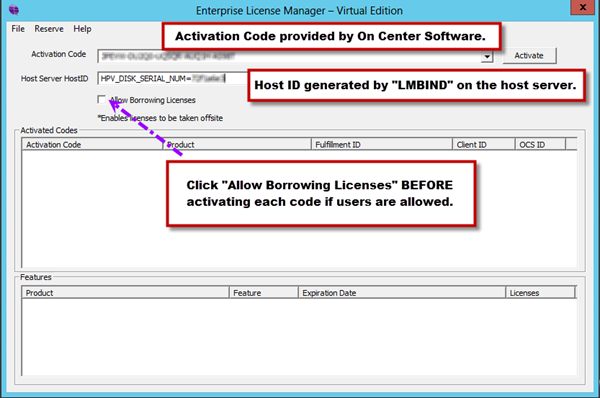 Click "Allow Borrowing Licenses" if end users are to be allowed to check out licenses for off-network use (see the next chapter for more information on the difference between floating and borrowing licenses)
If you activate a feature without clicking Allow Borrowing Licenses first, you will need to return the license/feature and then reactivate it to enable borrowing. You can only do this once the LMAdmin service is running.
Now, click the Activate button - Enterprise License Manager sends this Activation Code to On Center Software's authorization system to validate it
If this is the first time the activation utility has been used to activate any code, the following confirmation will indicate that the LMAdmin service is properly configured - follow the steps in Related articles to start the LMAdmin service. Now that the LMAmdin service is configured, it must be Started before users can access the licenses.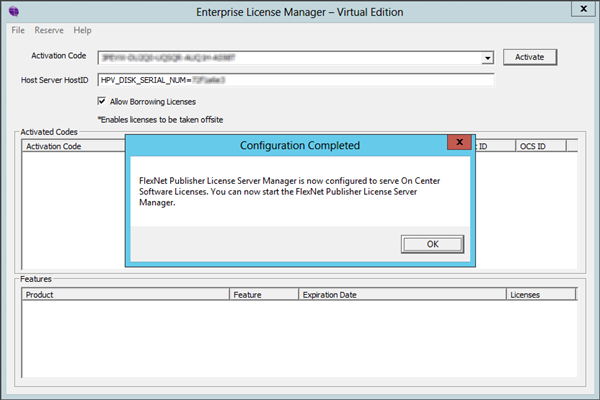 During the Activation process, your code is 'fulfilled' on our Web server and a license file is transferred to your Server's hard drive. This file is specific to this virtual machine and this Host ID (as generated by LMBind). As long as this fulfillment doesn't change, your end users can pull licenses from your server. If the fulfillment changes (meaning you return it from the ELM Activation Utility), users will not be able to validate licenses pulled from this server, even if the LMAdmin shows licenses available.
Once activated, the code is added to the Activated Codes list and the licensed Features are shown in the Features section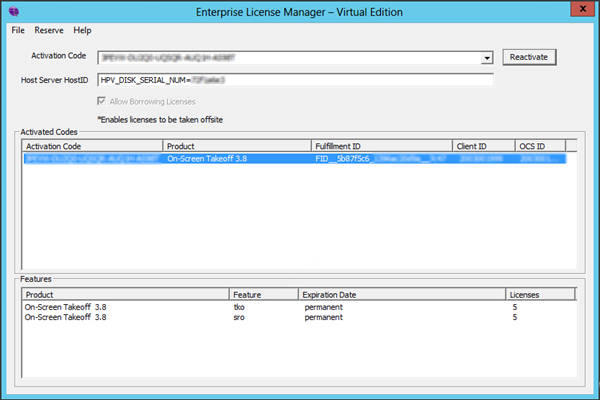 Enter the Authorization Codes for any additional products or features to activate - be sure to check Allow Borrowing Licenses before clicking Activate (for each code)
When a code is highlighted in the "Activated Codes" list, Enterprise License Manager shows 'tko', 'dpc-foreman', 'dpm', 'est', 'sro', and/or 'srq' in the Feature in Use section
Once you have activated all the codes you've been provided you will need to start the LMAdmin service using Windows Services. This is a little different in each version of Windows - what you will have to do is bring up Services, find "lmadmin", right-click and select "Start". See your Windows Help documentation for more information. By default, this service is named "lmadmin" however it is possible you changed the name of the service to something else.
If you have configured LMAdmin to 'run as service' during installation, it will automatically start up when the server is rebooted - manually starting LMAdmin is only required after initial installation.
Now, use the LMAdmin utility (detailed in Related articles) to re-read license files to make these licenses available to the end users
The primary reasons for difficulty Activating a License Code are:
Not following the installation or activation instructions carefully. They are written in a specific order and must be followed or you will perform a step out-of-order which will likely require you to reboot your virtual server.
Incorrect Authorization key (typed incorrectly, inactive/blocked, already activated).
Incorrect Host ID typed in - reverify the Host ID generated by LMBind on the host server - pay attention to letter O versus number 0, I verus 1 or L, etc...
LMBind process not running on host machine - the LMBind process MUST REMAIN RUNNING AT ALL TIMES.
No Internet connection, or...
Firewall blocking Internet communication (Port 80 is required for activating codes), or...
Firewall blocking INTERNAL communication between the virtual server and the LMBind machine (incoming connection on the LMBind machine... remember...).
User other than System Administrator installed product or is attempting to activate codes.
Product installed in a physical environment - must use Enterprise License Manager Physical Server Edition.
Another server 'bound' to the LMBind machine - LMBind can ONLY bind to one virtual server.