The following information is provided as a guideline for you to configure your network firewalls so that Enterprise License Manager works. On Center Software does not provide firewall technology nor can we assist with specific setup, configuration, or troubleshooting of your particular network. See Related articles for assistance with Troubleshooting License Manager Activation.
If you check the vendor daemon log for errors are there is no record of a request for a workstation for a license, odds are the workstation was not able to communicate correctly with the server.
There are several places where firewalls or security issues may be preventing Servers and/or Workstations from communicating internally (workstation to server) or externally (server to OCS and workstation to OCS). The list below is not all-inclusive however it should give you an idea of where to look for possible configuration issues:
Windows Server OS Firewall
Windows Client Desktop Firewall
Virtual Server OS Firewall
Host Server OS Firewall
3rd Party Firewall/Filters Applications local to the Host or Virtual Server
3rd Party Firewall/Filters Applications local to the Client
Any Physical Hardware based Network Appliances/VPN/DMZ or Network Filters that can permit/refuse traffic or add latency to the connection.
You must ensure that all Firewalls related to this installation are configured to allow the TCP traffic as described below and in the FAQ in Related articles. For assistance with configuring your firewalls and network appliances, please contact your vendor, On Center Software is unable to assist with configuring products we do not distribute.
Firewalls - LMBind Host Machine (Virtual ELM)
The virtual server must be able to communicate with the physical machine on which LMBind is running. Communication between the LMBind machine and Virtual server is carried out over whichever port LMBind is assigned by the binding machine's operating system (typically 27010 but if that port is not available, Windows will allocate a different port or you can when configuring LMBind) using the TCP protocol. The port is displayed wherever in the Command Prompt window where LMBind is running or you can use "netstat" to determine what port it is using if you have it configured to start as a service (please see your Windows documentation for help with using 'netstat').
You must enable incoming connections over the port on which LMBind is running on the machine on which LMBIND is installed/running and ensure that communication between the two machines is not hindered by any physical or software firewall or filter. Incoming connections are an exception to most security and firewall systems but the LMBind is simply there, acting as an anchor - it doesn't broadcast its existence and it doesn't know which virtual server ELM is running on until it receives a request for a Host ID from the virtual server during the binding process.
Firewalls - Virtual Server (where the actual ELM is installed)
Your virtual server needs to be able to communicate with the physical machine on which LMBind is running, with On Center's licensing servers (over the Internet), and with the workstations attempting to pull a license from the license manager.
To activate product license codes and communicate with other machines on your network, the following programs/executables need to be configured to allow external communication (if you are using 32 bit Windows virtual server, remove the " (x86)" from the address):
"C:\Program Files\FlexNet Publisher License Server Manager\lmadmin.exe" (internal to your network -- even though it runs in a Web browser it doesn't actually connect to the Internet)
"C:\Program Files (x86)\On Center Software\Enterprise License Manager\oncenter.exe" (this is On Center's vendor daemon which requires internal network communciation)
"C:\Program Files (x86)\On Center Software\Enterprise License Manager\oncenter\ocslmtrans.exe" (this is On Center's transport utility, requires Internet connectivity) to communicate with our licensing servers)
"C:\Program Files (x86)\On Center Software\Enterprise License Manager\oncenter\VirtualServerActivationUtility.exe" (the process that sends activation codes to On Center for validation/activation, requires Internet connectivity)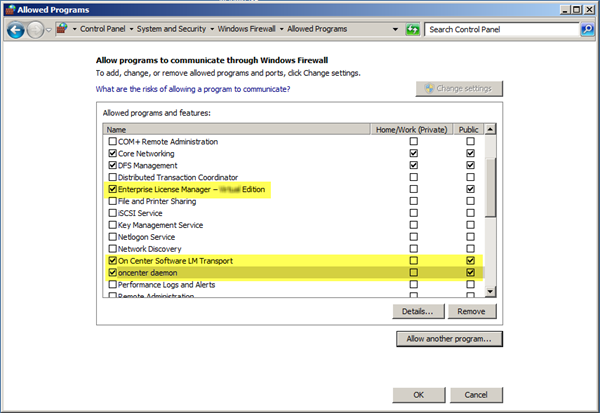 If you receive the following prompt, be sure to click "Allow Access"...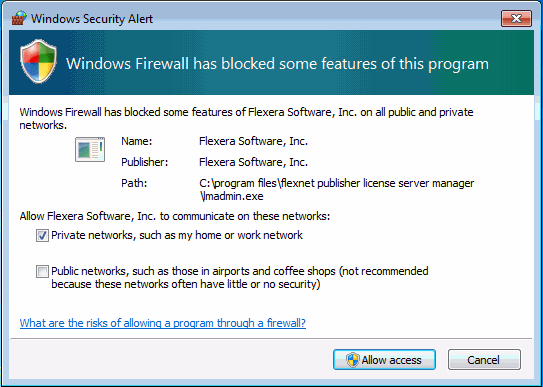 In addition to external (Internet) connections, the server must be able to send/receive communicate to/from the workstations. Internal communication is over two ports:
The first, for the LMAdmin service itself (lmadmin.exe) will be in the range of 27000 through 27009 - if none of those ports is open, or you simply want to use a different port, see the Related article about using specific ports.
The second port, for the vendor daemon (oncenter.exe) is randomly assigned by Windows although, again, you can specify a specific port by following the instructions in the above article.
These two processes, lmadmin.exe and oncenter.exe, must be able to communicate with workstations and each other or the license manager will not work.
Now that the FlexNet Publisher License Server (LMAdmin) and Enterprise License Manager Activation Utility are installed and configured the server administrator can start activating product license codes. Review CLS - Configuring Your Firewall (Classic Products) for information on configuring Workstation firewalls/security.