The On Center Software Notification Utility is built into the product and keeps you apprised of software updates and other product news from On Center. This utility runs when the product is launched (in the background) and will pop-up a notification if there is something for you to know.
There are two Automatic notifications, one simply lets you know that there is a Notification you can read: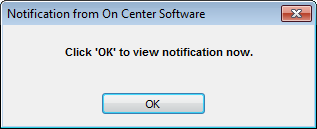 The other lets you know about a pending software update: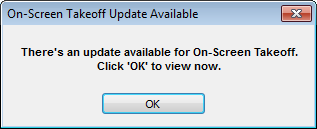 To clear a message, just click OK (you can close the message by clicking the "X" but the message will not be cleared until you acknowledge that you've read it by clicking "OK").
Even if you receive a notification regarding an update, your ability to license new versions is tied to your current Activation Code. To be eligible for new releases, you must renew your Maintenance Subscription annually. Contact Support to renew your subscription or to check if you are current. See Related articles for more information about upgrades.
Users authorizing to Enterprise License Manager or sharing a SQL database must check with their System Administrator before attempting to download an upgrade.
System Administrators can control Product Update messaging by using Enterprise Updates (detailed below) although Marketing messages will still be displayed for the end users.
Enterprise Updates (Centrally-managed Updates)
Network Administrators can configure Classic Products (On-Screen Takeoff is shown below, but Quick Bid follows the same process) to check a specific location for updates versus checking On Center Software's web site. This centralizes update activities so users are not updating to different versions on their own. This provides the Network Administrator with an opportunity to test new versions before releasing them to a group.
This does not disable auto-update notifications from On Center.
SQL databases must be updated by the DBO (database owner) before rolling out updates to end users. Standard users do not have adequate rights to upgrade SQL databases and will damage the database if they attempt to run the update process on it, see Related articles for more information.
In the Options dialog Folders tab (Tools > Options > Folders), you can adjust the "Update Location" which is empty by default. If this field is blank, the software checks the On Center Software Web site for updates. If you override this default setting by providing a new, valid path to check for updates, you can control when your users are notified of software upgrades.
See below for methods to set this field by editing the Windows Registry.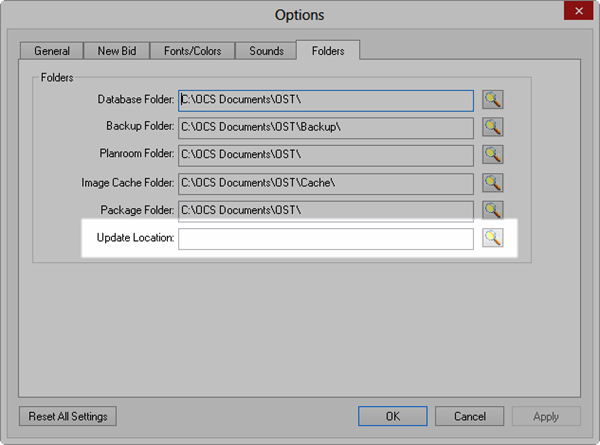 If the path provided is not valid an error message displays.
Preparing an Update
The Network Administrator downloads the update from On Center Software and stores the installer file on a centrally accessible server to which users are mapped.
The Network Administrator then populates the "Update Location" folder in the product to point to this location (this must be a mapped locationIf the path provided is not valid an error message displays. In the location from which you intend on publishing updates, you need to put two files:
The installer (either .exe or .msi), that you previously downloaded
A file named "oncenter.updates.xml".
The Network Administrator must manually create and maintain this XML file to match the update being distributed. In this document, the administrator adds a message that displays in the Applications' Update Available dialog box advising the end user how to proceed. This message can only be 250 characters long. Please refer to the example below.
Example: If the update is for some earlier version of On-Screen Takeoff 3 to 3.6.0.78 (example versions only), the oncenter.updates.xml file would read:
<?xml version="1.0" encoding="UTF-8" ?>

<updates>

<update>

<product>ost</product>

<version>3.98.03.02</version>

<file>ost3980302setup.exe</file>

<msg>IT has approved testing of 3.6.0.78</msg>

</update>

</updates>
The installer file (ostXXXXXsetup.exe) must match the "file" field in the XML file (oncenter.updates.xml). For example: ost3980302setup.exe.
The values for "version" and the file name (xxxxsetup.exe) must match what you are distributing for the update to be successful.
Setting workstations to use Enterprise Updater by editing the Windows Registry
A Network Administrator can create a login script to change a particular registry key that 'points' users to the appropriate update location. Each user must have the change made at any workstation they use.
The following steps require modifying the Windows registry. Modifications to the Windows registry, if not done correctly, can cause serious problems to a Windows system. If necessary, please contact an qualified IT Professional.
The update folder setting is stored in the Windows Registry under:
On-Screen Takeoff: HKEY_CURRENT_USER\Software\On Center Software\On-Screen Takeoff 3\Settings (UpdateLocationPath)
This is a user-specify Registry Key and must be set for each user accessing a particular workstation.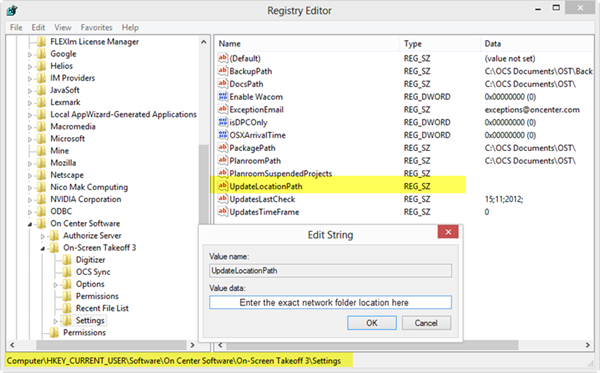 Each use must have access to the specified location. If a path is inaccessible, the program generates an error.
When the Network Administrator posts an update, the end user receives the following dialog box: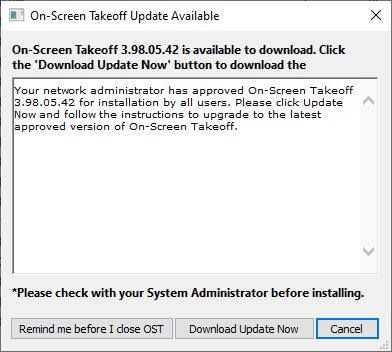 The end user simply needs to click "Update Now" when the update is approved and distributed. (They will be prompted to close On-Screen Takeoff so the installer can complete.)
The end user can also delay installation until they close On-Screen Takeoff, at which time they will be shown the update notification again...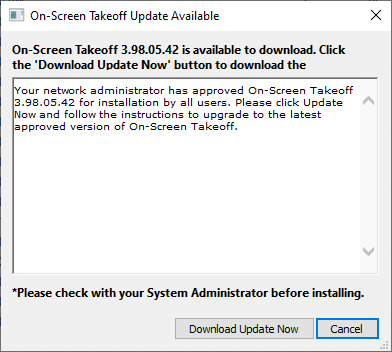 Before applying any product updates, make sure your licenses supports the new version! See Related articles for details.
Special Warning for DPC Users
Because everyone accessing a DPC job at an organization must be on the same version of OST/DPC, there is an additional warning if you have any DPC licenses and attempt to install and automated upgrade.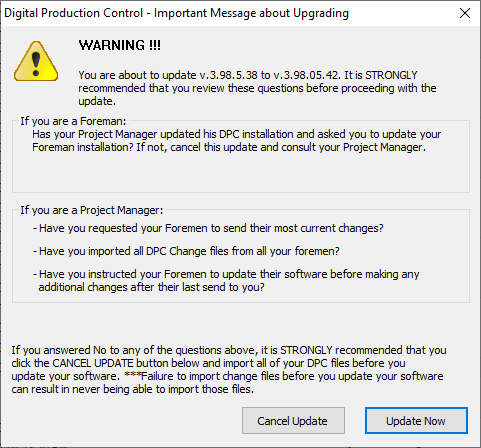 Before you continue with this installation, coordinate with everyone else (project manager, estimator, foremen) accessing this job to ensure you all upgrade at the same time.