Applies to On-Screen Takeoff, Quick Bid, and Digital Production Control.
Before installing an upgrade to your software, it is important to verify you have activated a license that supports the new version before upgrading.
When we release an upgrade, we update customer licenses and make the installer downloads available in batches. If you have received an installer from someone other than your system administrator, your licenses may not be ready for you to upgrade yet.
Always check with your company's System Administrator or IT Department before upgrading any software on your machine.
When you open a database in a new version of the software, you are prompted to upgrade it. Once upgraded a database can only be accessed in that version of the software. If you re-install a previous version of the software, you will not be able to open the database anymore.
Also, if you upgrade a shared SQL database and do not have sufficient rights, you can cause the database to become unusable. Lastly, if you are able to upgrade a shared SQL database successfully, all other users must upgrade to the same version immediately or they will be unable to open the database.
Check Your License
To check if your currently activated license supports a Specific version, you need to log into the Customer Portal at myoncenter.com.
Under "Licenses", you can see your License Keys and Server Codes there (if you don't personally have access tot he Customer Portal, contact your manager).
Verify the version number for your licenses supports the version of the software you want to install before installing it.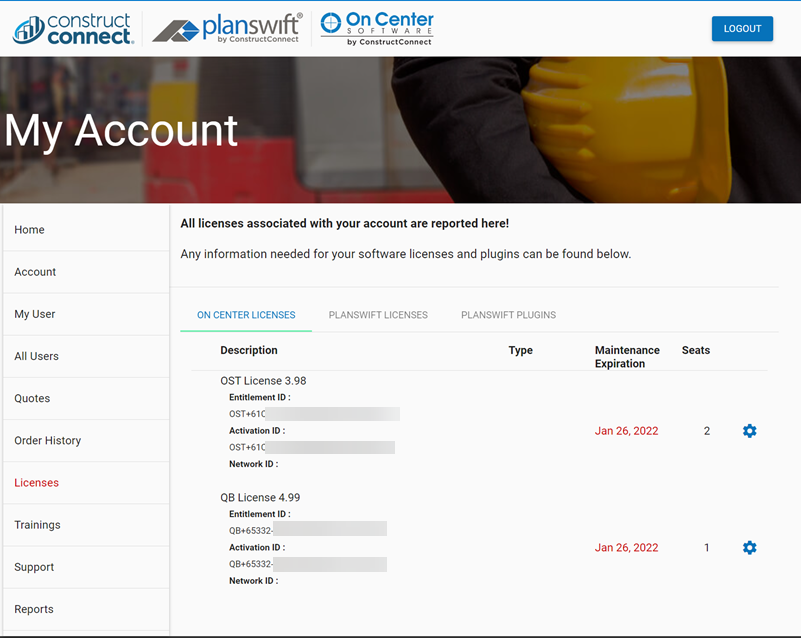 On-Screen Takeoff, Digital Production Control, and Quick Bid look at the first two sets of numbers in a full version number for licensing purposes. For example, in our screenshot, our OST license supports version 3.98. This license key will activate any version of OST 3.98 (3.98.00.xx through 3.98.08.xx). It will also activate any version of OST 3.97 or earlier (versions that are licensed using License Keys, of course).
If you are unsure whether or not your license supports an upgrade, please contact our Technical Support group. We will be happy to advise you on the recommended course of action.