Applies to On-Screen Takeoff, Quick Bid, and Digital Production Control.
Before installing an upgrade to your software, it is important to verify you have activated a valid license for the new version before upgrading.
When we release an upgrade, we update customer licenses and make the installer downloads available in batches. If you have received an installer from someone other than your system administrator, he or she may not be ready for you to upgrade yet.
Always check with your company's System Administrator or IT Department before upgrading any software on your machine.
When a database is opened in a new version of the software it is upgraded and can only be accessed in that version of the software. If a user does not have a valid license for the newer version, they will not be able to authorize and all databases will be in Read Only mode - they will be unable to work.
Check Your License
To check if the currently activated license supports a version, you need to log into the Customer Portal at myoncenter.com.
Under My Software Licenses, click on "Details". You can see your License Keys and Server Codes there. Make sure your licenses support the version of the software you want to install before installing it.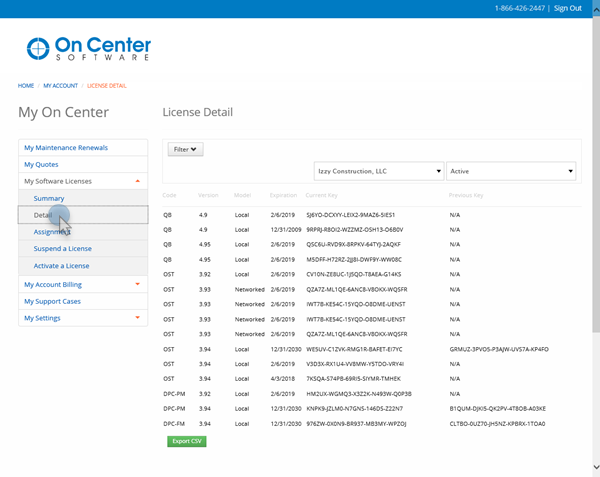 If you are unsure whether or not your license supports an upgrade, please contact our Technical Support group. We will be happy to advise you on the recommended course of action.