You can use the same license code on any number of machines, but the code can be activated on only one machine at any given time. To use a license on a different machine, it must first be returned (deactivate) from the current machine. For example, if you want to 'take your license home' for the weekend, you must first Return (deactivate) the license from your work PC. You then will be able to Activate the code on your home PC (and then reverse those steps to use the license at work again). An active Internet connection is required to return (deactivate) an Authorization Code.
It is your responsibility to manage your Activation Codes - On Center Software cannot revoke a machine's license so that it can be used on another machine.
To return a license (deactivate a code),
Click File > Check Authorization
Highlight one or more codes in the Local Activation Code box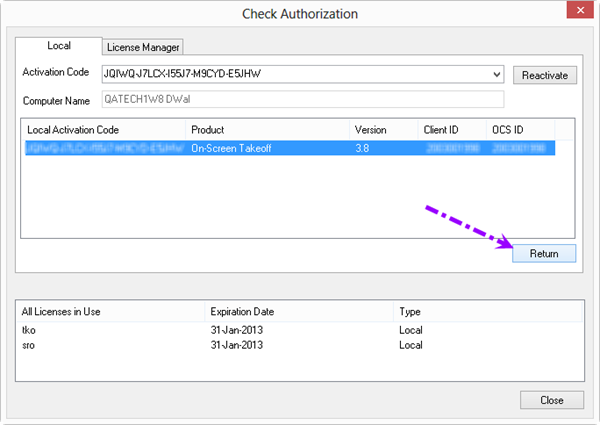 Click Return - the program sends the Activation Code(s) back to On Center Software and removes the license from the current machine
The authorization status in the bottom right corner of the application does not update until the Check Authorization dialog box is closed.
The code may now be activated on a different computer.
You must return each License Code separately - returning one does not return the others.
The last five previously activated codes remain in the Activation Code dialog box so they can quickly be reactivated in the future. Once a code is activated, the Product/Feature is displayed next to the code in the drop-down list making it easy to reactivate later.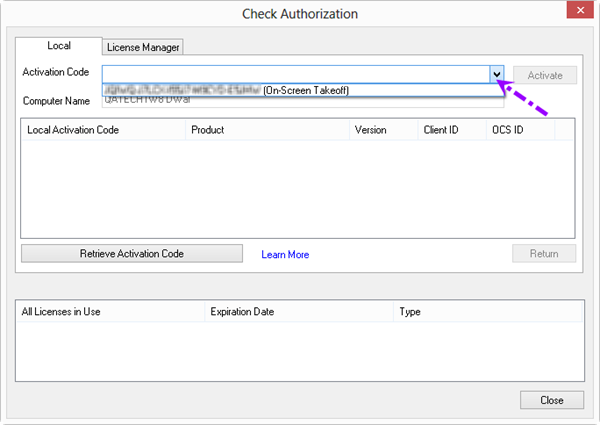 To remove a code from this list, please contact Technical Support.