What is the best way for me to organize my bids and databases?
Answer
We are glad you asked! One of the most important things you can do to improve efficiency and keep bids organized is to use databases named for different Job Statuses (Pending, Sold, Lost, Completed, etc.). This method is also a great way of archiving bids you are no longer activately working on.
Many clients create databases:
For each job - this is a good idea if your jobs are complex, example: Hilton Hotel - Houston TX - 2007
For each estimator - this allows users to see only their bids and they do not have to try to weed out other estimators' bids, example: Bill Smith - 2007
For each office or geographic area, example: Memphis-2007 or Northest-Pre-Construction
For each quarter or month - this is especially helpful if you do a high volume of bidding, example: MAY-2007 or QTR1-2007
For each year - at a minimum, we recommend you create a new database at least once a year - just to keep your bids list manageable
You can apply any variation on these themes. It is recommended that you develop a format that everyone uses when creating databases and that estimators are trained in appropriate bid and database management.
It is important that each database is named uniquely, whether they are separated into different folders or not. This just makes it easier to find the particular database when you need to install on a new machine, run a backup or send the file to Technical Support. It also reduces the chance that and estimator will use the wrong database inadvertently.
Organizing Bids by Database
First, create new databases for your various job statuses. You may also choose to create a new database named Archive - this would be for bids that you reasonably expect not to need again but do not necessarily want to delete permanently.
For assistance creating databases, please refer to the Application Help or Online User Guides accessed by clicking Help > Training Central > Online User Guide in the product(s).
Once your new database(s) are created, COPY bids to the new databases (we recommend copying Bids, pasting into the new database, then deleting the original Bids, versus moving/cutting bids, to ensure that your bids are copied to the new database correctly. When copying/moving Interactive bids, do not delete anything until you are sure the bid exists in the new database for each product and has been reconnected - see the Quick Bid Help for assistance with reconnecting bids.
Once you have verified that the bids have been correctly copied to the NEW database, return to the original database, right-click on the bid(s) and select Delete. This will move them to the "Deleted Bids" folder.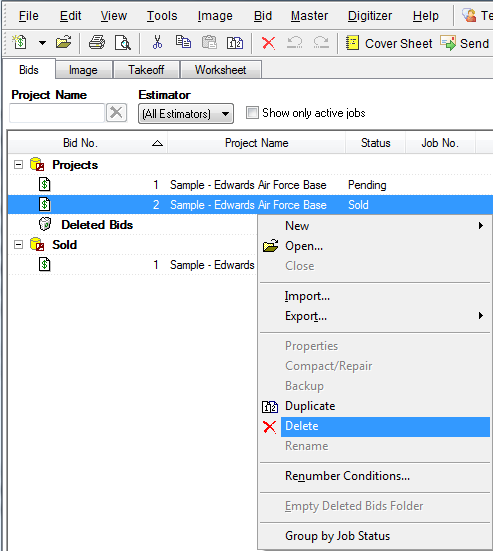 To clear out/empty the "Deleted Bids" folder, simply right-click on it and choose Empty Deleted Bids Folder
This permanently deletes the bid from the original database.
Keep any databases (for example, Archive, Lost, etc.) in which you are not actively working on bids closed. The User Guides explain how to open/close database.