Question
My application doesn't seem to be running as quickly as it used to. Do you have any suggestions?
Answer
Well, of course we do! The following are some tips that should improve performance of On Center Software products including: On-Screen Takeoff, Quick Bid, and Digital Production Control.
For questions about specific hardware needs, please contact a qualified IT Professional for assistance. On Center Software cannot make specific hardware decisions for our clients - there may be other software applications, hardware needs, or security concerns that need to be taken into account before making any purchase decisions. These concerns must be assessed by your own IT Department or a qualified IT professional.
If your whole computer is running slowly, check out the Related article regarding Improving Computer Performance.
Recommendations for Improving Application Performance
The first thing you can do to improve application performance is ensure your computer exceeds the System Requirements for your Product. See Related articles for your product's appropriate System Requirements.
Meeting the 'bare minimum' requirements often does not provide acceptable performance.
Compact/Repair Database
Complete a Compact/Repair on your database (Classic products) at least once per week. This insures good health for your database and will keep its size down. This is important, even if you use Microsoft SQL type databases, as it reorganizes the data to improve performance and increase database stability. Your SQL administrator must use the SQL Management tools to shrink the database regularly as well (this cannot be done from On Center Software's applications).
For more information on Microsoft Access database maintenance, review the Microsoft technical document here: http://support.microsoft.com/kb/303528 .
Bid Organization
Make sure only the Projects/Bids you are currently working on are in your active database. The smaller your database (the fewer bids in the active database), the faster the programs will operate. You may wish to create databases for your bids in various statuses such as: Pending, Sold, Lost, etc. rather than using folders within one database. This will keep each database relatively small and improve performance considerably.
Many of our customers use different databases to store bids for different offices, regions, or divisions. Many also create new databases for each month, quarter, or year. This way, each database stays relatively small which improves performance and makes it easier for end-users to locate specific bids.
See Managing Your Projects and Bids for more information.
Database Organization
When On-Screen Takeoff® or Quick Bid launches, the connection to every database listed in the Open Databases dialog box is verified. If there are multiple networked databases, these network paths must be established prior to the software fully launching. If the network path is not available, because of a server being down or a connection not being established, the software will continue to process the connection until it times out. This can cause a delay in launching the software and also cause the connection to the database to be permanently dropped. If you use multiple networked databases, verify that the network path is established prior (the user logs into the network/domain) to launching the software. Usually the network path will be a mapped drive and will show with a red X (X) in Windows Explorer if the path is not active. Contact your IT Department or Network Administrator for assistance with network drives.
Never work in Microsoft Access databases stored on a network drive. Although the programs can access these databases, application performance can and will be significantly reduced and the possibility of the database becoming unstable and/or unusable is high. If you need to share databases and/or store databases on a network, you must use Microsoft SQL Databases.
Never share Microsoft Access databases (do not allow more than one person to open an Access-type database at the same time) - your database will be damaged.
During normal use of the applications, we recommend keeping only the database(s) in which you are actively working open. Keeping multiple, unused databases open can cause performance degradation as the applications continuously monitor those databases for any changes to the bids. This is especially true if you have a large number of bids that are interactive.
Use SQL Server Database
If multiple users share a database (or, if a single user needs to store their database on a network), you must use SQL Server database, instead of the default Microsoft® Access® database. SQL Server, unlike Microsoft Access, is designed for multiple users, network access, and large volumes of information and inherently, is more stable and provides a better user experience. For additional information on SQL Server databases, refer to the Related articles regarding using SQL.
If you are already using a SQL Server database, set the database logging to Simple. This reduces the overall size of the database log and reduces the frequency and volume of information SQL logs regarding your database. See the above mentioned FAQ for more information.
System Requirements and Performance
Make sure the computer exceeds our System Requirements (linked above). System Requirements are in place to provide a minimum environment in which our applications will run. If you are using the minimum system requirements and running multiple applications (Internet browsing software, e-mail application, word processing software, spreadsheet software, etc.) at the same time, performance will be slow. Each additional application, including the Operating System, uses system resources.
In the following example multiple applications are running at the same time using 1.36GB of memory on a PC that only has 2GB available. As the physical memory (RAM) usage increases, performance becomes slower for all applications. This is caused by the Operating System using a swap file on the hard drive (virtual memory) to process the additional requests. Hard drives, being designed for storage, are much slower at processing these requests than physical memory (RAM).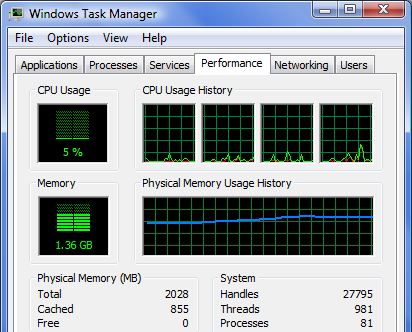 When accessing your SQL database or image files over a network, the faster the network, the better - we recommend gigabit Ethernet.
For additional assistance improving the performance of Windows, please refer to Microsoft's support site: http://support.microsoft.com/.
Power or Performance Settings
Many modern computers (desktops and laptops) include hardware and software settings that can affect performance. Check the following items to maximize performance:
Page file - your IT department needs to check your Page file size and management settings to ensure that they are set for optimal performance. Since every PC is different, there are no guidelines that On Center Software can document, however a qualified IT professional should be able to advise/configure this.
Check the Windows Power Management settings - by default, especially on laptops, this will be set to a battery saving or low-power mode - adjusting to a Performance mode improves system and application performance.
Check the computer's BIOS settings to ensure that all power-saving options are set for improved or maximum performance (note - this may affect battery life so you may need to experiment a bit to find a happy medium).
Third party power management utilities - make sure these are all set to maximize performance. If necessary, set battery optimization only for times when the machine is unplugged (running on batteries).