Views: 162 Last Updated: 04/29/2022 07:51 am
0 Rating/ Voters
Be sure to rate this article 5 Stars if you find it helpful!
Creating New Bid
Cover Sheet
Load Images

Auto Add Images
Insert New Image Page
Duplicate Image
Image Tab
Layout / Navigation
Keyboard shortcuts

Control key & mouse wheel – Zoom
Alt key – Pan
Space bar – Toggle back and forth from Select tool to Takeoff tool

Setting / Calculating Scale
Performing Takeoff Using Conditions
Linear Takeoff
Area Takeoff
Count Takeoff
Efficiency Tools
Copy/paste takeoff
Duplicating conditions
Multi‐Condition Takeoff
Reassigning takeoff objects
Bid Areas
Takeoff and Worksheet Tabs

Right-click to group
Printing and exporting
Review and Maintain Work Pipeline
Color scheme for due dates
Database Maintenance and Management
Creating Databases
Open Databases

Size – limited to 40,000KB and lower
Compact/Repair

Synchronizing Databases
Settings
General tab
Uncheck "Connect linear takeoff"
(Optional) Check "Use full-window crosshairs for mouse takeoff"
Uncheck "Restrict lateral movement of linear objects"
Uncheck "Enable auto dimension lines"
Check "Enable Automatic continuous mode"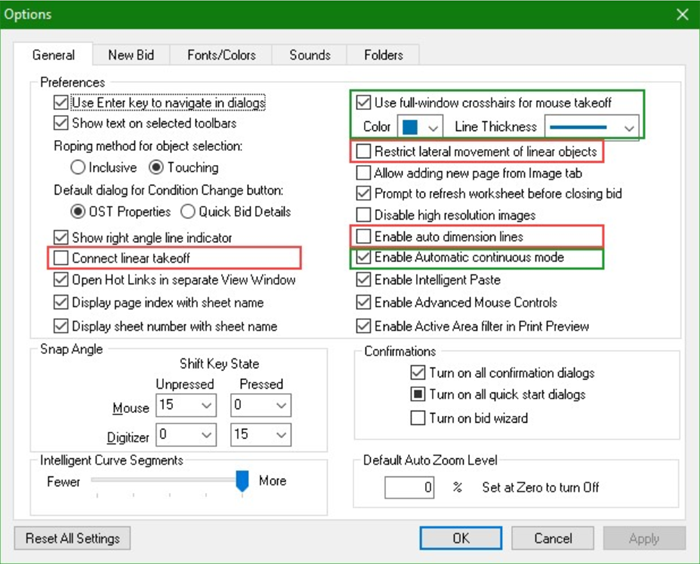 Additional Resources
User Guide – press F1 for shortcut to targeted help
Training Videos
How Do I?
Request Support
Request a Feature
Q&A
Helpful Links
On-Screen Takeoff Training Part 2
https://go.oncehub.com/OnScreenTakeoffCustom
¿Necesita entrenamiento en español?
https://go.oncehub.com/SpanishOnScreenTakeoffCustom
Link to Training Survey
https://www.surveymonkey.com/r/PG6LY8W
American Society of Professional Estimators (ASPE)
https://www.aspenational.org/
---