You use a Style to create a Condition quickly and uniformly (everyone who uses the same Style to create a Condition creates an exact copy of that Style).
To use a saved Style, from the Conditions List either:
Click the New button and select "Condition", or
Click the Add Condition icon in the Conditions List, or
Right-click anywhere in the Conditions List and select New > Condition, or
Press the <Insert> button
The Condition Properties dialog box displays.
Click in the Style field. This opens a list of all the different Styles of Conditions, with the System Styles (Linear, Area, Count, Attachment, and Typical Group) at the top followed by all the Styles from the Style Library.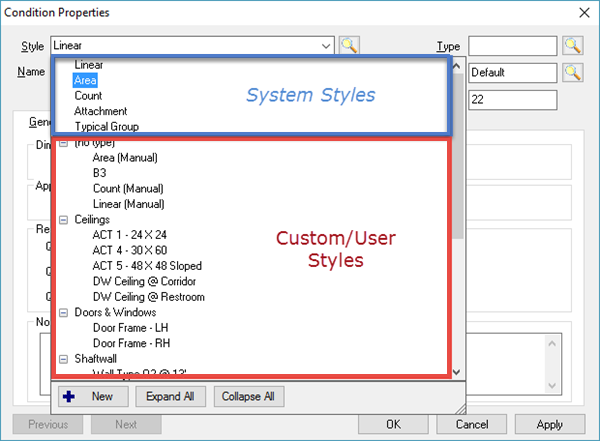 Notice that Styles are grouped by Condition Type in the list. Collapse

or Expand

the groups as needed to locate the appropriate Style. (This is why it is so important to assign a Condition Type to every Condition/Style - see Related Articles for more details on filling out Condition Properties.)
You can use "Type Ahead" in the Style box to locate a known Style quickly without opening the list via the drop-down. For example, to narrow the list to those Styles started with the numbers "24", just type "24" in the Style box, as in the example below. The more characters you type, the fewer results displayed. If there is only one result, it is populated automatically.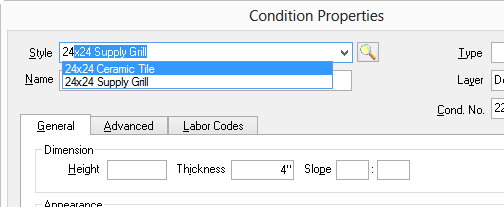 Select one of the existing Styles and the Condition properties dialog box is filled in using the settings from the stored Style.
Make whatever adjustments are necessary (color, results, dimensions...).
Click OK to save this new Condition.
Modifying a Condition or Style
After you use a Style to create a Condition, whatever edits you make to that Condition have no effect on the Style (in the Masters) or any other Condition created with that Style, unless you choose to save the Condition and overwrite the Style (future Conditions created using that Style reflect your changes).
The same holds true for making changes to the Style. Only future Conditions created using that Style reflect whatever changes you make to the Style. Exiting Conditions created using that Style are not linked to the Style and are not changed when the Style is modified.
The only time making changes to a Condition changes a Style is if you re-save the Condition "as a Style" without changing its Name and choose to overwrite the existing Style.
Styles make creating a single Condition easy, but if you need to add 10, 20, or 100 or more Conditions to a bid, if you create and use Style Sets that process literally can be reduced to just a couple mouse clicks.