The Navigation Toolbar is used to flip through the pages in your project. Use the drop-down list to select a specific page, use the black arrow keys to go to the next or previous page or, use the green Back/Forward buttons, to go to the last paged viewed.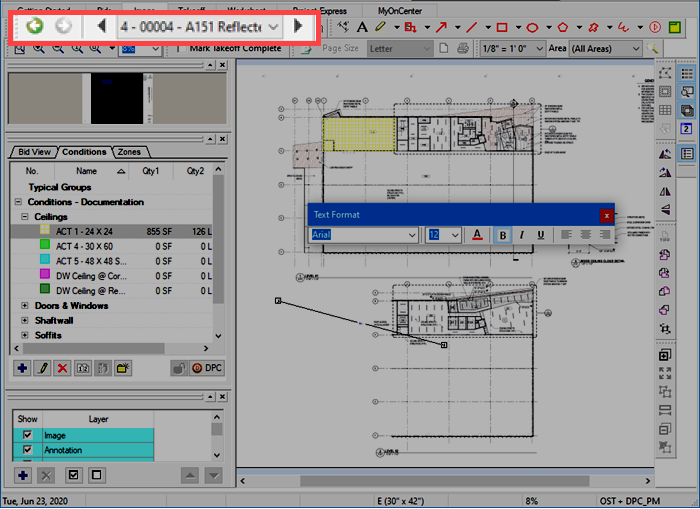 By default, this toolbar is docked directly below the program Tabs, toward the left-side of the application.
The Pages drop-down indicates what page is currently being viewed and allows you to select a specific page quickly from a list of all pages in the current Bid.
In Tools > Options you can set options to show or hide the Page Number and Sheet Number. The Sheet Name always displays.
The Back and Forward arrows function like standard browser going back and forth through the previous views (what you last saw in the Image window).
Button Icon
Function
What it does/What it means...
Keyboard Shortcut
Back
Last page viewed


Forward
Next page viewed (active if the Back button is used previously)


Drop-down
Pages Navigator drop-down
Displays a list of all Pages and all Page Folders in the current bid allowing user to select the specific Page they want to view. (Icons indicate Pages with Takeoff (blue) and those marked as "Takeoff Complete" (green checkmark).
Previous Page
Go to previous page in project
<Page UP>
Next Page
Go to next page in project
<Page DOWN>
More about the Page Navigator drop-down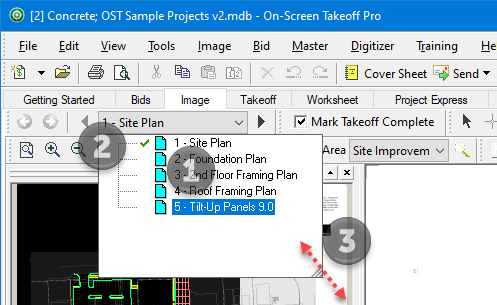 Pages displayed with a blue page icon in the Page Selector drop down list indicate that there is takeoff on that page. (Takeoff does not include Annotations - only measurements drawn with a Condition count as "takeoff")
Pages with a green check mark next to their icon indicate they've been marked "Mark Takeoff Complete".
You can resize the drop-down so you can see the entire Sheet No. and Name, click the control at the bottom-right of the drop down and drag it to the desired size.
When the Page Navigation drop down is open, you can quickly scan through the list using the scroll wheel on your mouse.
Hiding Page (Index) No. and Sheet No.
The Sheet Name always displays, however you can show or hide the Page (Index) and Sheet Numbers however you like.
In Tools > Options, uncheck "Display page index with sheet name" or "Display sheet number with sheet name".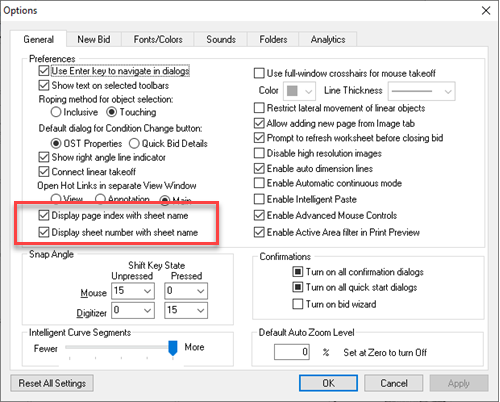 In our example, we uncheck both, and now the Page Navigator drop-down shows just the Sheet Name.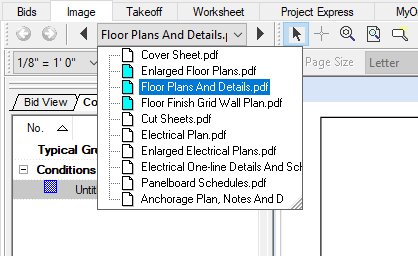 In case you forget what the page index number is, open the OST Cover Sheet...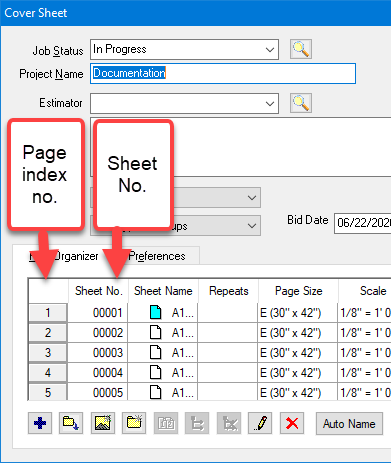 GoTo a Specific Page
Press <Ctrl> + G on your keyboard to open the GoTo dialog box:

Type in the Page number you want to jump-to and click OK (or hit <ENTER> on your keyboard).
See Related Articles for information on organizing and naming your plans to make navigation easier and more efficient.