If you haven't already installed On-Screen Takeoff, you start there. Before installing On-Screen Takeoff, be sure your computer meets our System Requirements. Keep in mind, the minimums necessary to run On-Screen Takeoff/Digital Production Control may not provide acceptable performance.
Read the Release Notes for this version (and previous versions, if you like).
Visit the On-Screen Takeoff® Product Information and Downloads page for last-minute information about the current release (and to find past versions).
The most-current System Requirements and Recommendations can be found here: CLS - Classic System Requirements
Operating System
Recommended
Windows® 10 Pro or Windows Server 2016
Supported
Windows® 10 Home
32 Bit and 64 Bit operating systems are Supported.
(Windows® 7. Windows Server 2012, Windows 8, and Windows 8.1 are not supported.)
CPU (Processor)
Recommended
Intel Core i5 or faster
Required
Intel compatible 1GHz processor or faster
Memory and Storage
Recommended
8 GB RAM or more
Required
4 GB RAM
1 GB Hard drive space (plus more for plans, projects)
Other Requirements
Minimum display resolution: 1280 x 1024
Internet connection required for licensing
Must be installed by Windows administrator
.net 3.5 required
Usually, if your PC is capable of running a supported version of Windows above, it should be able to run On Center's products.
Optional
Information on running OCS Products in an Apple environment can be found in: ALL - Using Apple hardware (a MAC) with On Center's Products.
To use the 'Price Using Excel' function, a fully-licensed , locally-installed version of Microsoft Office® Professional 2010, 2013, or 2016 must be installed.
SQL Server 2008 R2, 2012, and 2014 (full or express versions), see CLS - Using SQL with Classic Products for more information.
Notes
On Center Software tests our software in conjunction with products currently under "Mainstream Support" with Microsoft. Once a version of Windows is 'retired' by Microsoft, On Center no longer tests or supports our software on that version. See CLS - Product End of Life (Sunset Plan) for more information.
The minimum system requirements support basic functionality of On Center Software programs. Actual requirements will vary, depending on your system configuration, other applications installed and running on your computer, the complexity of the electronic plans you use, and if you use the programs interactively.
If you are using a licensed version of On-Screen Takeoff, ensure you have your most current License Code(s) for the software (version specific). Then, download the appropriate version from the Product Information page, above. License codes are available in the Customer Portal.
Installation
Save the downloaded installer file to your local hard drive (the desktop is a perfect place, it is easy to find the installer).

When the download is complete, double-click the installer file - the "Installation Wizard" starts.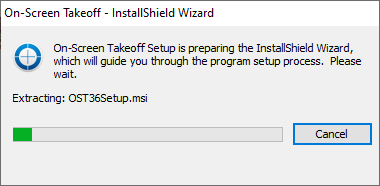 Click Next on the Welcome Screen (there is a link to the Release Notes and these installation instructions on the Welcome screen if you want to review them).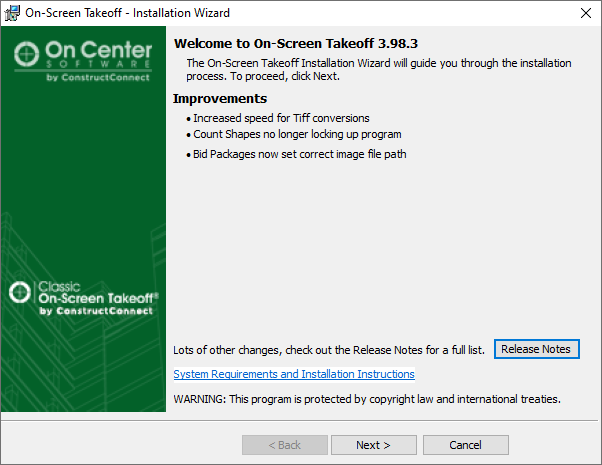 Review and Accept the End User License Agreement and click Next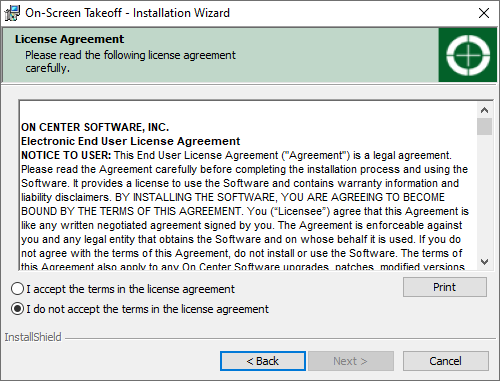 Enter in the user and company name to which you want this installation of On-Screen Takeoff registered (this shows up on the "Splash Screen" and is associated with your product license although this does not change license ownership in any way) and click Next.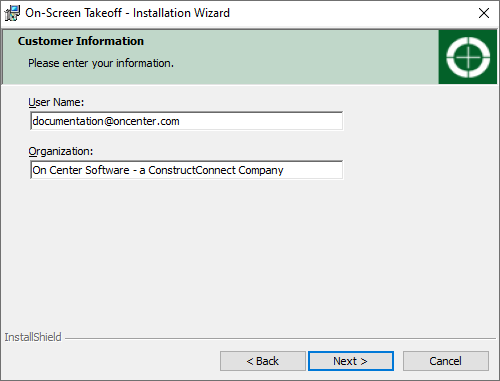 .
If you need to install to a directory other than the Windows default (<system drive>:\Program Files or <system drive>:\Program Files (x86)) click the Change button, otherwise click Next on the Destination Folder screen.
(We recommend installing to the default folder.)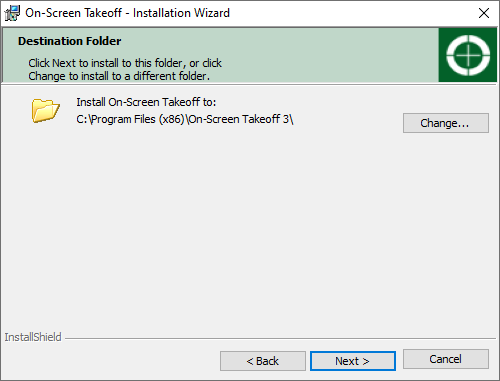 .
Click Next to continue with the installation.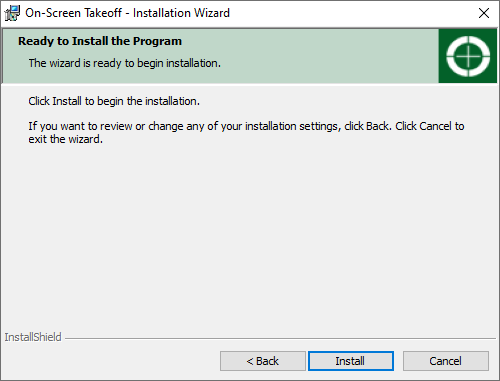 .
Click Install to continue with the installation - a progress screen displays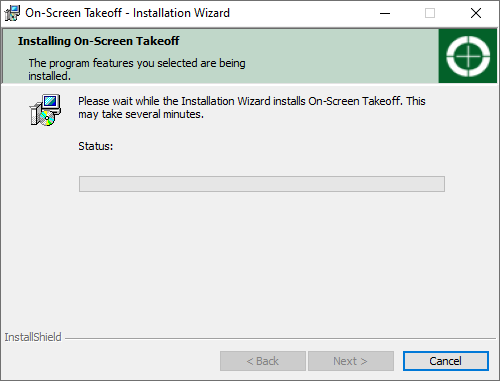 .
When the installation is complete, an information screen displays - review the information and then click Finish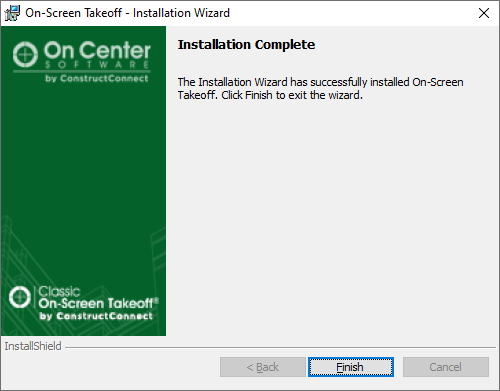 After you click "Finish", a web page opens explaining how to license your product (also covered in the next article).
A shortcut to On-Screen Takeoff is placed on your desktop, double-click it to launch the program.

Users who have purchased On-Screen Takeoff must activate a license to unlock the full functionality of the program (next article).
If you are using the free PlanViewer, you do not license the product and can skip to Quick Start Wizards.