Views: 427 Last Updated: 11/07/2022 02:13 pm
0 Rating/ Voters
Be sure to rate this article 5 Stars if you find it helpful!
Below are a few messages you may see when you're using eQuotes.
Minimum Order Quantity Notification
The supplier may return an eQuote that requires a minimum order (which can be more than what is needed for the project). When this occurs, an Alert icon

displays next to the amount under that specific Supplier's name. To learn what the Alert is, hold the mouse cursor over the

and a message indicates that a Minimum Order Qty is … with the required number of the supplier filled in to complete the message.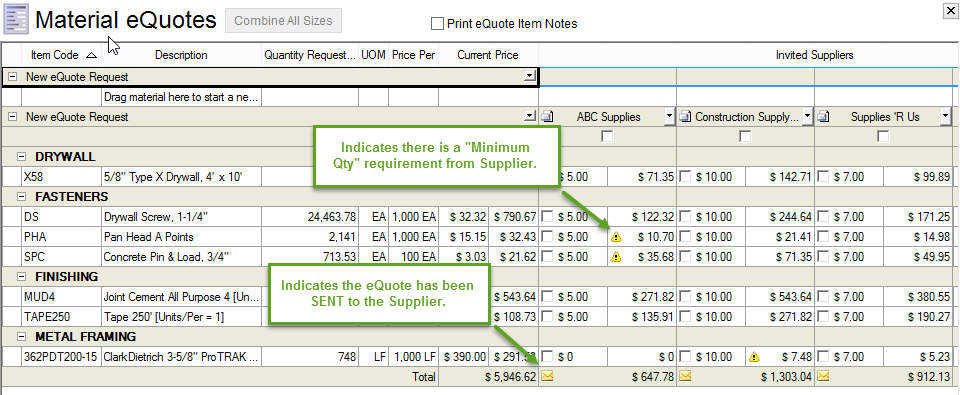 Be aware of minimum quantity requirements - be sure you are comparing "apples to apples" between Suppliers. Although one supplier may have a better price for a given Material, the minimum requirement may drive up the overall cost.
Verify eQuote Price
Let us say, for example, that we were quoted for one size of drywall (X58) by one Supplier and another size of the same drywall (X58) by another Supplier. (We were able to send the same Item through different eQuotes because the Item is Sized by "Sizes".)
When we accept the eQuote,
If the Item's Material Price method is by UOM, meaning there is one price for the Item, regardless of Size, that Item's pricing is updated, for all sizes. For the matching size, the Supplier is updated based on the accepted eQuote. For non-matching sizes, the Supplier column will show "Verify eQuote Price". You can modify the pricing for these sizes manually.
If the Item's Material Price methods is by "Sizes", meaning there are separate prices for each Size of the Item, then a separate eQuote/price can be accepted for each Size.

---