Quick Bid supports exporting Job Material Files to several Accounting systems.
If you are working in a Change Order, when you run an Export, it is for that Change Order only. To run a report or export on the Base Bid with or without accepted child bids, select the Base Bid from the
Bid Navigator
, and then open the Exports dialog box.
Although the Bid, Labor, and Material Exports are available to any licensed user, the Accounting and Custom Exports are only available to users under a maintenance subscription.
If you've allowed your maintenance subscription to expire, you can renew easily by clicking File > Check Authorization and clicking the Renew link.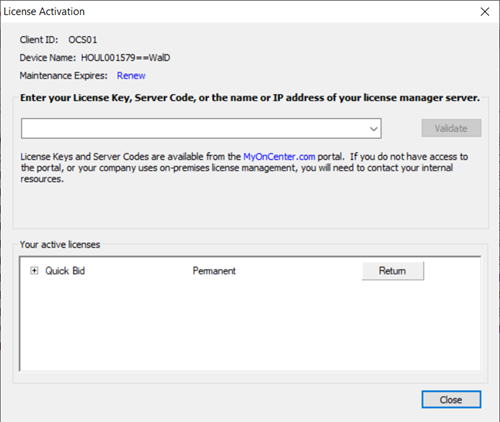 That link opens the MyOnCenter customer portal where you (or whoever can pay the invoice) may renew your maintenance subscription.
You can also contact Customer Success to discuss renewing your maintenance subscription.
If your Accounting Package is not listed here, please submit a Feature Request and let us know which package you use. We are continuously improving Quick Bid and may be able to add your Accounting Package to the export list. Also, keep reading, although your package is not listed, you can still export the information into a CSV file and once the file is generated, open the file in Excel and determine if the fields are suitable for your Accounting package. Your Accounting package must supporting importing "ASCII text files". Save the file as a CSV after modifying it in Excel.
Click on one of the articles below to review specific information about exporting one of these Materials files (each link opens in a new browser tab, be sure your pop-up blocker is set to allow pop-ups from 'oncenter.com'):
Exporting the Job Material File
To export a Job Materials file,
Click the

button and select the Job Material File under Accounting Exports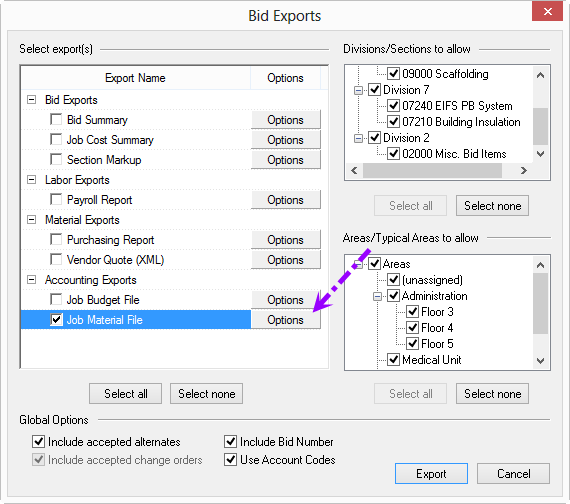 Click Options - the Modify Options for Job Material File dialog opens

Select the type of export from the Export Format list
Use the Lookup button
to choose where the export file is saved and what to name it - by default, exports are saved in the Database folder with a generic name (do not change the file extension, such as *.xls or *.csv)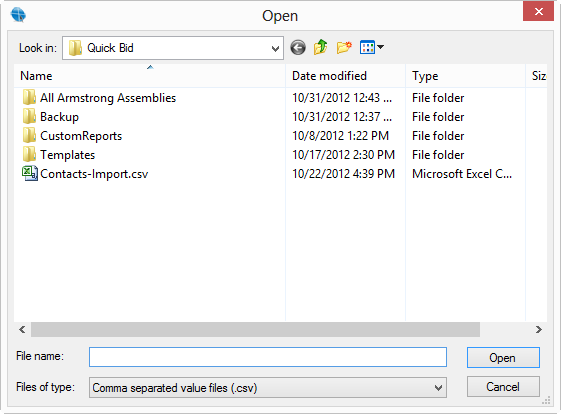 Click Open
Click OK - the options dialog closes
On the Exports dialog box, click Export to export the job
Once the Job Material Export is complete, import it into your Accounting program.
On Center Software does not provide assistance with importing Materials Export Files into your Accounting package. Accounting packages are very complex and the vendor of your particular Accounting package is best equipped to support it.