Quick Bid supports importing a properly formatted spreadsheet to create Condition and Quantities. The Survey, provided by a Quantity Surveyor, is created in your favorite spreadsheet program (such as Excel...) and then imported on the Conditions Tab. Be sure to review the previous article for how you must format and configure your Excel file so it can be imported.
Importing The Quantity Survey
You can import a Quantity Survey (Excel file) that has been formatted specifically for Quick Bid. The option to import a quantity survey is available only if you are not using Quick Bid and On-Screen Takeoff interactively and have not created any Conditions already.
Please read this and the previous article carefully. The Quantity Survey must be formatted exactly as explained or the import will fail.
Once the Excel spreadsheet is properly formatted and laid out, you'll import it into Quick Bid from the Conditions Tab.
Right-click within the Conditions Tab and select Import Quantity Survey Conditions.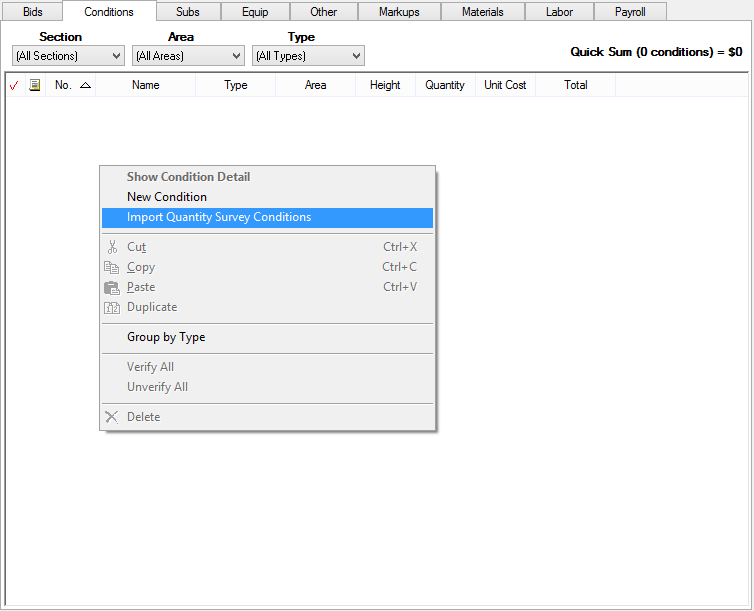 The option to import a Quantity Survey is only available when the Conditions list is empty. If you have already added Condition, you can create a new Bid, import the Quantity Survey, and then copy the new Conditions into your existing Bid.
The Open Survey Conditions File dialog opens, browse to where the Excel file is stored.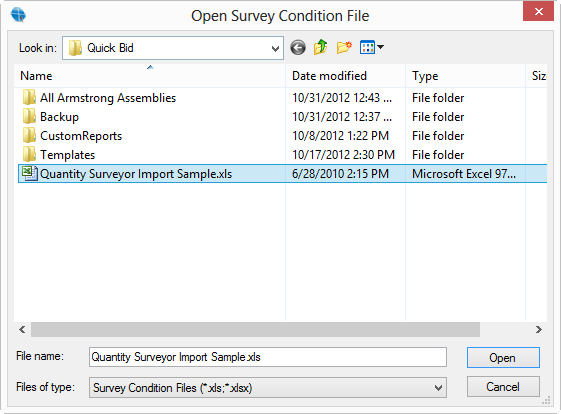 Click OPEN - a confirmation displays to verify the UOM of the survey being imported matches the Measure Mode of the current database.
Do not attempt to import an Imperial based survey into a Metric based database or vice-versa.

The file is scanned to ensure it is formatted correctly and a status bar displays.

If no errors are encountered, a confirmation is displayed when the import is complete...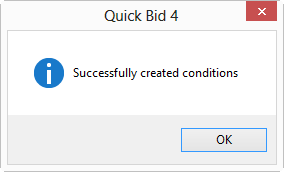 When the program encounters the column headers (Type, Area, Name) that define an 'importable' survey file, the file is further scanned to determine if the import process can proceed, if these exact columns are not found or there are other issues with how the spreadsheet is formatted, the following error is displayed: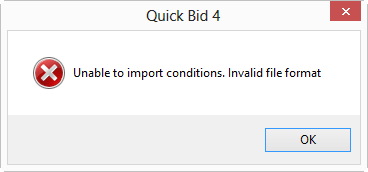 If the import process generates an error, fix whatever is incorrect and try to import the file again. Review the example attached to this article.
The spreadsheet must be formatted exactly as indicated in the previous article or the import will fail.
Now that you've imported your Quantity Survey to create Conditions and specify Quantity, you will want to review how to build (price) Conditions. See previous articles for details on building Conditions.