Before you start bidding, we recommend you setup some program defaults and options because Bid costs, such as Labor Burden and Material Markups, are calculated based on these default settings. Although Quick Bid works fine out-of-the box, if you do not setup defaults (that apply to every Bid), you have to take the time to configure these settings in each Bid, from scratch. Taking a few minutes now to set-up Quick Bid will save you a lot of time down the road.
There are three things you need to do before you start bidding (all covered in this Chapter:
Set your default Database and Program Options
Configure your Payroll Wages and Burdens
Define Default Markups and Default Indirect Expenses
These topics are covered in the articles that follow. Optionally, General Contractors, and other users who use Subcontractors often, can create Named Sets of Active Bid Sections - this helps to ensure that your entire Bid is priced correctly and completely.
We cover setting up Masters (Master Menu Lists/Tables), in the next Chapter. With Quick Bid, you can build your Master information 'on-the-fly', as you are creating/pricing your Bids. Although you do not need to build Master lists before you start bidding, it is important that you setup the program properly.
First up, Program and Database Options.

Program Options
There are two basic types of options: Program and Database. Program Options affect how you work with the program, Database Options affect your Bids.
Click Tools > Options to open the Options dialog.

Program options (highlighted in orange in the graphic below) change settings for the application and affect every database in which you work (they affect how the Program works). The following tabs are Program Options:
General
Category Codes
Folders
Database Options
Database options (highlighted in green in the graphic below) affect the currently selected (Active) database only. Changing these settings does not affect other databases.
New Bid
M/U Cost Codes
Lookups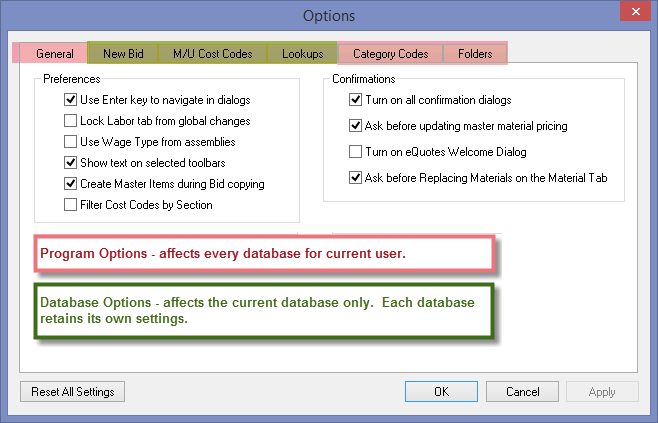 Payroll Settings and Markups/Indirect Expenses are discussed later in this chapter. They are per-database settings, although new databases copy the "Wage Types" from whichever database is currently active when the new database is created.