The Bid Navigator, located to the left of the main display window, acts as a database and Bid organizer. The Bid Navigator is set up in a folder tree structure with bids appearing directly below their parent databases and allows an estimator to:
Quickly navigate between open databases and Bids - similar in function to file explorers in Windows
Switch active Bid while remaining on the same program Tab (very useful for comparing two Bids or copying/pasting Conditions from one Bid to another)
Manage multiple open databases at the same time
Drag-n-Drop Bids from one open database to another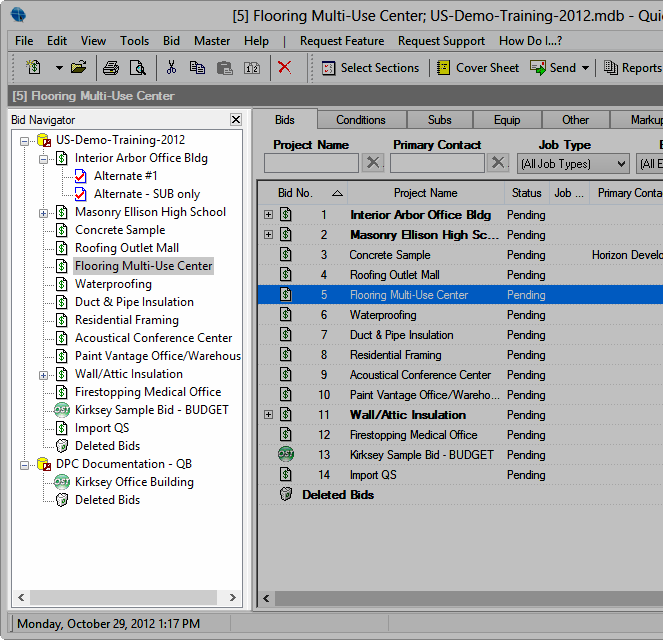 To open the Bid Navigator, click View > Bid Navigator or click the drop down arrow next to the current Bid name, directly above the Bid Tab.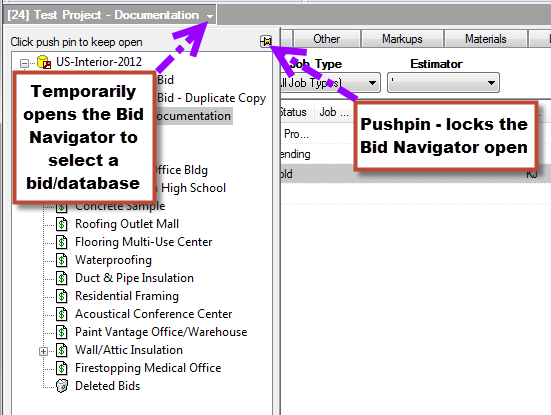 To lock the Bid Navigator open (pin it), click the pushpin in the upper right corner.
To close the Bid Navigator, click the "X" in the upper right corner or click View > Bid Navigator. Closing the Bid Navigator has no affect on which databases are open. The Bid Navigator is just a tool that makes navigating between different databases and Bids easier.
Use the Expand

and Collapse

buttons to help navigate the databases and bids within them.
Why use the Bid Navigator?
One of the key advantages to the Bid Navigator is that you can quickly switch between Bids while remaining on a specific Program Tab (such as Conditions, Markups, Materials) - this allows you to compare two different Bids (or a Base Bid and a Child Bid) more easily.
You can also copy and paste Conditions or Condition Details from one Bid to another - using the Bid Navigator to change between bids is much easier than clicking on the Bids Tab, then on the Condition Tab, copying what is needed, clicking back on the Bids Tab, selecting a different Bid, then opening the Condition Tab for that Bid, then pasting.
Bid Navigator Context Menu
Depending on the exact spot where you right-click, different options are presented. Bid Locks is the only option that is available solely from the Bid Navigator context menu.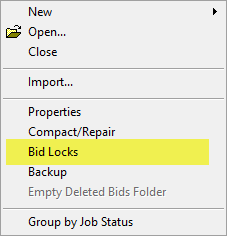 | | |
| --- | --- |
| Bid Locks | Opens the Bid Lock Admin dialog box to view or delete Bid Locks placed on Bids within a shared database. See the Related article for information on Sharing a SQL database and Bid Locks. |