Reference Number: AA-03577 Views: 901 Created: 11/19/2019 07:39 am Last Updated: 12/09/2019 01:43 pm
0 Rating/ Voters
Be sure to rate this article 5 Stars if you find it helpful!
The Bids Tab displays a summary for each Bid in the current database.
Selecting a Bid from the Bids Tab activates the Image, Takeoff, and Worksheet Tabs for that Project.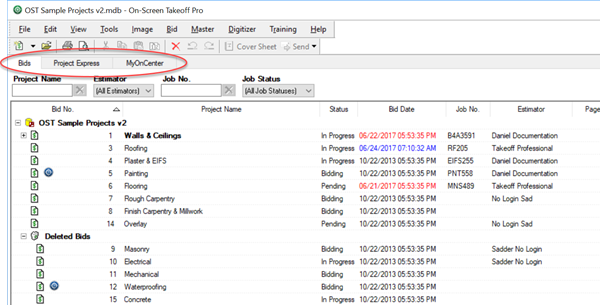 (No Bid selected)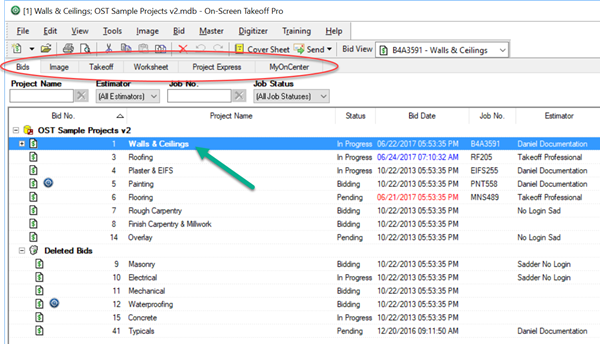 (Bid Selected)
The Bid Date column is updated automatically when a project is loaded from a Planroom. You can set or change this in the Cover Sheet (see "Color Code" further down in this article), however if you update this project using an OSX file from a Planroom, this date will be reset to whatever the Planroom specifies as the "Bid Date".
The Copy From and Copy Timestamp columns are populated when a Bid is copy and pasted or duplicated within the same database. The Copy From field indicates the original Bid Number and the timestamp (the date and time) when the copy was made (not populated if you copy a bid from another database).
Click on the desired column header (i.e. Bid No., Project Name, Status) and an arrow will appear next to the group title: a down arrow indicates the list is sorted in descending order, and an up arrow, ascending.
Adjust the order of columns by grabbing a column header and dragging it to a new position.
Double-click on a Bid to open the Image Tab for the selected Bid.
If you have a DPC license, you may see additional program tabs, see the DPC User Guide for more information.
Use filtering and grouping on the Bids Tab to organize/find Bids easier. These are explained in the articles that follow.
Bid Date Color Code
On-Screen Takeoff color codes the Bid Date to help you quickly identify Bids you need to work on today/soon.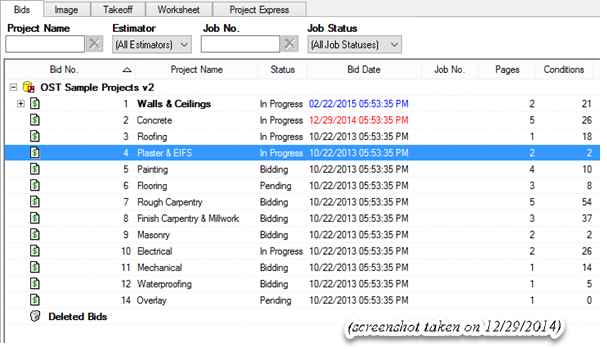 Blue - Future date
Red - Today's date
Black - Past date
Color-coding is driven by the Bid Date in the Cover Sheet. We cover filling out the Cover Sheet in the next Chapter.
---