IT or network administrators can use the product's "MSI Package" to perform a silent or distributed installation on an end user's machine.
MSI Packages for all released versions of On-Screen Takeoff and Quick Bid are available by Contacting Support.
As an IT professional, it is assumed you understand how to distribute files and scripts - we do not provide assistance with that. If you do not know how to do that, you should not be using the MSI Package to distribute software, download the EXE installation file instead.
This only works with the MSI packages, available on each Product's Information and Download Page (the product buttons above).
Whoever is installing the application (running the script) must be a Local Admin on the machine - you cannot request elevated privileges in a silent installation and the products can only be installed by a Windows Administrator.
The commands below install a "Default Installation", installed to the C:\Program Files (x86) folder, with all defaults accepted. Optional switches can be applied but are not necessary. To view optional switches, type "/?" after the MSI package name.
Your script must copy the MSI Package to the end user's machine - the user's "Downloads" folder ("c:\users\<user name>\Downloads") is the preferred location.
You must also include a request for an "Admin Token" within your script.
Script/Command
The very basic installation is launched by running the command shown below from the folder where the MSI package is saved. This is not an acceptable script to install the programs because it does not invoke the "Admin Token", but is an example of the type of script you will use to roll out installations using an MSI package.
On-Screen Takeoff/Digital Production Control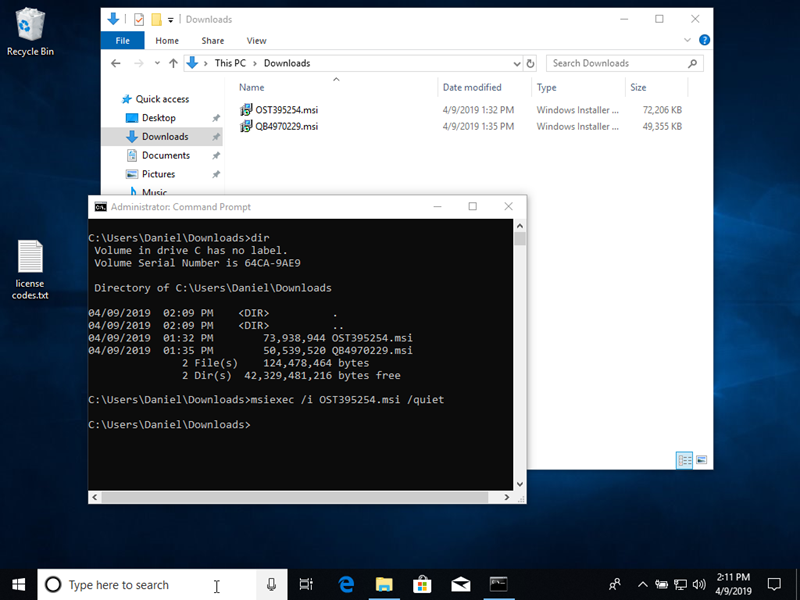 from the folder when the MSI Package is stored,
"msiexec /i OST395254.msi (or whatever the name/version of the MSI Package is) /quiet"
Quick Bid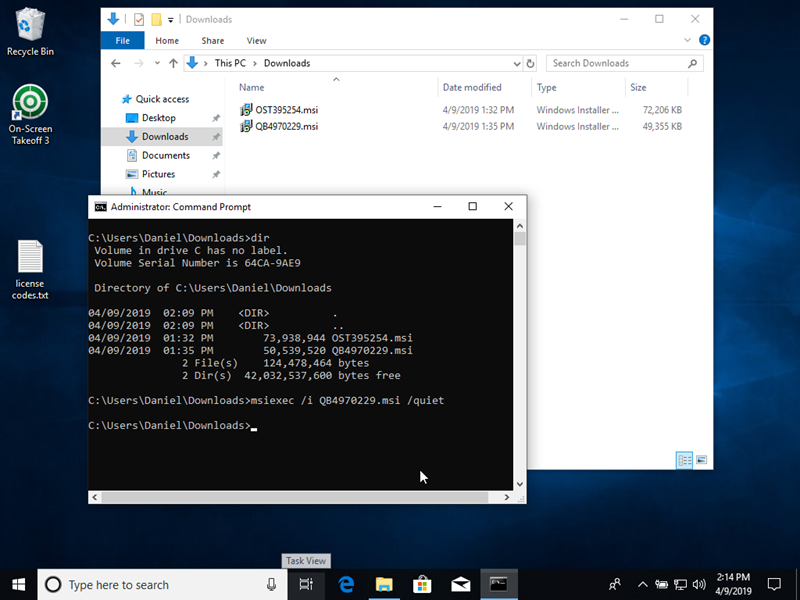 "msiexec /i QB4970229.msi (or whatever the name/version of the MSI Package is) /quiet"