Takeoff (Quantity Surveying) and Estimating (Bidding) go hand in hand and so do On Center Software products! If you use On-Screen Takeoff to perform your quantity survey, that information can be transferred directly to Quick Bid. This interactivity means a company can realize significant improvements to efficiency - information needs to be entered once instead of multiple times getting Bids done faster with greater accuracy.
If you are using On Center's revolutionary Oasis Takeoff cloud-based takeoff solution, you can still use Quick Bid to price your estimate. See OTK 1 - 07 Exporting Bid Data to Quick Bid for more information.
Using On-Screen Takeoff and Quick Bid interactively is a great way to get the most out of the programs, but you can take your company's takeoff and estimating to the next level. Check out On Center Software's integrated project management software,
Digital Production Control.
Digitally track job progress and production in
real time
! For more information or to schedule a demonstration, contact your Account Manager at On Center Software.
Rules for the Interaction between Quick Bid and On-Screen Takeoff
DO'S
Use the latest versions of both On-Screen Takeoff and Quick Bid to ensure correct operation. Download the current shipping versions at www.oncenter.com/support.
When working with On-Screen Takeoff and Quick Bid, only one On-Screen Takeoff database should ever be linked to a Quick Bid database and vice versa. Several Master tables are synchronized between the programs' databases and can become corrupt if databases are connected in a multi to one or multi to multi environment.
To clarify: only bids from a single On-Screen Takeoff database should be connected to a single Quick Bid database.
Only one estimator should work on an Interactive Bid at any one time - whether in On-Screen Takeoff or Quick Bid to avoid bid-locking errors. (One estimator can perform the takeoff and another estimate the Bid just not at the same time.)
Create new Bids, Alternates, and Change Orders in On-Screen Takeoff.
Create, Modify and Delete Conditions, Bid Areas, and Typical Areas in On-Screen Takeoff. Once a job in On-Screen Takeoff is linked with Quick Bid, the ability to add/delete Conditions or change Condition quantities, or add/change/delete Bid Areas and Typical Areas is disabled in Quick Bid.
Update Condition quantities in On-Screen Takeoff. On-Screen Takeoff passes this information to Quick Bid.
Add Material and Labor to Conditions in Quick Bid.
Add Equipment, Subs, Markups/Indirect Expenses, and all other costs in Quick Bid.
If you are using SQL databases, the SQL Server name and database names (both programs) must be spelled identically for all users or one user will break the interactivity for another user.
If it is vital that if you must share databases that you are using SQL Server type databases. SQL Server is designed for this use and provides the performance and stability necessary.
Use the "Job No." field to customize the number for your project (not the "Bid No.").
DON'TS
We avoid saying "Don't" as much as possible - but the following points are very important.
Never link more than one OST database to any QB database (or vice versa). As mentioned above, Interactivity should be a 1:1 relationship, for example, all Bids in the On-Screen Takeoff database "Takeoff 2012" should be connected to only one Quick Bid database, let us say this database is called "Estimates 2012". No bids in the "Estimates 2012" database should ever be connected to an On-Screen Takeoff Bid residing in any other database other than 'Takeoff 2012".

Never share Microsoft Access databases between users, especially if you are using Interactive Mode. If you simply must share Interactive Bids, you must use Microsoft SQL databases.
Never open an Interactive Bid (in either program) if one of the programs is in "No-License" mode or not installed, this will cause the interactive connection to partially break causing issues later on.
Don't change the Bid Number after the Bid is created. There is functionality that reduces the chance that two Bids will be numbered the same when creating bids when multiple users are sharing an SQL database. This technology does not prevent two users from renumbering their Bids at the same time which can cause problems with both Bids (use the Job No. field if you must enter a custom number).
Helpful Tips
To open the Quick Bid Conditions Detail dialog from On-Screen Takeoff, right-click the Condition and select Change Details (you can set this as the default action by opening Tools > Options in OST and setting the Default dialog for Condition Change button to "Quick Bid Details").
If there is a Condition in a Bid that does not require takeoff, and you can discern the quantity from the plans, create the Condition as usual in On-Screen Takeoff and then enter the quantity manually on the On-Screen Takeoff Worksheet Tab - that value will be transferred to Quick Bid. Remember, all Conditions, Areas, Typical Areas, and Quantities must originate in OST.
To refresh Bid information between On-Screen Takeoff and Quick Bid manually, press "F9". This is only necessary if you are not in Interactive Mode.
Creating Interactive Bids
Before you Create an Interactive Bid
Make sure both programs are installed and licensed (Quick Bid shows 'est' and On-Screen Takeoff shows 'tko' (at least) in the bottom right corner). Please review the information in the Related articles for help with licensing your software.
Verify that Bid Tab filters are cleared in both programs. If you've set a Bids Tab filter in either program, the programs may be unable to create Bids properly.
Make sure the Database in which you want to create the interactive Bid is open in Quick Bid and that you have rights to create a Bid.
Creating the Bid
Create a new Bid in On-Screen Takeoff (or access an existing On-Screen Takeoff project), and while the Cover Sheet is open, click the "Price Using" drop down. You can review the OST User Guides here: On-Screen-Takeoff-Professional/User-Guides .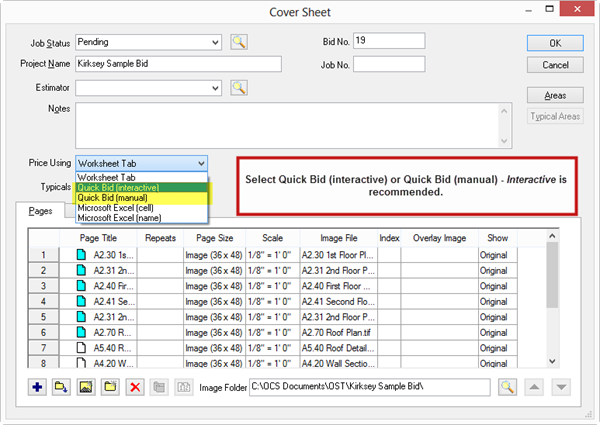 Select either Price Using Quick Bid (interactive) (Recommended) or Price Using Quick Bid (manual).
Quick Bid Interactive sends Condition information from On-Screen Takeoff to Quick Bid over in real time and requires Quick Bid to be open whenever you have the Bid open in On-Screen Takeoff.
Quick Bid Manual requires you to manually update the projects. This can be done in either program by pressing the F9 key on the keyboard.
After you set the "Quick Bid" Pricing Method, a new field displays to the right named Database.
Click on the Lookup button

and select the Quick Bid database where the Quick Bid project is to be created.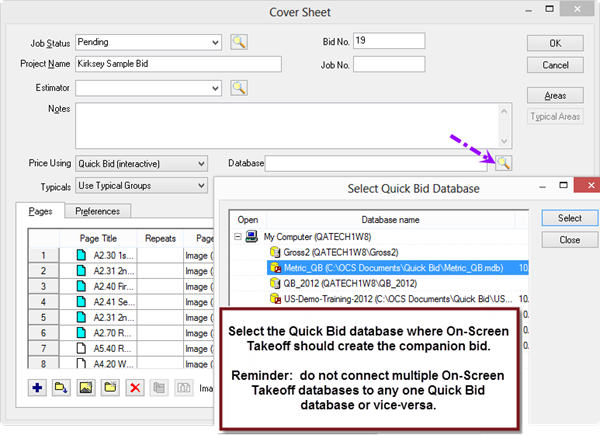 Only databases that are currently available to Quick Bid are shown in this dialog box. To create a Bid in a different database, first create or open that database in Quick Bid, then return to On-Screen Takeoff.
Once the database is highlighted, click Select.
Click OK on the On-Screen Takeoff Cover Sheet.
If Quick Bid is not running On-Screen Takeoff prompts to open it. If you choose not to open Quick Bid, OST cannot create the companion Quick Bid project and the On-Screen Takeoff bid will be set to "Manual". When you have Quick Bid open and licensed, you can set this Bid to "Interactive" and the Quick Bid side will be created.
Click OK and the On-Screen Takeoff Cover Sheet closes and a companion Quick Bid project is created in the selected database.
Now, the On-Screen Takeoff Bids Tab displays a small blue Quick Bid mini-icon next to the Bid that is linked to Quick Bid.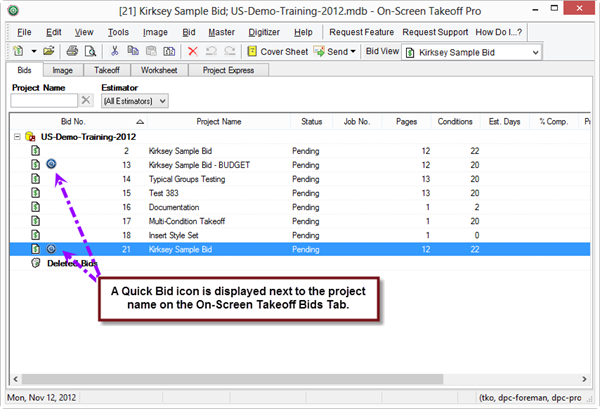 In Quick Bid, a small green On-Screen Takeoff mini-icon displays next to the Bid that is linked to On-Screen Takeoff.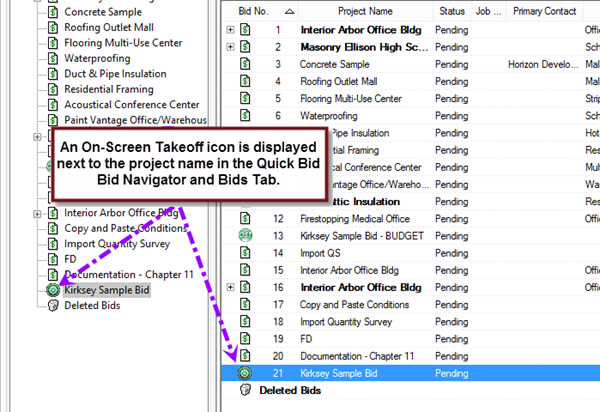 If you receive an error stating you do not have "rights" to create the Bid, make sure you have cleared any Bid Filters in both programs, that Quick Bid is licensed properly, and that you have "Full Access" to the Bids List if your company uses Quick Bid security. See Related articles for more information.
Synchronizing Bid Information
As Conditions are added, takeoff drawn, Bid Areas/Typical Areas created, and/or Alternates and Change Orders added/modified/deleted (all done from the On-Screen Takeoff interface), those changes are synchronized between On-Screen Takeoff and Quick Bid.
In Interactive mode (recommended), changes are synchronized between the programs instantaneously and automatically. In Manual mode, you must manually initiate any update from On-Screen Takeoff by clicking Bid > Refresh Quick Bid or pressing <F9>.