With our Partners' help, On Center Software is now able provide databases and Condition Assembly packs that contain hundreds manufacturers Material Items. Visit www.oncenter.com/partners for a comprehensive listing of our current Partners. The information below will help you download what you need and add that information into your existing Quick Bid database.
Before proceeding, backup your existing Quick Bid and On-Screen Takeoff databases. See Related articles for instructions.
Downloading Manufacturers' Assemblies and Databases (from oncenter.com)
To access the Manufacturers' page, click Master > Condition Assemblies and then click the Download button (or simply visit http://www.oncenter.com/partners).
To access a Manufacturer's download page, your license must be under a current Maintenance Subscription, you must be using the latest version of Quick Bid, and your PC must have an active Internet connection.
There are different options available for each manufacturer, some provide Condition Assemblies, others provide databases, some provide both.
Click Download next to the desired Manufacturer.
On the next screen you will need to verify your customer information - enter your Client ID and Activation Code to proceed.
If your company uses Enterprise License Manager, you can contact your System Administrator to obtain your Client ID and Activation ID.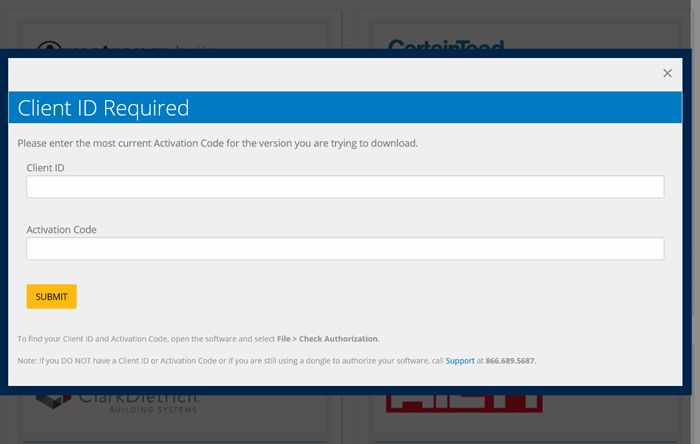 You can choose to download the database or just Assemblies (depending on the manufacturer). We recommend saving the downloaded file(s) to your desktop or "My Documents" - just be sure to note where you are saving them.
Please read through the information below carefully to avoid overwriting your existing data.
Once you've downloaded the files, follow the next set of instructions to unpack the database or assemblies.
Installing Databases
Databases are downloaded as *.exe files. The databases get 'installed' similar to installing an application (such as Quick Bid). Double-click the downloaded file and follow the instructions.
The database is installed to C:\OCS Documents\Quick Bid.
If you need to download this database again at a future date, you must 'uninstall' the original copy first. Just open Control Panel "Add/Remove Programs" or "Programs and Features", locate the database in the installed programs list, and click "Uninstall" (this will not remove the database from your computer, just the installation app). You can then download and re-install as needed.
Next, follow the steps in the Related article to open your new database.
Unpacking and Importing Assemblies
Assemblies are downloaded as "ZIP" files. Just right-click on the file and select "Extract All", follow the instructions to extract the files.
Once done, Windows will open File Explorer so you can see the Assembly files. Before you continue, make sure you have database into which you want to import the Assemblies open and active. You may want to create a new, blank database in Quick Bid into which you can import these Assemblies, then follow the instructions below for synchronizing. See Related articles for details on creating databases.
To import into Quick Bid, just double-click one of the *.qba files to import it into Quick Bid.
Synchronizing the a Partner Database with your Existing Database
Before synchronizing
Backup All Databases (this step is the most important so you have a backup copy), see Related articles
Update Divisions/Sections Table in the partner database to match the format/numbering you use in your working database
Review Payroll Settings

Open the partner database, verify that Wage Types match the Wage Types and Burdens setup in your working database

Review, Material Cost Codes Assigned to Items, Material Pricing, Chained Items and adjust as needed
Any records that already exist in your working database (the source database) will update matching records in the partner database during synchronization
Any records that exist in your working database will be added to the partner database during synchronization
To Synchronize the database,
Click Tools > Synchronize Databases.
Choose your existing database as the Source.
Choose the partner's database as the Destination.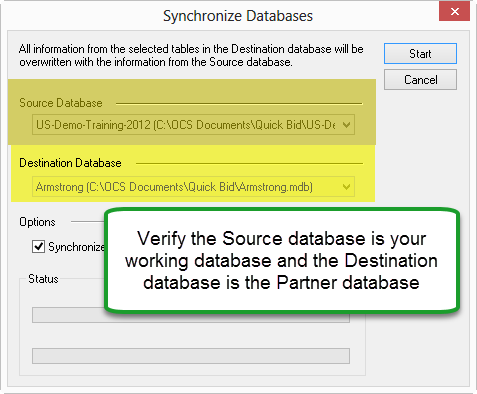 Be sure to Select your existing database as the Source Destination to avoid overwriting your existing master tables with those from the partner Database. By making the partner database the Destination - your existing information overwrites what is in the partner database so any custom pricing or Items you have already setup is retained.
Click Start to begin synchronizing the databases.
Once the synchronization process is complete, a confirmation message displays - click OK.
After synchronizing, the partner database will contain all your Master information (in addition to the partner Masters). Remember, synchronizing only copies over Master information, you can copy over any Projects/Bids needed after you synchronize your databases (see the Quick Bid User Guide for information on copying Projects/Bids between databases).
You are now ready to begin working in the partner database - it includes all of your existing Master Tables information as well as the all of the partner information. If you'd prefer, you can now synchronize the partner database back to your working database and then close the partner database (this will add all the updated partner database Master information to your working database).
If any Items already exist in the Active database, they are updated with the new information. This means that when On Center receives updates from the Manufacturers, you can safely import the files into your database - they will update your existing Master Assemblies and Items with the latest information from the Manufacturer. Changing the Master Items doesn't affect any existing Bids, of course.
Off Maintenance?
You must be under a current Maintenance subscription to download Manufacturer Assemblies and databases. If you have allowed your Maintenance Subscription to lapse, you will not be able to download Manufacturer databases/assemblies from On Center Software and will receive the following error.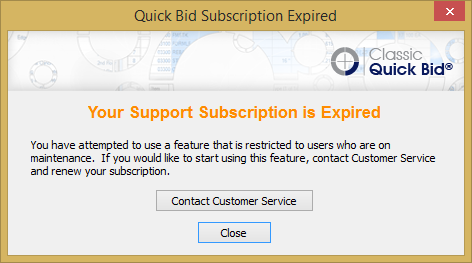 Contact our Client Services group at 866-426-2447 to discuss renewing today!