Why would you want to register for On Center's KnowledgeBase?
Good Question! Here are a few reasons:
You can save articles as 'Favorites'.
You can submit feedback on articles and rate their effectiveness.
You can set up your own, personalized RSS feed.
If you looking for access to our customer portal, MyOnCenter.com, to access your billing information or licenses, please contact our Customer Success Team at 866-627-6246.
Registering
Registering for kBase couldn't be simpler. Just click the Browse button at the top of the screen and click "Registration", or click here.
Fill out the simple form with your name, e-mail address, a login name, and password, and you are done.
We encourage you to use your e-mail address for your login - it makes it easier for you to remember this login in the future.
You will receive an e-mail within a minute or two asking you to verify your e-mail address, once you do so, you can log into kBase (below).
Logging In
Once your account is approved, click the Browse button again, click "Login" and enter your credentials, and you are off and running.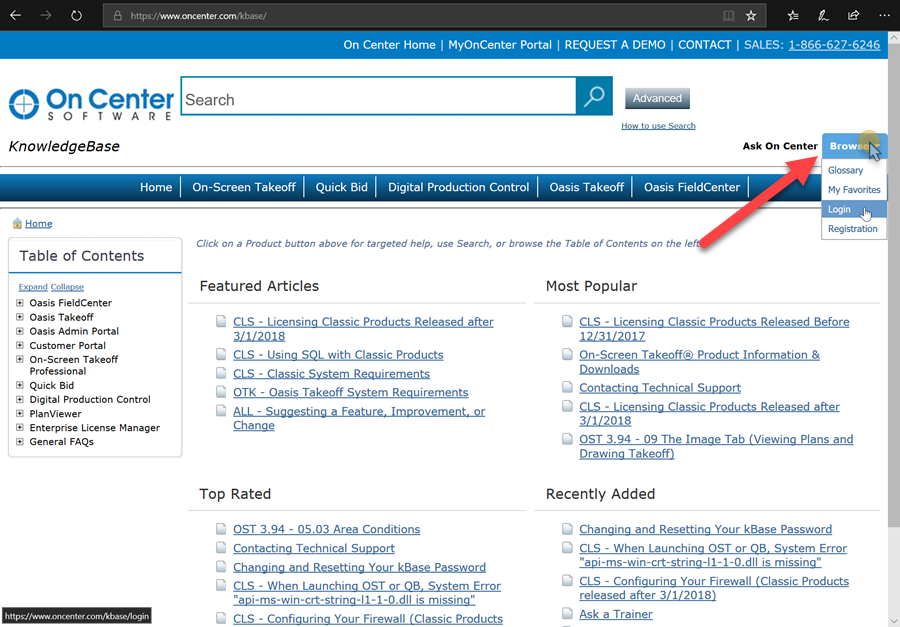 Once you've registered, you can fill in more details for your profile by clicking Browse > My Account.
Removing Your Account
Your account is used for the purpose of providing favorites, subscribing to articles, and providing feedback on article content. Your personal information is not used for any purposes other than providing you with enhanced access to this KnowledgeBase.
Registration collects only the personal information required to provide this service. Your personal viewing behaviors are not tracked, On Center only tracks the aggregate number of times each article is accessed, not by whom.
You may request deletion of your account at any time, and your account is subject to deletion if you do not log into it within 30 days and at least every 90 days.
To delete your kBase account, send an e-mail to documentation@oncenter.com - your account will be removed within two business days.
You can view a copy of our Privacy Policy for more details here: https://www.oncenter.com/company/privacy